Katie Ledecky Withdraws From World Championship Race, Claiming Medical Issue
Katie Ledecky didn't look or feel herself the last two days at the FINA World Championships in South Korea. She looked human.
USA Swimming said Ledecky had to withdraw from a 200-meter preliminary heat about 90 minutes before she was to hit the water, citing medical issues as the reason.
Her withdrawal from the 200 comes one day after a stunning loss in the 400-meter freestyle final. Ledecky was still scheduled to swim the 1,500-meter freestyle final later on Tuesday, according to the Washington Post. USA Swimming did not indicate whether or not Ledecky would swim the distance race — her specialty.
"Katie has not been feeling well since arriving to Gwangju on July 17 and these precautionary measures are being taken to ensure her well-being and proper recovery, and to allow her to focus her energy on an abbreviated schedule," USA Swimming national team managing director Lindsay Mintenko said.
Newsweek subscription offers >
U.S. women's coach Greg Meehan said Ledecky has been working with team medical staff, who were still unsure of a diagnosis at the time.
"We hope that she rebounds quickly. She was feeling a little bit better last night," Meehan said. "We were hopeful today, [but] she woke up this morning and was not feeling well at all. We're just going to take it session by session and then day by day. If we can get her back in the meet at some point, that would be the ideal scenario."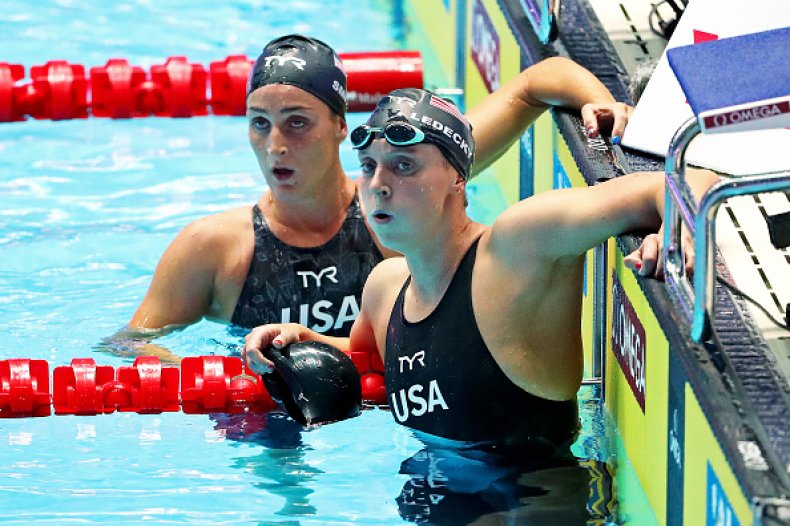 Ledecky obliterated the world record, and her competition, at the 2015 World Championships in Kazan, Russia, swimming it in 15 minutes, 25.48 seconds. She broke that record with a 15:20.48 at the TYP Arena Pro Swim Series in Indianapolis, Indiana, in 2018. So that makes her preliminary swim of 15:48.90 pale in comparison — and it was still the fastest-qualifying time.
Newsweek subscription offers >
Despite the Maryland native crushing the competition in preliminary heats, Meehan doesn't know if his top swimmer will be back for one of her top events.
"I don't necessarily want to put a percentage on it, but I'm hopeful we're able to see her racing again this week," the coach said. "But all that is is a hope at this point."
Ledecky was once a force in the 200-meter freestyle, but never set world records like she has done in the 400-, 800- and 1,500-meter freestyle races. On Monday she was upset in the 400 final by Australian teenager Ariarne Titmus.
After that race, Ledecky was asked several times by reporters if she had any physical issues or ailments, to which she constantly replied "no."
The World Championships in South Korea are the last big international event precluding the 2020 Tokyo Olympics, and Ledecky had been slated to swim more than 6,200 meters before it was all said and done.
This is nothing new to Ledecky, and her coach knows this.
"This is just brutal for her not to be competing, I'm sure," Meehan said. "She's such a tough competitor — she wants to be here, she wants to represent Team USA, and we hope that she gets the opportunity to do that as soon as possible."
Katie Ledecky Withdraws From World Championship Race, Claiming Medical Issue | Sports