Republican Campaign Committee Says Congresswoman Supporting Impeachment "Consumed" By Hatred of Trump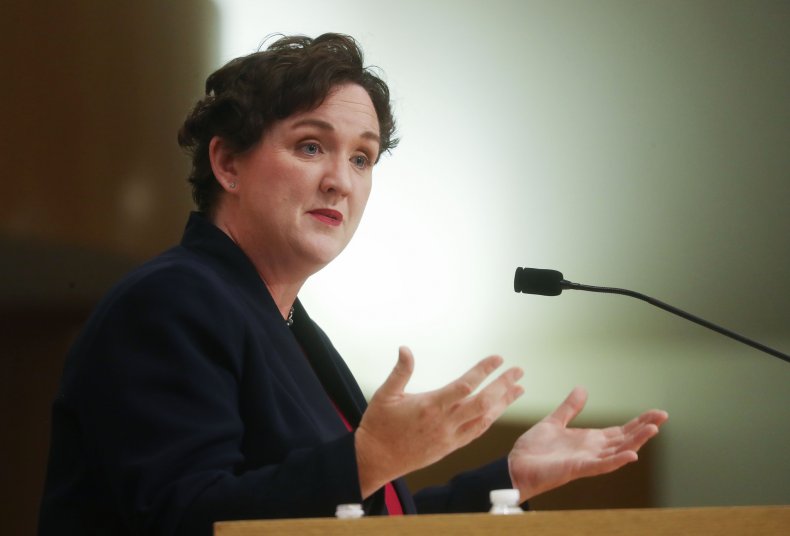 The main campaign committee for House Republicans lambasted Representative Katie Porter on Tuesday for her announcement supporting an impeachment inquiry into President Donald Trump.
The National Republican Congressional Committee (NRCC) wrote in a press release that Porter "is so consumed by her hatred of President Trump" that she has decided to come out in favor of impeachment.
Porter, a Democrat who represents California's moderate Orange County, posted a video on Monday in which she described her gradual conversion to the pro-impeachment camp. According to the congresswoman, it was the product of weeks-long study and consultation with legal experts.
"I've spent hours reading and analyzing the constitution, articles by leading scholars and the 200-year history of our democracy and its system of checks and balances," she said. "After weeks of study, deliberation and conversations with Orange County families, I've decided to support an impeachment investigation of the president."
Porter has emerged as one of the most outspoken Democratic progressives in an era when the populist flank of the party is seeing a rise to prominence. Her questioning of Housing and Urban Development Secretary Ben Carson went viral after she cornered him about his knowledge of basic real estate terminology, which he (perhaps jokingly) confused with an Oreo cookie.
Porter is a Harvard-trained law professor and self-described domestic abuse survivor who has made a name for herself in Congress as a fierce advocate for consumer rights.
The NRCC wrote that her decision shows "she is willing to thumb her nose at her constituents, the majority of whom oppose impeachment."
"This will cost Porter her seat in Congress in 2020," the press release vowed.
The statement cited a recent poll from UC Berkeley's Institute of Governmental Studies which found that only 35 percent of California voters support impeachment proceedings. But the methodology of the poll complicates a definitive answer about support for impeachment.
While substantial numbers, though not outright majorities, of American voters have been found to support the impeachment of President Trump, results are often complicated by the way the question is asked. In the case of Berkeley's poll, the survey presented voters with an alternative to impeachment option: 30 percent of voters elected to continue the ongoing investigations into the president instead of outright impeachment.
Polling on impeachment can be misleading, however, because it does not necessarily reflect what the public is capable of supporting, but rather what their current understanding of the facts has led them to conclude. Gallup recorded that in 1973, when hearings on the Nixon campaign's conduct were getting underway in the Senate, 19 percent of the public supported impeachment. Only after highly-publicized speeches from members of the House Judiciary Committee did support for impeachment cross the 50-percent threshold.
Many impeachment supporters have made a similar argument about today's impeachment quandary, claiming that the public could be led to support impeachment if the House undertakes a public campaign to review the complete findings of the Mueller report.
Porter's office would not comment on the NRCC's press release.