Vice President Mike Pence has reportedly hired a new press secretary who was a spokeswoman for the Department of Homeland Security (DHS), and happens to be dating President Donald Trump's senior adviser Stephen Miller.
Pence's new press secretary, Katie Waldman, previously served as deputy press secretary under former Homeland Security Secretary Kirstjen Nielsen and defended the Trump administration's immigration policy that led to family separations. Waldman will assume her new role on October 1, according to NBC News.
"She's got extensive experience, and she'll be a great fit in our office," Pence's chief of staff Marc Short told the news outlet. "She's shown she has the mettle to handle intense environments."
Waldman, 27, is dating Miller, 34, noted Washington Post reporter Nick Miroff, who covers DHS, immigration enforcement and border security. Miller, who also serves as Trump's speechwriter, believes in hard-line immigration policies and has greatly influenced the Trump administration's immigration agenda.
Waldman's views on immigration seem to align with Miller's, as she defended the Trump administration's "zero tolerance" policy that led to the separation of thousands of children from their families at the U.S.-Mexico border. Miller was apparently the architect of the policy, which the Trump administration did away with after heavy criticism from Democrats and some Republicans.
Richard Painter, a former chief ethics lawyer under President George W. Bush, told Newsweek on Thursday there are "no ethics rules on dating," but that Waldman should recuse herself from matters involving Miller under the impartiality rule.
Painter pointed out that Pence has separated himself from some of Trump's more controversial policies and expressed concern that Waldman could "lock the vice president into the pro-Miller faction."
"When I think about it, I am very worried that she doesn't completely recuse herself from making any comments that have anything to do with Stephen Miller or the policies Stephen Miller is pushing," Painter said.
Senator Steve Daines (R-Mont.), who hired Waldman to be his press secretary after winning his seat in 2014, described her as having "a very strong personality" and an "incredible work ethic," according to NBC News. Waldman is leaving her position as communications director for Senator Martha McSally (R-Ariz.) to work for Pence.
Waldman is filling the shoes of Alyssa Farah, who stepped down earlier this month to take a job as a spokeswoman for the Department of Defense.
A senior Trump administration official who worked with Waldman at DHS told NBC News that "she's pro-Trump and that checks all the boxes."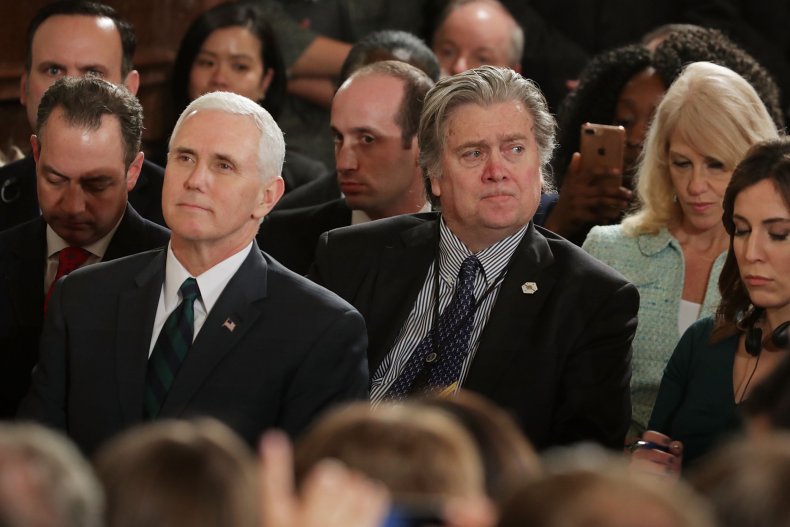 Waldman previously worked for the National Republican Senatorial Campaign Committee.
Critics of Miller and his policies dominated Twitter talk about Waldman.
"But I'm not going to bury the lede here-she is dating Stephen Miller per @NickMiroff," lawyer and BBC commentator Amee Vanderpool tweeted.
Another Twitter user wrote, "@katiewaldman You love Trump and you are dating Stephen Miller — Your life sounds like a horror movie."