Trump Campaign Senior Adviser Uses 2015 Ukraine Video to Condemn Ilhan Omar Over Gaza Rocket Attack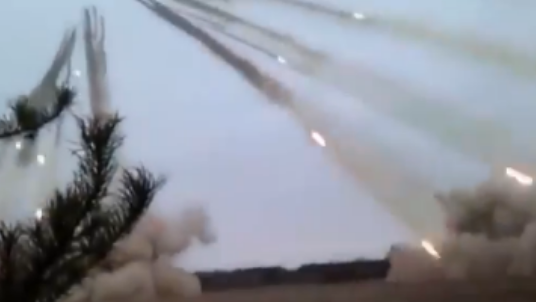 Senior 2020 Trump campaign adviser Katrina Pierson used a 2015 video showing a Ukrainian rocket launch alongside comments about this weekend's deadly attacks between Israel and Gaza militants and a condemnation of congresswoman Ilhan Omar.
Pierson, who was Donald Trump's 2016 campaign spokesperson and is a frequent cable news guest, shared the video—which was first posted online in 2015 and reportedly shows Ukraine launching dozens of rockets at Russian-backed separatists—on Sunday.
Alongside the video, she told her 465,000 Twitter followers about the attacks, describing them as "650 Rockets being fired into Israel from Gaza" and demanded Minnesota Democrat Omar, who is the target of frequent conservative attacks, to condemn the Palestinians.
"650 Rockets being fired into Israel from Gaza in an attempt to overwhelm Israels Iron Dome: 173 intercepts, 4 people killed, and 28 wounded. What is @IlhanMN response to this violence? Will she condemn it?" Pierson tweeted Sunday.
The twenty second video and tweet were still up at the time of publication and the 2015 video Pierson shared has nearly 700,000 views.
Pierson later acknowledged the backlash against her "gaslighting" her followers. But she doubled down on the misleading tweet, saying "the video is used as a 'gif' to underscore what hundreds of rockets would look like to Americans. It's not tagged nor did I say 'This is' so let's get back to Omar's response. Anyone have it?"
On Sunday, Omar tweeted, "How many more protesters must be shot, rockets must be fired, and little kids must be killed until the endless cycle of violence ends? The status quo of occupation and humanitarian crisis in Gaza is unsustainable. Only real justice can bring about security and lasting peace." Her tweet apparently offended Pierson and other right-wing figures on Twitter, including Liz Cheney, Ari Fleischer and Ryan Saavedra.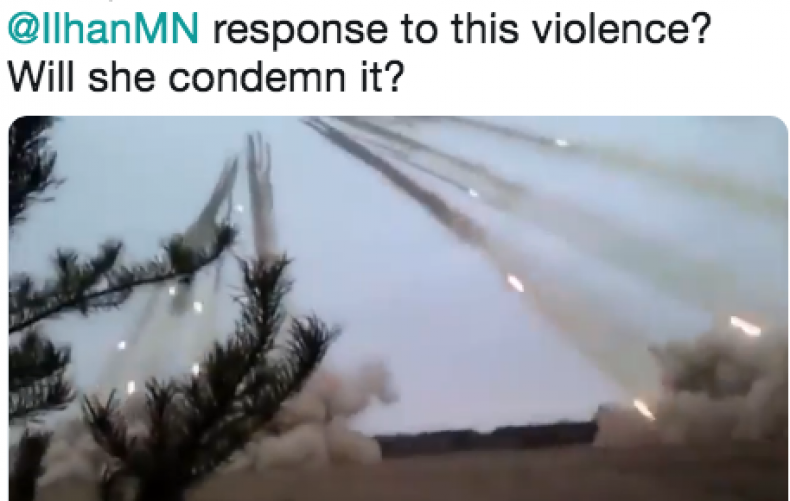 Haaretz reports at least 690 rockets were fired and 320 airstrikes hit Gaza over the weekend. At least 25 Gazans and four Israelis have been reported dead. A ceasefire was instated after two days of violence.
Pierson also went on to criticize other Democrats she views as failing to defend Israel, including former Vice President Joe Biden. She ridiculed the 2020 candidate and the Obama administration's supposed support of Iran under the same misleading video. "Someone should ask @JoeBiden if he knows where the billions of dollars that the Obama/Biden administration gave to the illegitimate government of Iran went? #JustAQuestion," Pierson tweeted.
Ryan Saavedra, a reporter at conservative outlet Daily Caller, said Michigan Representative Rashida Tlaib "approved" of the rocket attacks and is "refusing to respond," which Pierson promptly retweeted Sunday.
"I have reached out multiple times to anti-Semitic Democrat Reps. Ilhan Omar, Rashida Tlaib, and Alexandria Ocasio-Cortez and asked them if they condemned this terrorist violence against Israeli citizens. All 3 are refusing to respond," Saavedra tweeted Sunday.