Katy Perry Fans Think Her New Song Is a Team-Up With Taylor Swift—Here's Why
Katy Perry and Taylor Swift may be collaborating on some music. After the two buried the proverbial hatchet in Swift's "You Need to Calm Down" music video, fans are speculating that the pop stars have worked together on Perry's upcoming single "Daisies," which will be available to stream on May 15.
Perry and Swift were in a very famous feud for a few years, beginning in 2014. But after plenty of backup-dancer-related drama, bad blood and harsh subtweets, the "Roar" singer sent the Lover hitmaker a literal olive branch. Swift baked her cookies in return and wrote "peace at last" on the plate with frosting.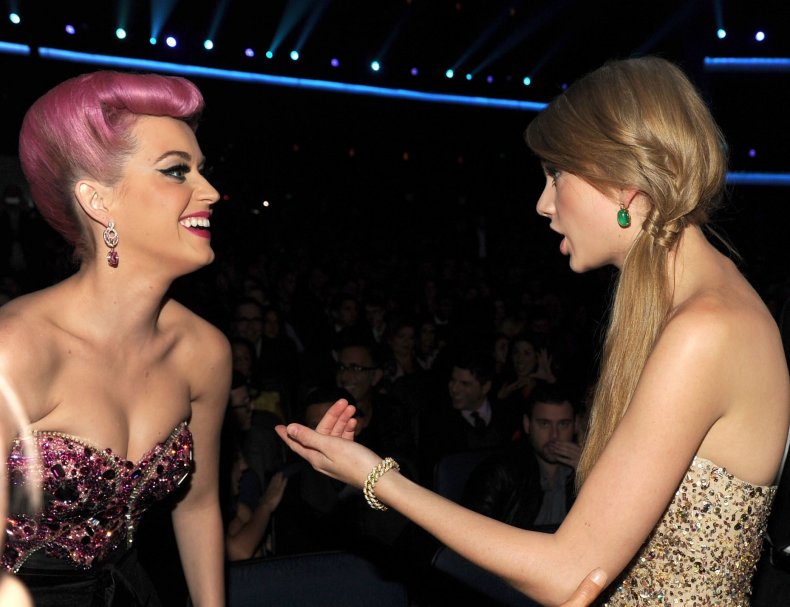 In 2019, the singers also dressed up as a burger and fries for Swift's "You Need to Calm Down" video and posted coordinating pictures of them hugging online. Captions like "A happy meal," and "this meal is BEEF-free" confirmed that the pop stars were again on good terms.
"She and I have been fine for a while and really on good terms but we didn't know if we were ever gonna really tell people about it," Swift revealed in an interview with the U.K.'s Capital Breakfast at the time. "We wanted to make sure that was solid between us before we ever made the public aware."
Almost a year later, Perry announced a new single, called "Daisies," on May 7. She shared an image of herself lying in a field of daisies. A few hours later, Swift shared a picture of herself wearing a sweater covered with daisies. Fans immediately connected the dots and speculated that a team-up is on the way.
American Idol, where Perry appears as a judge, even added fuel to the fire on its Twitter account. "We can't wait to play this like 1,989 times in a row," the tweet read. One of Swift's albums is titled 1989, and is also the year she was born.
Here's what fans are saying about a potential Katy Perry/Taylor Swift collaboration: