Katy Perry's Controversial Shoes Are 'Not Blackface,' Says 'Shark Tank' Star Daymond John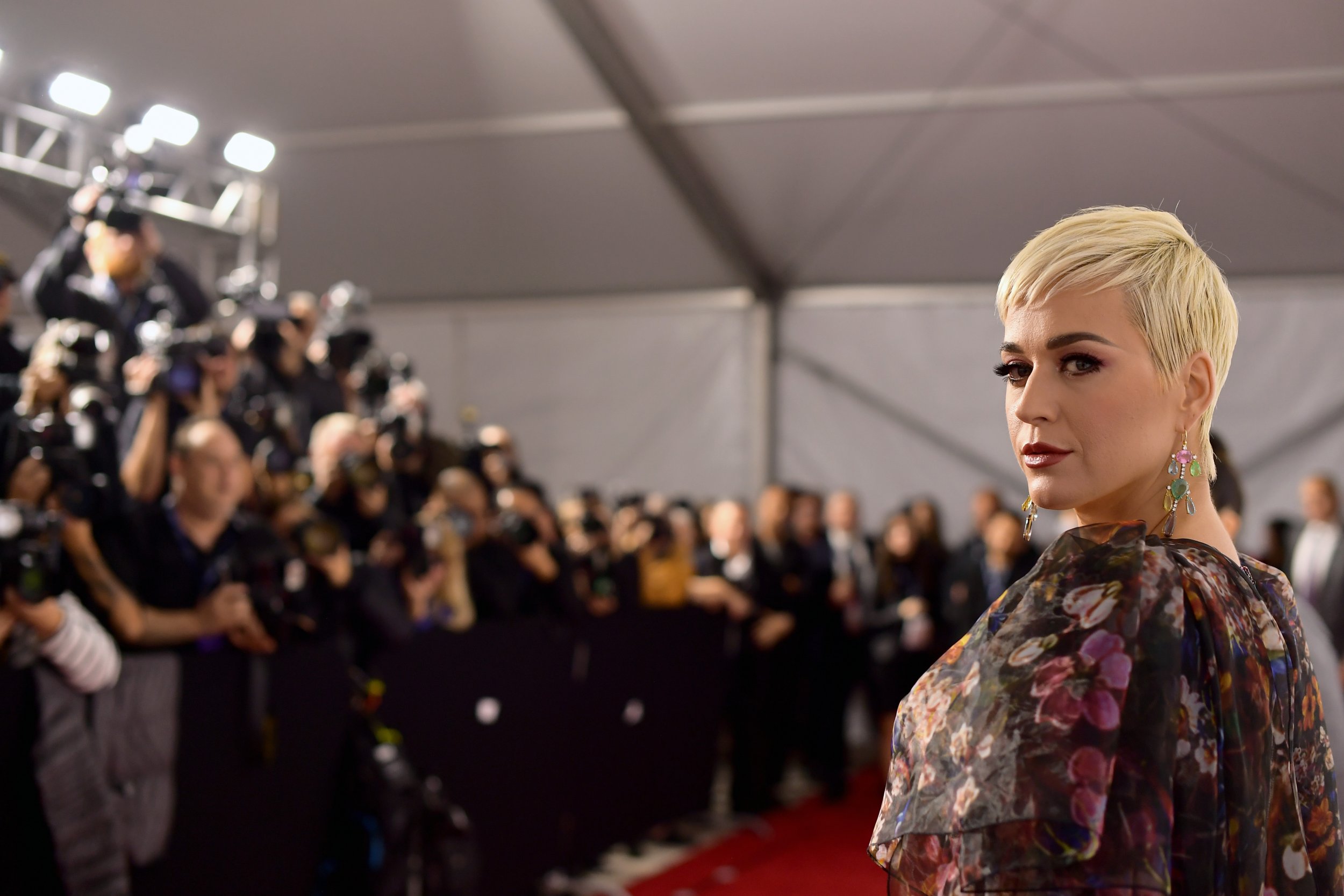 Shark Tank star Daymond John came to Katy Perry's defense after the singer's shoe collection was accused of promoting blackface through her "Rue Face Slip of Loafer" and "Ora Face Block Heel Sandals," which have since been pulled from the line.
John, 49, analyzed the questionable shoe that was pulled by Katy Perry Collections on Monday after a TMZ reporter showed him a picture of it on a phone. The Fubu founder said the all-black shoe, which featured bright blue eyes alongside big red lips and a triangle-shaped gold nose, was "not blackface" and explained what does qualify as blackface.
"What blackface is when you only paint your face, here," John said, as he illustrated where blackface would be located. "This could be an African. It's not blackface, necessarily. Only when you paint your face here, technically is blackface. So, that's not blackface."
John then explained the controversy with Shawn and Marlon Wayans playing white women in White Chicks, adding: "The whole body was white. On Tropic Thunder, the whole body [of Robert Downey Jr.'s character] was black. Blackface is to us when people of not our face wore just to here, and they acted ignorant."
Perry, 34, and Global Brands Group issued an apology via The Hollywood Reporter on Monday due to the backlash they received over its "Rue Face Slip of Loafer" and "Ora Face Block Heel Sandals." They claimed it was never their intention to create and release shoes that echoed a racist practice.
"The Rue and The Ora were part of a collection that was released last summer in 9 different colorways (black, blue, gold, graphite, lead, nude, pink, red, silver) and envisioned as a nod to modern art and surrealism," the statement read. "I was saddened when it was brought to my attention that it was being compared to painful images reminiscent of blackface. Our intention was never to inflict any pain. We have immediately removed them from Katy Perry Collections."
The Katy Perry Collections scandal followed controversy high-end brand Gucci received after unveiling and later pulling a sweater that resembled blackface. The $900 Balaclava jumper, which was a black sweater that featured giant read lips, sparked backlash on social media and led an apology from the brand via Twitter. "We are fully committed to increasing diversity throughout our organization and turning this incident into a powerful learning moment for the Gucci team and beyond," the statement read.
John also touched on the controversial sweater Gucci produced by alleging the luxury designer brand likely planned to produce the questionable sweater on purpose.
"Trust me, somebody saw that. It doesn't go undetected. Somebody saw it, however, I have to be very accurate about it," he began, "Looking at old African American art, if you look at the old jazz art from the '50s and '60s, it looks like blackface but it's not...I've seen big celebrities who are African American wear that type of stuff. They didn't get any slack, but now Gucci's getting the slack...Basically, what I'm trying to say is it probably was contrived but you never know what they were trying to respect."
John also argued that Gucci's decision to unveil a sweater that seemingly portrays blackface was "really smart" to help boost publicity for the brand. "The reason why Gucci has been around for so many years—a hot fashion brand lasts seven years, and they've been around for many more years than that—I think they know what they're doing," he said.
According to Woman's Wear Daily (WWD), a letter from Gucci's creative director Alessandro Michele addressed to the brand's employees said the blackface controversy caused him "the greatest grief."