Kavanaugh Accuser: 'There Is Zero Chance That I Would Confuse' Attacker
Christine Blasey Ford, the Palo Alto University professor who has accused Supreme Court nominee Brett Kavanaugh of sexually assaulting her when the two were in high school, shot down claims that it may have been another student who assaulted her.
Ed Whelan, a former clerk to the late justice Antonin Scalia who leads the Ethics and Public Policy Center and is close friends with Kavanaugh, named and posted photographs of another then-teenager who he said may have been the one to assault Ford in the summer of 1982.
He also pointed to floor plans, photographs and Google maps to suggest a location for the house party at which Ford described the assault had taken place.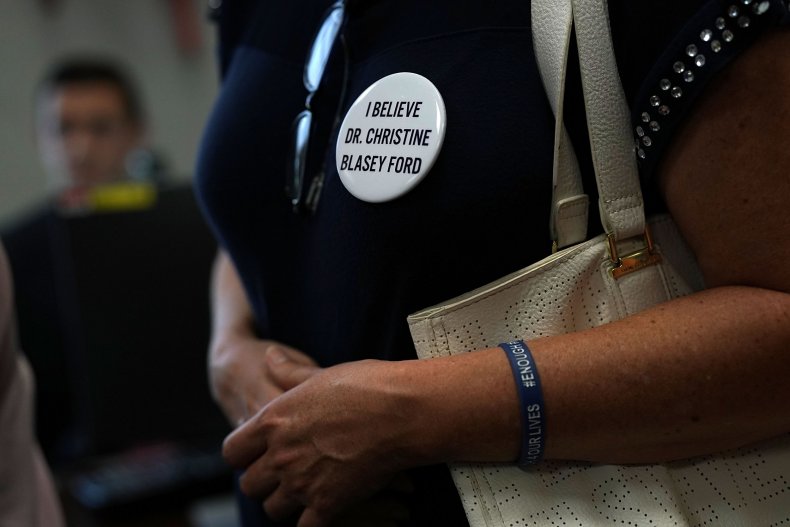 Get your unlimited Newsweek trial >
"Dr. Ford may well have been the victim of a severe sexual assault by someone 36 years ago," Whelan, who befriended Kavanaugh when both were working for the George W. Bush administration, said in a Twitter thread.
"Her allegations are so vague as to such basic matters as when and where that it is impossible for Judge Kavanaugh to *prove* his innocence," Whelan added.
"But there are compelling reasons to believe his categorical denial," Whelan said before posting a stream of images from Google Maps, a house where he believed the alleged assault occurred, as well as a floor plan and photos of the interior of the house.
Despite admitting that he had "no idea what, if anything did or did not happen" in relation to Ford's allegations, Whelan then posted photos of Kavanaugh and the other then-teenager he accused of being the real attacker, stating that people who knew both "have commented on how much they resembled each other in appearance."
Get your unlimited Newsweek trial >
Ford dismissed Whelan's claims late on Thursday, telling The Washington Post that she had known the student Whelan named and there was "zero chance I would confuse them."
The professor said she had "socialized" with the other classmate and had even visited him once in the hospital.
Republicans and White House officials have distanced themselves from Whelan's assertions, saying they had no knowledge of his plans to announce his theory.
The former clerk has been helping to advise on the effort to see Kavanaugh's confirmation vote carried out, according to the Post.
Critics have been quick to condemn Whelan's allegations, with many accusing the former clerk of libel.
Naming the man whom Whelan accused, civil rights activist Michael Skolnik questioned whether the man would be filing a "defamation suit against Ed Whelan."
Even The American Conservative appeared to turn on Whelan, calling his assertion a "crackpot theory," while The Washington Examiner said the former clerk had revealed "what Brett Kavanaugh's defense will look like–and metaphorically set himself on fire" with his claims.
"Ed Whelan deserves some sort of prize," former special counsel Ryan Goodman wrote on Twitter.
"He even turned the Washington Examiner and The American Conservative against him," he wrote.
Both Ford and Kavanaugh had been scheduled to testify before the Senate Judiciary Committee on Monday. But doubt has been cast on whether the hearing wouldhappen after Ford's legal team requested that the FBI launch an investigation into their client's claims before she testifies.
The Palo Alto University professor had been asked to inform the Senate Judiciary Committee by Friday on whether she plans to testify at the hearing.
If she chooses not to, it is likely to be canceled.
Kavanaugh Accuser: 'There Is Zero Chance That I Would Confuse' Attacker | U.S.