Kavanaugh Backlash Compared to Crucifixion of Jesus Christ by Fox News Host
Opposition to Supreme Court nominee Brett Kavanaugh was compared to the crucifixion of Jesus Christ by Fox News host Greg Gutfeld on Thursday afternoon.
Speaking during a segment on The Five, the television personality rejected complaints raised by Democratic senators who demanded an FBI investigation into sexual assault allegations against Kavanaugh that were made by multiple women, starting with Christine Blasey Ford.
Gutfeld appeared to suggest Kavanaugh was being crucified by Democrats.
"We know politics is poison," Gutfeld said. "And I am an agnostic when it comes to religion, but I know one thing. In my 12 years of Catholic Church, crucifixion was an important event, because it was designed to establish a wall between justice and mob rule.
He continued, "Christ died so that the mob wouldn't survive. Right? He got there. He died for everybody's sins. What the Democrats have tried to do is tear down the wall between justice and mob rule. They decided to crucify someone once again. That's what's wrong."
Gutfeld's comments circulated on Twitter on Thursday, being retweeted hundreds of times on the platform, and were highlighted in a video clip by Media Matters for America.
The comments came one day after fellow Fox News host Jeanine Pirro said that "every woman in America who has been a victim of a sexual assault" remembered more than Ford.
The FBI conducted an investigation into the allegations leveled at Kavanaugh this week and passed the results to senators. Democrats criticized the investigation, believing it was insufficient in scope. The Senate will vote on Kavanaugh's confirmation today.
According to USA Today, key Republican senators, including Jeff Flake and Susan Collins, appeared to be satisfied with the FBI's report. Fox News reported this morning that the federal agency had interviewed 10 people as part of its inquiry. The White House previously said that it was "fully confident the Senate will vote to confirm Judge Kavanaugh to the Supreme Court."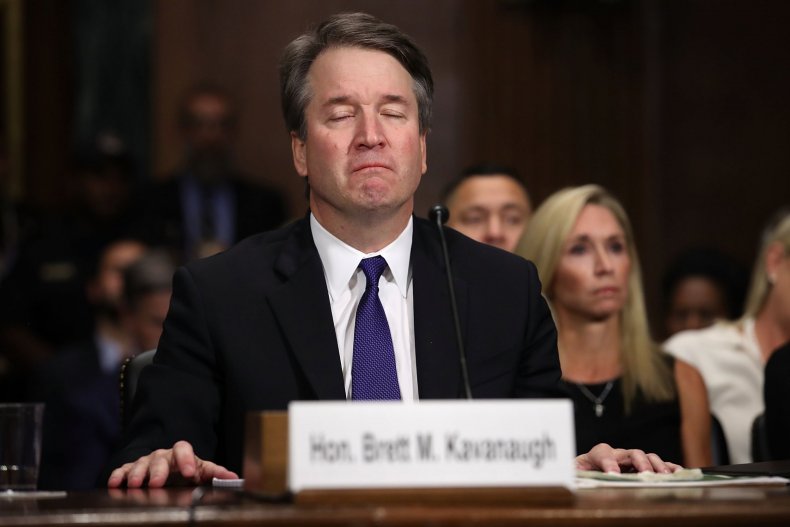 It was alleged by Ford during a Senate Judiciary Committee hearing on September 27 that Kavanaugh assaulted her at a high school house party when she was 15 years old. When asked by senators what she most recalled about the night of the alleged incident, Ford, a professor of psychology, said it was "the laughter."
Kavanaugh also gave testimony, which was criticized by Democratic senators and media commenters after he waded into Clinton conspiracy theories, accusing "the left" of damaging his career and showing an overly aggressive attitude. At other times he was on the verge of tears. His emotional outbursts led some to doubt his ability to cope as a judge on the nation's top bench.
In a Thursday op-ed in The Wall Street Journal, Kavanaugh admitted he may have been "too emotional at times" during his testimony in front of the Senate Judiciary Committee. "I know that my tone was sharp, and I said a few things I should not have said," he wrote. "I hope everyone can understand that I was there as a son, husband and dad."
Trump has stood by his nominee in recent weeks and recently mocked Ford during a rally. "This is now the 7th time the FBI has investigated Judge Kavanaugh," Trump tweeted Thursday. "If we made it 100, it would still not be good enough for the Obstructionist Democrats."
In a statement online, Democratic senator Dianne Feinstein said the FBI investigation could not be taken seriously as "so many key witnesses—including Judge Kavanaugh and Dr. Ford—were not interviewed and constraints were imposed on what was asked and who was spoken to."