Kavanaugh Justified to be Biased Against Democrats on Supreme Court, Nearly Third of Trump Voters Say
If Brett Kavanaugh is confirmed to the Supreme Court, a significant portion of folks who voted for President Donald Trump think it would be justified if the judge was biased against Democrats, a new poll released this week showed. That result, of course, comes amid testimony and questioning of Kavanaugh about an allegation of sexual assault raised by professor Christine Blasey Ford.
The survey from YouGov/The Economist first asked: "If confirmed and seated as a Supreme Court Justice, do you think Brett Kavanaugh will be fair and impartial or do you think he will be biased against Democrats or biased against Republicans?"
A plurality of Americans—39 percent—said they thought Kavanaugh, a conservative justice nominated by Trump, would be biased against Democrats. Thirty-two percent of respondents thought he would be fair and impartial. There was, perhaps predictably, a partisan divide on the issue. Seventy percent of Democrats thought Kavanaugh would be biased about Democrats while just 9 percent of Republicans thought the same.
But the poll from YouGov/The Economist also asked: "Do you think Brett Kavanaugh would be justified if he was biased against Democrats, or not?"
Thirty-one percent of Trump voters responded that yes, "bias would be justified." Fifty percent of Trump voters thought bias would not be justified and 19 percent were unsure. For comparison's sake, 5 percent of folks who voted for Democratic presidential nominee Hillary Clinton thought bias would be justified. Polling for Democrats and Republicans overall tracked pretty closely to the 2016 vote—8 percent of Democrats and 30 percent of Republicans thought bias from Kavanaugh would be justified.
The YouGov/The Economist survey polled 1,500 U.S. adults from September 30 through October 2. It had a margin of error of plus or minus 2.9 percentage points.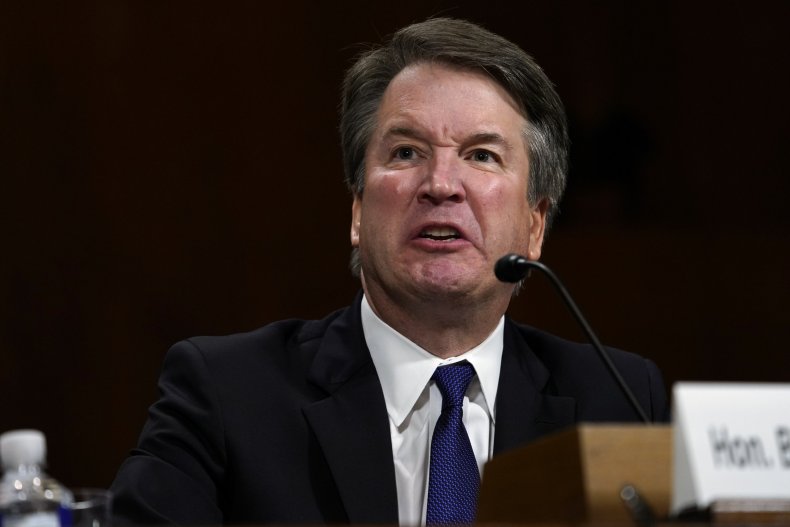 By Kavanaugh's own words, bias would not be justified. "A good judge must be an umpire—a neutral and impartial arbiter who favors no litigant or policy," he said in his opening remarks at his confirmation hearing.
But later in the process he raged against liberals and folks he felt were coming after him amid the allegation from Ford.
"This whole two-week effort has been a calculated and orchestrated political hit fueled with apparent pent-up anger about President Trump and the 2016 election, fear that has been unfairly stoked about my judicial record, revenge on behalf of the Clintons, and millions of dollars in money from outside left-wing opposition groups," Kavanaugh said.