Kavanaugh Confirmation Hurt Republicans During Midterms More Than it Helped: Schumer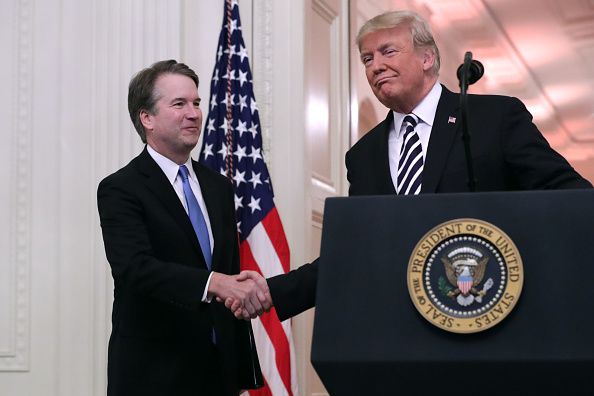 Senate Minority Leader Chuck Schumer said that the confirmation for Supreme Court Justice Brett Kavanaugh helped Democrats and hurt Republicans during the midterm elections.
In an interview on Sunday during CNN's show State of The Union, host Jake Tapper asked Schumer if he believed the Democrats were "outplayed" when Kavanaugh was nominated as a Supreme Court justice.
"The Kavanaugh dispute, I think, helped us more than it hurt us," Schumer said during the interview. "It's one of the reasons we won the house so decisively. It's one of the reasons we won governorships in so many other states because suburban voters who are traditionally Republican came to our side."
Schumer continued to say that if the Democratic coalition could continue to add suburban voters and focus like issues on health care, they will continue to win. The Senate Minority leader used Senator Joe Manchin's win on Tuesday in West Virginia as an example.
"He focused exclusively on health care," said Schumer. "The issue of health care, infrastructure, and jobs will resonate in rural America, suburban America, and in urban America and the way it helped us in 2018, it's going to help us here."
He continued on to say that the believed President Donald Trump lost more votes due to the Kavanaugh debate.
"I think the President lost more votes because of the Kavanaugh issue than gained throughout the country," Schumer said.
Kavanaugh's nomination as a Supreme Court justice was mired in controversy after a woman who had accused him of sexual assault, Christine Blasey Ford, testified in front of the U.S. Senate Judiciary Committee in September that Kavanaugh had attacked her during a house party in the 1980's.
Despite her testimony, the committee voted to move forward with Kavanaugh's confirmation and he was sworn into the Supreme Court in October. During his swearing-in ceremony, President Donald Trump apologized to Kavanaugh "on behalf of our nation" for the "terrible pain and suffering you've been forced to endure," during the hearing.
"[In] our country, a man or a woman must always be presumed innocent unless and until proven guilty," the president said during the ceremony. "And with that, I must state that you, sir, under historic scrutiny, were proven innocent."
Trump had defended Kavanaugh throughout the hearing and had also mocked Blasey Ford's testimony during a rally in Southhaven, Mississippi, on October 3.
"What neighborhood was it in? I don't know. Where's the house?' I don't know," Trump said to the crowd. "Upstairs, downstairs, where was it?' I don't know, but I had one beer. That's the only thing I remember. And a man's life is in tatters."
Trump has been accused of assaulting and harrassing more than a dozen women.