Supreme Court nominee Brett Kavanaugh reportedly said he never would have ignored the father of a Parkland school shooting victim last week if he had realized who he was.
The judge had been accused of turning his back on Fred Guttenberg—who lost his daughter, Jaime, in the February shooting in Parkland, Florida, at Marjory Stoneman Douglas High School—after the father approached him to shake his hand during his confirmation hearing.
However, in a series of responses to questions from Senate Judiciary Committee members obtained by CNN, Kavanaugh sought to clear the air, claiming he had mistaken Guttenberg for a protester.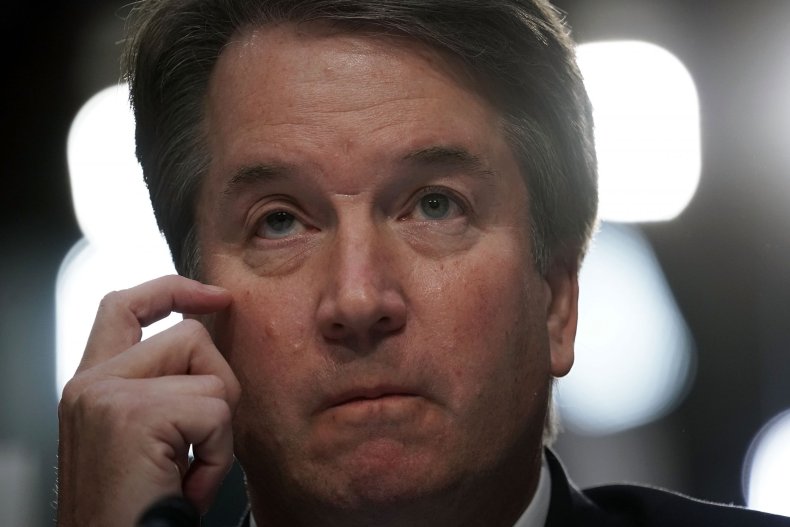 The Supreme Court nominee said Guttenberg had approached him "from behind and touched my arm."
He said he assumed the grieving father was a "protester," and only a "split-second" had passed before security intervened, removing Guttenberg from the hearing.
"In that split-second, I unfortunately did not realize that the man was the father of a shooting victim from Parkland, Florida," Kavanaugh said.
"Mr. Guttenberg has suffered an incalculable loss. If I had known who he was, I would have shaken his hand, talked to him, and expressed my sympathy. And I would have listened to him," he said.
Kavanaugh also denied having anything to do with Guttenberg's removal from the hearing.
"No one acted at my request," Kavanaugh wrote, reportedly responding to a question from Senator Richard Blumenthal, the Democrat from Connecticut.
"If someone purported to act on my behalf, they did so without my knowledge and contrary to my wishes," he said.
Questioned on Gambling Record
Kavanaugh also responded to a number of other questions from the Senate Judiciary Committee, including a question asking whether the Supreme Court nominee has a gambling problem.
Asked whether he plays in a "regular or periodic poker game," and if so, to name who he plays with and where, Kavanaugh said: "Like many Americans, I have occasionally played poker or other games with friends and colleagues."
"I do not document the details of those casual games," he said, however.
Asked whether he has ever "sought treatment for a gambling addiction," Kavanaugh responded: "No."