Kavanaugh Supreme Court Nomination: 51 Percent of Voters With Favorable View of Trump Haven't Heard Anything About It, Poll Finds
President Donald Trump's nomination of Judge Brett Kavanaugh to the Supreme Court sparked a contentious debate, but as his confirmation hearing neared, a large number of people still hadn't heard, seen or read anything about it.
A poll conducted by Politico and Morning Consult, a private online survey and market research company, found that 27 percent of registered voters surveyed—equaling 524 people—hadn't heard, read or seen anything about Kavanaugh being nominated to the Supreme Court.
Of the people who had either a very favorable view of Trump or a somewhat favorable view of Trump, 51 percent had received no information about Kavanaugh's nomination.
It was largely the same with the president's detractors as well. A total of 53 percent of people with a very unfavorable or somewhat unfavorable view of Trump admitted that they hadn't seen, read or heard anything about Kavanaugh.
In contrast to those who hadn't been exposed to any news about Kavanaugh, 41 percent of voters with a favorable or somewhat favorable view of Trump had read, seen or heard a lot about the Supreme Court nominee. Thirty percent of those who had at least a somewhat unfavorable view of Trump responded to the survey that they had been exposed to a lot of information.
The poll also asked participants if they thought Kavanaugh should be confirmed to the Supreme Court to replace Justice Anthony Kennedy. Those with a favorable view of Trump overwhelmingly believed he should be confirmed, with 67 percent of those surveyed agreeing with the nomination. Only 16 percent of those who have an unfavorable view of Trump thought the Senate should confirm Kavanaugh.
Trump nominated Kavanaugh to the Supreme Court in July after Kennedy announced that he would be retiring at the end of July. As with Trump's first Supreme Court pick, Justice Neil Gorsuch, Kavanaugh's nomination sparked protests and calls for senators to block him from being confirmed.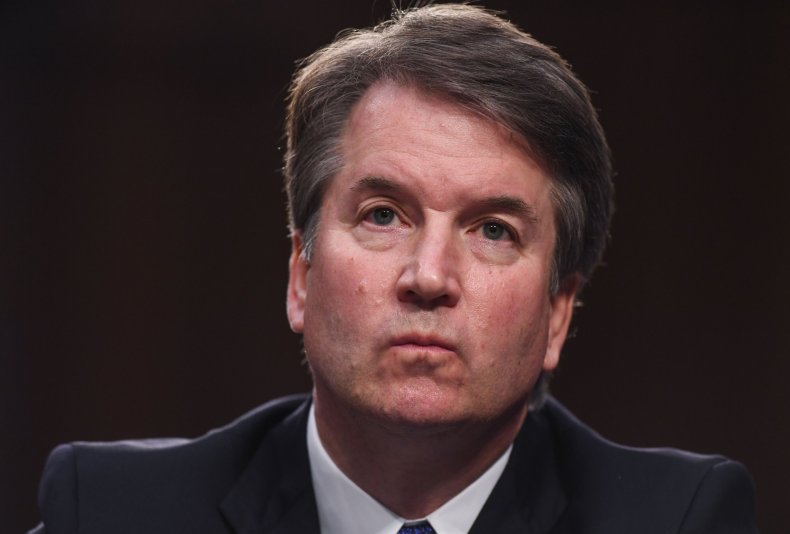 On Monday, the Senate received about 42,000 pages of documents related to Kavanaugh's work with former President George W. Bush's administration. Senate Minority leader Chuck Schumer criticized the timing of the release of documents given that Kavanaugh's confirmation hearing was set to start on Tuesday morning. Within minutes of the hearing's beginning, Democrats forcefully requested that there be a delay so senators could properly review the documents.
New Jersey Senator Cory Booker appealed to Republican Senator Chuck Grassley, who is chairman of the Senate Judiciary Committee, to agree to the delay, but Grassley decided to proceed on the basis that everyone had "more than enough time" to review the documents.
Grassley added that he respects Booker and his work but accused him of "taking advantage" of the senator's "decency and integrity."
Outside the hearing, women, dressed as characters from the Netflix show The Handmaid's Tale, protested Kavanaugh's potential confirmation. Other protesters were arrested inside the hearing room.