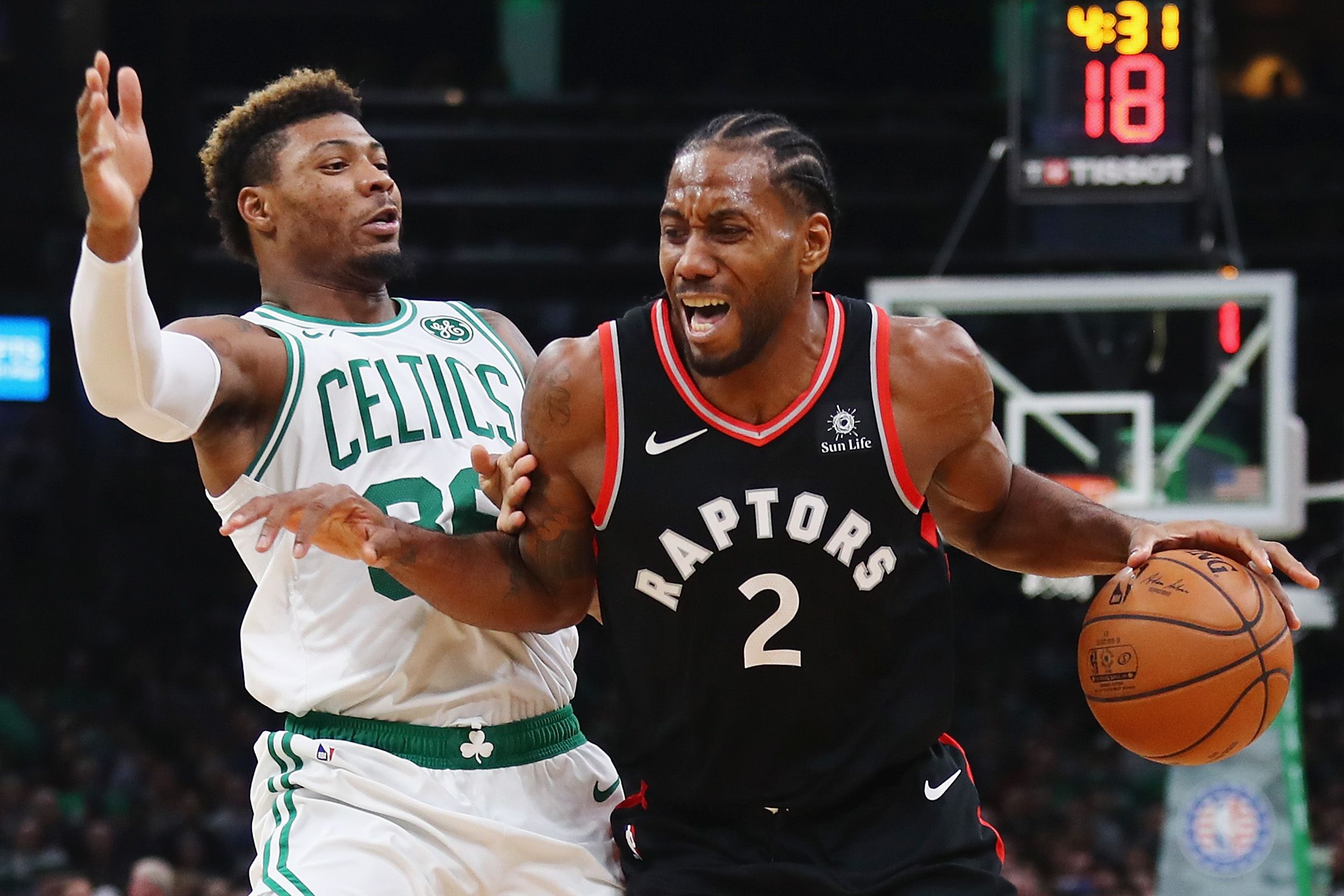 Toronto Raptors forward Kawhi Leonard reportedly has a new endorsement deal and the internet couldn't contain itself from roasting the NBA All-Star.
Leonard agreed to a multi-year shoe deal with New Balance, league sources confirmed to Yahoo! Sports on Wednesday.
Leonard denied that the deal was official on Wednesday morning during the Raptors' media availability, but it's worth noting that he was wearing socks and no sneakers during the session.
The forward has been in a stalemate during negotiations with his current endorser, Jordan Brand, over a long-term extension.
"It's not official," Leonard said. "Me and New Balance haven't announced anything."
Either way, NBA fans wasted little time making jokes about the stoic franchise player and the re-emerging shoe brand that is notoriously un-flashy.
Rob Perez, host of BUCKETS on the Action Network, shared the following tweet with a caption claiming that New Balance asked Leonard for a custom design, to which he responded with what seems to be the Mens 624's in their basic color.
NBA on TNT's official Twitter account joked that the "Kawhi Leonard starter pack" included a pair of New Balance shoes, a t-shirt that said "fun guy" in reference to his media day comments claiming such about his personality, a photo of a 1997 Chevy Tahoe -- which Leonard claims he still drives despite being an NBA start -- and a robot, jabbing at his robotic-like demeanor.
Here are several other tweets trolling the All-Star forward:
According to ESPN, incumbent brands usually have up to 10 business days to exercise their "match rights clause" if an endorsee has agreed to a shoe deal with a different company. However, Jordan Brand has reportedly considered allowing Leonard to walk, which means a deal with New Balance could become official before next week.
Terms of the reported agreement have yet to be disclosed, although industry expectations are that Leonard was offered more than $5 million per year. Jordan Brand had previously offered a four-year extension worth up to $22 million last spring.
The reported deal would also be among the top-15 annual shoe endorsement contracts in the NBA. However, that doesn't include additional incentives for individual achievements such as earning an All-Star Game appearance, All-NBA team nomination and MVP designations, as well as team success.
Players are rewarded additional bonus money during every playoff series after the second round. Toronto currently has a league-best 18-4 record, while the forward is among the early favorites to win the MVP award.
It has not been confirmed whether Leonard will get a signature shoe or simply endorse New Balance's new basketball sneaker, according to ESPN. However, Industry sources told the website that the All-Star and his representatives have been vetting potential creative agencies to launch and manage his social media accounts.
Leonard's Jordan deal expired on Oct. 1, but he's worn Air Jordan 32 Low model shoes during games throughout the 2018-19 season.
Uncommon Knowledge
Newsweek is committed to challenging conventional wisdom and finding connections in the search for common ground.
Newsweek is committed to challenging conventional wisdom and finding connections in the search for common ground.