Kawhi Leonard Not Going Anywhere as Spurs Consider $219 Million Designated Veteran Extension
The future of Kawhi Leonard remains shrouded in doubt, but suggestions he is on his way out of San Antonio appear to be premature.
The relationship between the 2014 NBA Finals MVP and the Spurs has been frosty since he reportedly told the team he was not comfortable playing while rehabbing from the quadriceps tendinopathy that forced him to miss the first 27 games of the season.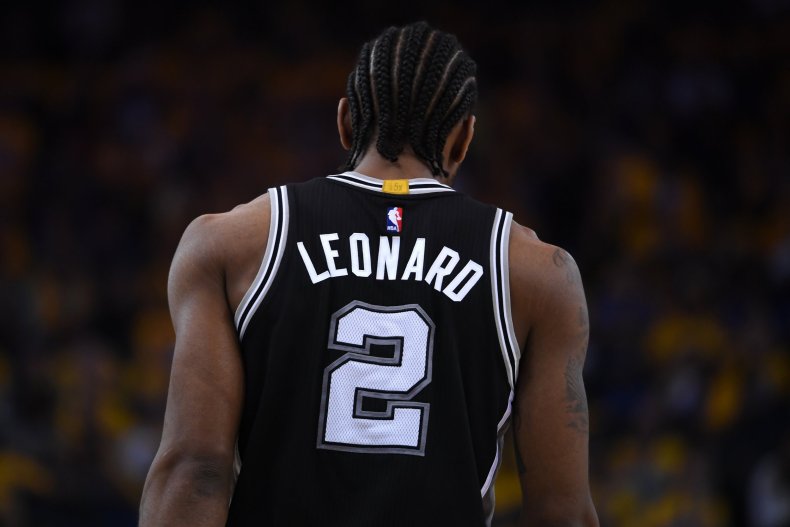 Leonard made his season debut on December 12 against the Dallas Mavericks, but after playing nine of the following 17 games, on January 13 the Spurs opted to sideline him indefinitely. He has not played since, continuing to work with his fitness team in New York instead.
Spurs head coach Gregg Popovich admitted he did not know how long Leonard would be out for and the impasse over the 26-year-old's future only increased amid reports that this summer San Antonio might not offer him the five-year extension worth $219 million he wants.
However, while a number of teams were rumored to be already working on a trade package for Leonard, the Spurs might decide to keep Leonard after all.
Writing in his weekly newsletter for the New York Times, Marc Stein said sources close to the team had dismissed the possibility of trading the small forward.
One "well-placed insider" was quoted as saying that the "Spurs continue to give off signals behind the scenes that they won't trade Leonard."
Conversely, Leonard's situation could be a repeat of the scenario Spurs faced last summer with LaMarcus Aldridge. The power forward had demanded a trade away from Texas, but Popovich made clear Aldridge would only be allowed to leave if San Antonio received a star player in exchange.
"I was very candid with him," Popovich said, as reported by NBC.
"I told him, 'You get me a talent like Kevin Durant and I'll drive you to the airport. I'll pack your bags, I'll drive you there, I'll get you on the plane and I'll get you seated.'"
As a result Aldridge remained in San Antonio. Popovich heaped praise on his mental resilience after he scored 34 points as the Spurs fell 2-0 down in their first-round series against the Golden State Warriors on Monday night.
"LaMarcus has been a monster all year long," Popovich told reporters in what many considered a not-so-veiled shot at Leonard. "He's led our team on both ends of the floor. He doesn't complain about a darn thing out on the court. He plays through everything. I can't imagine being more proud of a player as far as playing through adversity and being there for his teammates night after night after night. He's been fantastic."
However, it remains to be seen whether Leonard and Popovich would agree to a meeting like the one the latter had with Aldridge last summer, or if the relationship between the two has broken beyond repair.
In recent years, Jimmy Butler and DeMarcus Cousins left the Chicago Bulls and the Sacramento Kings after not being offered a supermax contract, while James Harden and John Wall put pen to paper to remain in Houston and Washington respectively.
Should Leonard fall in the former camp, then a trade will become a very plausible scenario and there will be no shortage of suitors for a player who averaged 25.5 points, 5.8 rebounds, 3.5 assists and 1.8 steals per game last season .