Kawhi Leonard Timeline: How Spurs Star Ended Up Traded to the Raptors (Reportedly)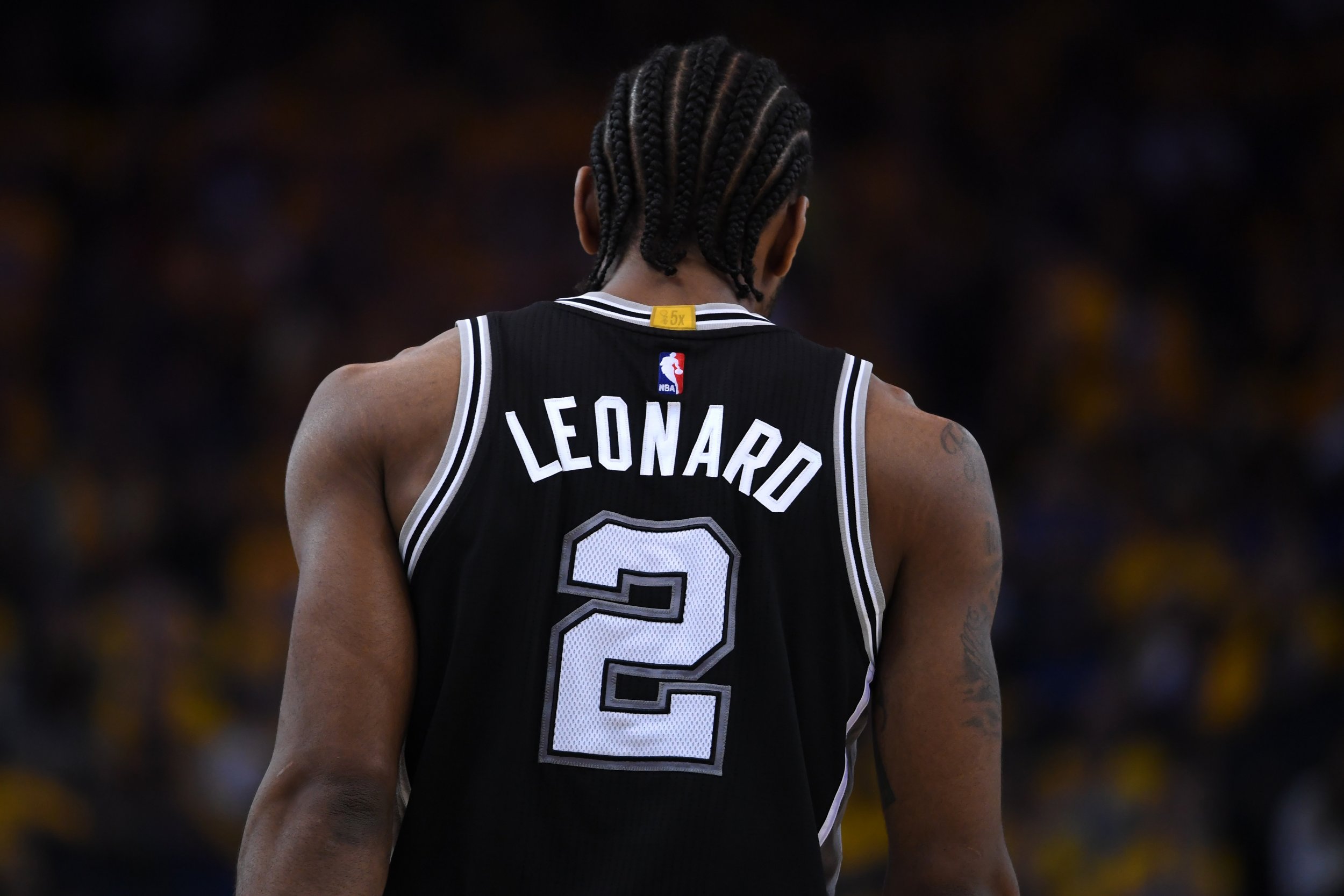 After an odd, slow-to-unwind falling out in San Antonio, it appears Kawhi Leonard will be exiled to Canada—against his wishes and in exchange, mostly, for Toronto Raptors star DeMar Derozan. The reports about the (soon-to-be-former) Spur being moved surfaced in the wee hours Wednesday.
The trade is not yet official, it seems, but it has been reported by ESPN's Adrian Wojnarowski, which might as well be official in NBA circles—the only potential hiccup being a physical Leonard may have to pass coming off a quad injury.
Woj tweeted: "San Antonio has agreed to trade Kawhi Leonard and Danny Green to Toronto for DeMar DeRozan, Jakob Poeltl and a protected 2019 first-round pick, league sources tell ESPN. Trade call with league office is beginning momentarily." He added in a follow-up tweet that the pick would be protected 1-20 and that after a year it would convey into two second-round picks.
Not long ago, the Spurs sans Leonard felt impossible. He was the heir to Tim Duncan, the quiet centerpiece of the workmanlike franchise that churns out wins. But for about a year there have been reports of a fracture at the base of the Spurs' dynasty and—in dramatic fashion, a departure from the norm in San Antonio—Leonard has apparently now eked his way out of an unhappy situation (albeit for another unhappy situation). Here's a comprehensive rundown of how it all happened:
June 23, 2011: With the 15th pick in the NBA Draft, the Indiana Pacers selected Kawhi Leonard, immediately trading him to the San Antonio Spurs.
June 16, 2014: Leonard was named the NBA Finals MVP after the Spurs topped the LeBron James and Dwyane Wade-led Miami Heat to win the championship. He was just 22 years old. "It's like he just played free," Wade said after the series was over, according to the Associated Press. "He's the future of this team."
May 14, 2017: Leonard injured his ankle in the Western Conference Finals after Golden State Warrior Zaza Pachulia slid his leg underneath him while he was taking a jumpshot. Leonard was out for the rest of the playoffs. He was stellar in 2017, having been named first-team All NBA and finishing third in the MVP voting.
June 20, 2017: Everything seemed fine. Spurs officials were optimistic about Leonard's recovery and the next season. The 26-year-old was back to physical activity, the San Antonio Express-News reported. "We expect through a normal training and treatment program, he'll be in a good position," Spurs general manager R.C. Buford told the paper.
September 30, 2017: A new injury issue arose. San Antonio announced that Leonard had a right quadriceps injury and would miss the entire preseason.
Spurs coach Gregg Popovich said to reporters that the problem was unrelated to the ankle injury and had lingered from last season. "We're not going to put a timetable on it," he said. "But he's working at it, and we'll get him back as soon as we can."
"Kawhi Leonard has a quadriceps injury, and the Spurs might have a big problem," read a Washington Post headline at the time.
October 13, 2017: The Spurs acknowledged Leonard would miss the season opener. "I don't gauge it," Popovich said. "He's still rehabbing and when he's ready, he'll be ready. I try not to qualify it."
October 18, 2017: The Spurs played their first game of the regular season. They beat the Minnesota Timberwolves 107-99.
October 20, 2017: A video of Leonard laboring up stairs onto the Spurs charter plane went viral.
November 7, 2017: Things were moving slowly and the first signs of a fracture appeared. Popovich couldn't seem to hide his confusion about what is going on with his star player. "He's just coming along more slowly, for whatever reason," he said, according to Express-News reporter Tom Orsborn. "It's just been more difficult for him to get through the rehab routine. His body hasn't reacted the same way."
November 28, 2017: Spurs legend Tony Parker—remember him, he'll be important later—suggests Leonard's return was imminent. "He's close, but it's still going to be a process," Parke said, according to NBA.com.
December 12, 2017: He was back! In a loss to the Dallas Mavericks, he played 16 minutes and scored 13 points. "I'm just happy to be out there, just to play the game and enjoy the things I missed," Leonard said after the game, via the Express-News.
January 5, 2018: Leonard scored 21 points against the Phoenix Suns and dominated on defense. "Kawhi is getting to look more and more like himself every game," Popovich said after the game, according to the AP.
January 13, 2018: Unbeknownst to anyone at the time, Leonard played perhaps his last game ever as a San Antonio Spur. Leonard was coming off a three-game absence but still managed to put up 19 points in a blowout victory over the Denver Nuggets. "He looks confident," Popovich said after the game, according to the AP. "He's coming along well."
It would prove to be the ninth and final game for Leonard that season.
January 17, 2018: San Antonio put out a statement announcing their star would be out indefinitely. "This is the best approach for the next steps in his return to play," Buford said in the statement. A comprehensive ESPN report published months later in May has since revealed that at about this time Leonard sought the opinion of a different doctor in New York and his camp came to believe his quad issues stemmed from a different issue than the doctors in San Antonio.
January 22, 2018: The real story has started to come out. ESPN's Woj reported that there was a growing rift between Leonard and the Spurs organization over the way he was rehabbing the quad injury. Unnamed sources told Woj that Leonard was "distant" while Buford told him on the record that everything was fine. This quote from Buford seems more important now.
"We sought outside expertise with the best tendon experts in the world," Buford told ESPN at the time. "It worked beautifully for Tony [Parker], but it hasn't worked the same for Kawhi."
February 2018: February was weird. Leonard decamped from Texas to New York to work on his injury. ESPN reported he was planning to head back to San Antonio later in the month. Popovich said he didn't expect him back for the season at all. His quote seemed to hint at Leonard that it was time to—how do we put this gently—defecate or get off the pot.
"We only have X number of games left in the season, and he's still not ready to go," Popovich told reporters, via ESPN. "If by some chance he is, it's gonna be pretty late into the season and it's going to be a pretty tough decision—how late to bring somebody back. So that's why I'm just trying to be honest and logical. I'll be surprised if he gets back this year."
February 25, 2018: ESPN reported that Leonard had been medically cleared to play but that the ultimate choice of when (or if) he would return to action rested with the star.
March 4, 2018: There were some signs something else besides the injury was occurring. ESPN reported that talks between the Jordan shoe brand and Leonard broke down because his camp felt he wasn't being compensated like a superstar.
March 7, 2018: Talking with reporters, Leonard denied anything had come between he and the Spurs. He went as far as to say he could imagine ending his career with the team. Leonard suggested he might be back that season. "Soon," he told Orsborn about when he hoped return. "I don't have a set date right now. I just have to keep doing what I'm doing. The progression that I am making has been great. I just have to keep doing what I'm doing."
March 21, 2018: This became a weirdly important day in the whole saga. Leonard was seen in uniform for picture day. As the May ESPN report pointed out, it would prove to be his final public appearance at a Spurs game the entire season.
March 22, 2018: The Spurs held a players-only meeting, with one of the major subjects being Leonard's injury and absence. ESPN reported that it was "tense and emotional" and that some players implored him to return. According to the Express-News, Leonard was caught off guard but things weren't as tense as ESPN reported.
"He is not coming back," Spurs legend Manu Ginobili said to reporters after the team meeting, according to ESPN. "For me, he's not coming back, because it's not helping [to think Leonard is returning]. We fell for it a week ago again. I guess you guys made us fall for it. But we have to think that he's not coming back, that we are who we are, and that we got to fight without him. That shouldn't be changing, at least until he is ready for the jump ball."
March 23, 2018: The Parker quote. So, according to reports, tensions had been rising between Leonard and the Spurs as an organization. Leonard was growing distant. Then an elder statesman came in and took a shot at him.
"I've been through it," Parker told Orsborn about Leonard's injury. "It was a rehab for me for eight months. Same kind of injury [as Kawhi], but mine was a hundred times worse. But the same kind of injury. You just stay positive."
This would prove incredibly important. ESPN's Woj and Zach Lowe would later say on-air that this was the "last straw" for Leonard. Shortly after Leonard left San Antonio, not returning until the end of the season.
April 11, 2018: The Spurs lost the final game of their season but won 47 games overall, enough for the seventh seed in the Western Conference for the playoffs.
April 15, 2018: Popovich took a not so subtle jab at Leonard when he was asked if the team would even see Leonard on the sidelines as a spectator for the playoffs.
"You'll have to ask Kawhi and his group that question," he told the Express-News.
April 16, 2018: Another day, another jab. Popovich praised Spurs forward Lamarcus Aldridge in a curiously specific fashion.
"LaMarcus has been a monster all year long," he said, via USA Today, after the Spurs lost to the Golden State Warriors in their second playoff game. "He's led our team at both ends of the floor. He doesn't complain about a darn thing out on the court. He just plays through everything. I can't imagine being more proud of a player as far as playing through adversity and being there for his teammates night after night after night. He's been fantastic."
May 1, 2018: The big ESPN story dropped—reported by Ramona Shelburne and Michael C. Wright—and it appeared the writing may have been on the wall. It noted there may be a showdown to come. For the first time, the public learned that behind the scenes Leonard's agent Mitch Frankel, and his uncle, Dennis Robertson, had been pushing back against the franchise. A telling quote from an unnamed league source: "Kawhi is the same person. The only thing that has changed about him is the people speaking for him now."
June 8, 2018: The NBA season came to an end after the Golden State Warriors swept the Cleveland Cavaliers to earn their second-straight title.
June 15, 2018: The bombshell dropped. Leonard went from disgruntled Spur to a Spur who wanted out. Multiple reports detailed that he had demanded a trade, with Los Angeles his preferred destination. Woj tweeted that he wanted to be on the Lakers. The slow process of San Antonio fielding offers began. The Los Angeles Lakers, Los Angeles Clippers, Boston Celtics and Philadelphia 76ers are floated as potential destinations over the coming weeks.
June 21, 2018: Popovich went out to California and visited Leonard ahead of the NBA draft. A report from ESPN detailed very little about the actual meeting but did note that Leonard had been actively making himself hard to reach because he didn't wish to meet with Spurs officials.
July 1, 2018: Things got even weirder. Michael C. Wright said on a podcast with Tom Haberstroh that the Leonard actually hid—like physically hid—from Spurs management at one point when they tried to visit him while he was rehabbing in New York.
July 12, 2018: After rumors the franchise was interested, Vegas suddenly gave Toronto the shortest odds to land Leonard.
July 18, 2018: The trade happened. The two main players involved were reportedly upset with the outcome. TNT's David Aldridge posted to Twitter that assuming Leonard passes his physical and ends up in Toronto, a long-term stay would be "a very tough sell." Leonard will be a free agent next summer.