A man's amazing encounter with a has gone viral, with TikTok users dubbing the footage "beautiful" and "inspiring."
Shared by user @ysbrodie on 28 July, the clip shows the whale swimming up to his boat, before diving underneath his clear plastic canoe for a closer look.
Since being posted, the video has received over 360,000 views and almost 6,000 shares.
"A little baby whale just dancing around the canoe," says Brodie in the clip.
"Hello my name is Brodie, it's lovely to meet you," he shouts to the whale as it approaches his boat.
The whale then dips under the canoe, which is made of transparent plastic, allowing Brodie and his viewers to see the creature swimming underneath.
"What the hell," he yells. "Oi, oi, holy s***.
"Did you see that? It went straight under me, like it was sussing me out.
"My heart is going 100 miles an hour."
Although Brodie mistook the animal for a baby, Andy Rogan—Science Manager at Whale Research and Conservation organization Ocean Alliance—said the whale is a little bit older.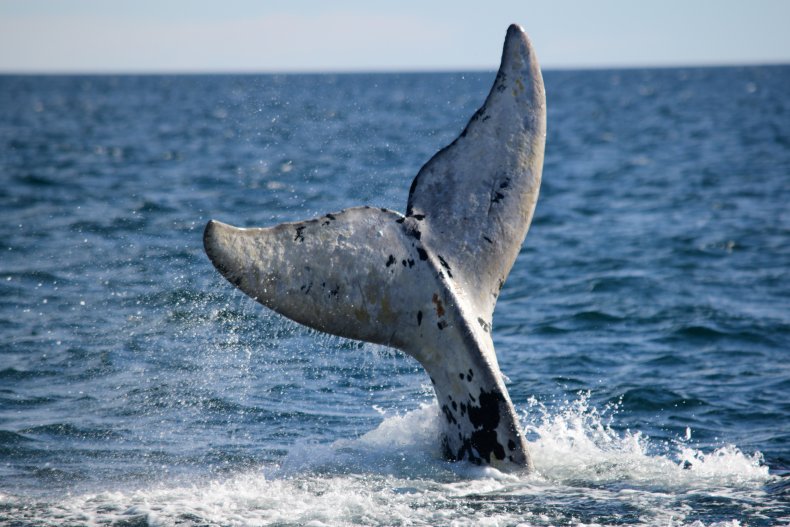 He told Newsweek: "It's certainly not an adult, but it looks larger than a baby. I would say probably six months to 2-years-old."
Rogan said how humpback whales behave around humans can "vary wildly."
"Just like humans, each individual whale will have a different personality," he said. "But they can be very curious animals.
"I have spent time with humpbacks, and the vast majority of the time they just ignore you entirely.
"Sometimes, something sparks their curiosity and they might approach humans or boats."
In the USA it is illegal to approach a humpback whale, with humans told to stay 100 yards away. Rogan explained that although humpback whales "very rarely display aggressive behaviors" towards humans, they are still hugely powerful animals.
"They could hurt us without even meaning to," he said. "Mother whales with calves might be particularly defensive.
"Most animals do best when they are left alone by humans."
However, as Brodie discovered, sometimes whales will approach us. In these instances, Rogan recommends remaining calm and making the most of the experience.
TikTok users were in awe of the clip, with damnthatscrazy describing it as "the most beautiful tiktok I've seen so far today."
"I would sob" said one user.
"What a moment," agreed another.
Others couldn't get enough of Brodie's excited reaction, with one comparing him to Steve Irwin.
He wrote: "I've never believed in reincarnation but this guy just has major Steve Irwin vibes."
While a fourth commented: "That's a lifetime experience, you were the chosen one."
Newsweek has reached out to @ysbrodie for comment.