Kayaking Along Croatia's Coast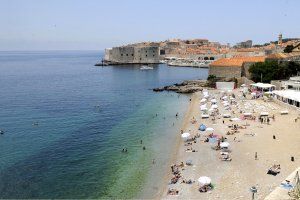 A waiter from a local restaurant walks around the docks in the small medieval fishing village of Zaton Bay, just outside Dubrovnik's Old Town. Holding a spear on his shoulder, he is looking for an octopus in the shallow waters along the coast. He stabs it just as we walk by, and proudly displays it for his son to see.
"He's been trying to catch that octopus for two days," jokes Zeljko Kelemen, the guide leading my weeklong kayaking expedition along the southern half of the Dalmatian coast, where the mild Mediterranean climate and
even winds usually create ideal conditions. Kelemen has been kayaking this teal-blue coastline since the 1970s and now owns an adventure-travel company called Huck Finn, which offers five and eight-day kayaking, biking, and hiking itineraries that mix nature and local culture. "There's much to explore inland as well, with fortresses, small churches, and monasteries rich in medieval art tucked among the green hills," he says.
Three years ago Kelemen bought a French-designed 14-meter catamaran to be used as the mother ship on these journeys. It followed our group of six in double and single kayaks along the Croatian coast until we were exhausted and hungry. We had the option of sleeping either on the four-bedroom, four-bath yacht or in private homes with families along the way. No cares. No clocks. No meals to prepare. Just the luxury of leisurely island hopping. Or so I thought.
On day one I flipped the kayak as I was pulling away from shore on a solo test run in water that barely came up to my knees. Then I got seasick during an open-water crossing from Kolocep island to Lopud, two of the Elafiti Islands seen from Dubrovnik. A storm was brewing; the wind roared, and the waves roiled. "Pick a spot on the island in front of us and keep your eyes on that spot," advised the woman behind me in our two-person kayak, whom I had just met over lunch that afternoon. "Don't look away. It will trick your mind into thinking you're on land."
I found the strength to look up, but not the energy to thank her. A little while later I stopped paddling and gave her a thumbs-up. "Feeling better?" she asked, still concerned. I nodded. Never before had I been so terrified and enchanted by the force of nature.
When we reached the sandy beach of Lopud, an island without cars, it was dinnertime but light enough to see hilltops of terra-cotta clay roofs and master gardens in shades of lavender, pink, and yellow. Grapevines hung over the front gates of the houses. We learned that the history of gardening in the region dates back centuries. "The leading families were spared from war for much of the medieval period and, with trade, were getting rich," says Kelemen, whose parents were born in Croatia. "As the noble women started competing over who would have more gold and jewelry, the wise Senate made a rule: only prostitutes were allowed to wear gold in public. So the noble women began competing over who would have the biggest house and most beautiful garden."
Our route covered 66 stunning, arduous kilometers. The greatest hits included the stone-walled city of Ston, with its limestone cliffs and cobbled streets, art exhibits and wine tastings, and an island in the middle of Mljet National Park, which houses a 12th-century Benedictine monastery. The monastery sits near the center of the wine--growing area of the Pelješac peninsula, which, recent DNA analysis has proved, is the source of the grapes that make California zinfandels.
The goal on most days was to kayak to, and around, one island and, if you were feeling ambitious, swim in the sea, bike, or hike through hilltops of olive groves and fig trees. Almost always, we were alone as a group, snorkeling in hidden shallow bays Kelemen located, and then docking for dinner in villages unspoiled by mass tourism.
By the last day, I had mastered the patience needed to produce an even, smooth stroke, and to respect the rhythm of the tide without flipping. The sea had introduced me to a world that, in many places, hadn't changed in a thousand years. Next time, I will have to learn better balance so I can look up and take pictures.
Close to Shore: Scenic Sculling
Ha Long Bay, Vietnam
Graham Land, Antarctica
Coron Insel, Philippines
Deux-Sèvres, France