Who is Kayla Kline? Miss Denver Quit Miss America Race in Support of Cara Mund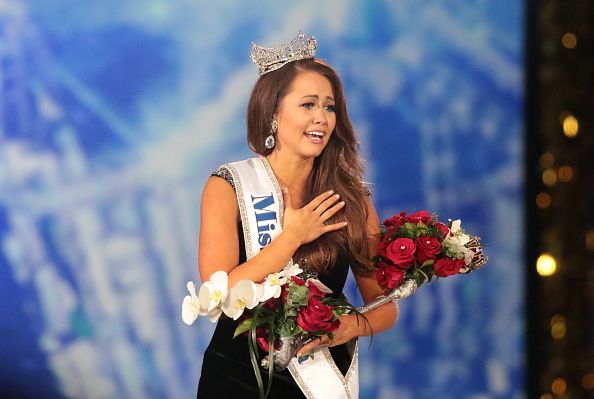 It was just a few months ago when Kayla Kline posted Instagram photos of her Miss Colorado application with hopes of representing her home state in the upcoming 2019 Miss America pageant. The Miss Denver beauty queen has since discontinued her efforts in light of the ongoing showdown between current Miss America crown-holder Cara Mund and Miss America Organization chairwoman and former winner Gretchen Carlson.
Kline announced her resignation from the pageant during a video interview with TMZ, released on Friday. Her decision to quit the annual contest came following Mund's letter against the Miss America board and Carlson, in which Mund accused the organization of bullying, manipulating and silencing contestants. "I resigned when I saw Cara's letter. I was profoundly moved and I couldn't imagine what she was going through," Kline said.
"My platform as Miss Denver was 'Living Authentically,' and in my platform statement I talked extensively about defining one's personal ethics and being one's authentic self at all times even when it's difficult," she continued. "I just don't know how I can live authentically wearing a title from an organization whose national leadership is in blatant violation of my own personal code of ethics, namely kindness, humility and respect for others."
Mund's letter claimed she was being denied press opportunities and being overshadowed by Carlson, who became the first former contestant to sit on the Miss America board in Janurary following the resignation of former CEO Sam Haskell. "Let me be blunt: I strongly believe that my voice is not heard nor wanted by our current leadership; nor do they have any interest in knowing who I am and how my experiences relate to positioning the organization for the future," Mund wrote in the 3000-word letter published on her Facebook page on August 17.
Carlson responded by alleging Mund cost the organization $75,000 in scholarships due to her letter.
Mund said it was "possible" she'd be dethroned over the letter during an interview with Good Morning America on Thursday.
Kline called on others to rally behind Mund and show their support. "Miss America starts with us. If you don't have local title-holders, then you don't have state title-holders. If you don't have state-title holders, then you don't have Miss America," she said.
She added: "If you're losing girls at the local level, that's a serious indication that something is wrong. I know that our voices are really small in this matter, but I think that if there are enough of us raising our voices maybe we can be heard."
The organization released the full list of 51 pageant contestants and named Ellery Jones as Miss Colorado on Thursday. It's unclear how far Kline made it in the preliminaries.