Kayleigh McEnany Alleges Pennsylvania Trying to 'Tip the Scales' to Favor Democrats
White House Press Secretary Kayleigh McEnany said Monday during a press conference that the re-election campaign of President Donald Trump had noted "disparities" in Pennsylvania's voting process and had filed a federal lawsuit.
Mail-in votes are still being tabulated in Pennsylvania. Democratic presidential nominee Joe Biden was projected to be the victor in Pennsylvania, allowing him the state's 20 electoral votes. Those votes were enough to give him more than 270 electoral votes, the number needed to become the president.
According to McEnany, some counties in Pennsylvania had opened satellite offices for "back-door early voting," allowed pre-canvassing and allowed some voters to fix deficient ballots, a process known as "curing," whereas other counties did not. McEnany alleged that those practices were signs that the voting process in Pennsylvania "created disparities depending on where citizens lived and where they voted in the state."
"What Pennsylvania has done is provide a case study into how to tip the scales of an election to functionally favor the Democrat party," McEnany said. "This has gone on nationwide."
"They have taken a global pandemic and turned it into a nationwide electoral epidemic," McEnany added. "They have taken, based on what they call a 'natural disaster,' they have used that and turned this into a national disaster."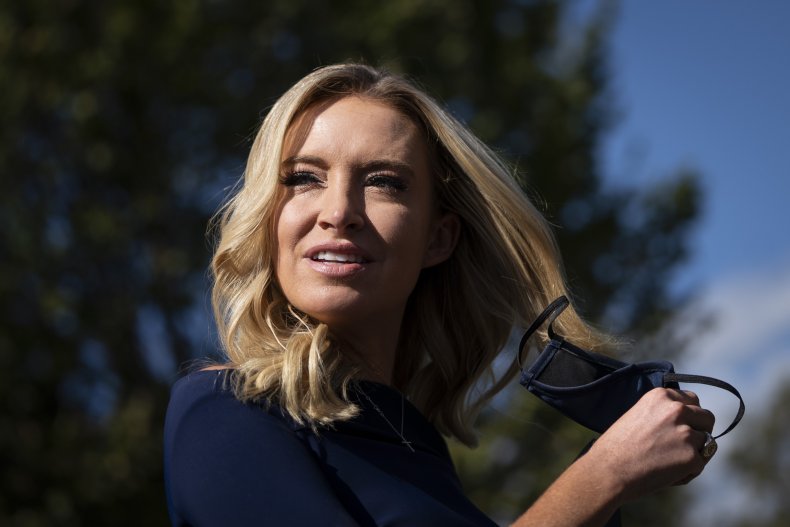 Trump's campaign filed suit against Pennsylvania Secretary of State Kathy Boockvar and the boards of elections in seven Pennsylvania counties on Monday. Chief Counsel for the Trump re-election campaign Matt Morgan said during Monday's press conference that the lawsuit was filed because Democrats were allowed greater leeway during the election.
"If you were a Democrat in Philadelphia, you were allowed to work outside the bounds of the restrictions on fixing defective ballots, sometimes referred to as 'curing,'" Morgan explained, "but if you were in Republican counties of the state of Pennsylvania, you were not allowed to do that because they were strictly following the text of the statute in Pennsylvania."
In a statement emailed to Newsweek on Tuesday, the Pennsylvania Department of State said that allegations of election interference "have been repeatedly debunked and dismissed by the courts. Those attacks against the core values of Americans are intended to undermine our democracy, and we must reject them."
"In Philadelphia and several other counties there has been a livestream of the ballot-counting process available for anyone to watch," the statement continued. "In all counties all parties have canvass observers throughout the process. Any insinuation otherwise is a lie."
Fox News cut away from Monday's press conference as it was being broadcast live, claiming that McEnany's statements were unsubstantiated. "Whoa, whoa, whoa," said Fox News host Neil Cavuto. "I think we just have to be very clear she's charging that the other side is welcoming fraud and welcoming illegal voting."
"Unless she has more details to back that up, I can't in good countenance continue showing you this," Cavuto continued.
Trump's campaign has alleged that some mail-in ballots were counted in some battleground states, although they were received after election day. During a Thursday news conference, Trump claimed that Pennsylvania was a part of a "corrupt Democrat machine."
"Partisan Democrats have allowed ballots in the state to be received three days after the election, and we think much more than that," Trump said. "And they are counting those without even postmarks or any identification whatsoever."
Many observers considered Trump's allegations of electoral fraud to be unsubstantiated. Although Biden has created a presidential transition team, Trump has not conceded the election to Biden.
Update (11/10/2020, 7:08 p.m. EST): This story has been updated with a statement from the Pennsylvania Department of State.