Kayleigh McEnany Claims 'I Never Lied' as Trump's White House Press Secretary, Cites Belief in God
Former White House Press Secretary Kayleigh McEnany proclaimed Sunday that her faith in God prevented her from ever telling a single lie during her tenure as former President Donald Trump's chief spokesperson.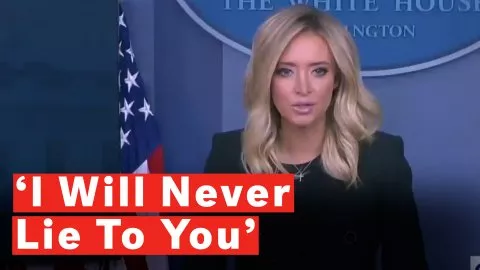 McEnany spoke to attendees of the conservative group Turning Point USA's Young Women's Leadership Summit on Sunday, reiterating her past claims that she "never lied" one time as Trump's press secretary. McEnany, who was the Trump administration spokesperson from April 2020 to January 2021, recalled a May 2020 press conference question in which a journalist asked her bluntly, "Will you pledge to never lie to us from the podium?"
McEnany replied succinctly to the reporter, "I will never lie to you," prompting critics and political pundits to scoff at the remark.
On Sunday, McEnany repeated the claim and said her Christian faith and belief in God prevented her from telling lies to the American people. She went onto highlight her Harvard Law School background and "meticulous" preparation for the role of White House press secretary.
"And I said without hesitation, 'No,'" McEnany described Sunday, relaying her May 2020 press conference response to the reporter. "And I never did. As a woman of faith, as a mother of baby Blake, as a person who meticulously prepared at some of the world's hardest institutions, I never lied. I sourced my information."
McEnany drew applause from attendees as she went on to rail against the news media for unfairly labeling her a "liar" throughout her tenure in the Trump administration.
"Our motto was this: 'Offense only,'" she told the crowd. "Because I knew what we were up against. Republicans always get the bad headlines, always get the false stories, always get the lies—if I can use that word—told by the press. There is one standard for Democrats and another for Republicans. And we must be on offense."
Numerous media outlets have published lists of claims McEnany made behind the podium that after fact-checking were described as either outright lies or misleading statements. Despite this, McEnany has denied all challenges to her truthfulness and has long discussed her Christian faith and passionate belief in God instead.
"God put me in this place for a purpose," McEnany told the Christian Post in a September 2020 interview. Amid the COVID-19 pandemic, McEnany continued to run a weekly virtual Bible study for members of the 2020 Trump campaign and their GOP allies in Washington.
Newsweek reached out to representatives for the former president as well as McEnany Sunday afternoon.
{{#isDisplay}} {{/isDisplay}}