Former White House press secretary Kayleigh McEnany advised Republicans looking to separate themselves from former President Donald Trump to remember his record in appealing to minority voters.
Trump hasn't ruled out making another bid for the White House in 2024, and he retains a significant following that puts him at the top of the list of Republican contenders. After weeks of GOP infighting over the president's role in the party's future, his leadership position was solidified in the form of a grand finale speech at the recent Conservative Political Action Conference (CPAC).
In her first interview since leaving the White House, McEnany told Fox News' Harris Faulkner that Trump has "changed" the Republican Party "in a way that's really positive." She pointed to Trump's high levels of support among Black and Hispanic voters and advised Republicans to recognize the impact he's had on the party's growth.
"He has made this party more inclusive, more expansive, more welcoming, and I think Republicans on the Hill who are so quick to say 'President Trump doesn't have a place in this party' need to look at these numbers and why these voters who aren't typically Republican voters came to the party," McEnany said.
Trump received more support among Black voters than any other Republican presidential candidate in 20 years, and a higher percentage of Hispanic votes than any other GOP presidential candidate in 16 years. McEnany credited his support to giving people "economic hope and opportunity" and applauded his focus on trade and blue-collar workers.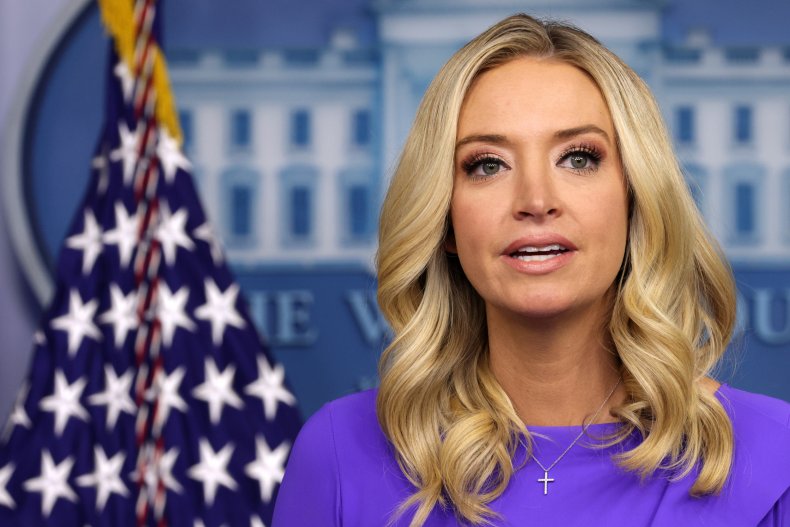 McEnany added that the administration didn't have an opportunity to do a closing press conference where she could tout Trump's achievements because the Capitol riot put a somber note on his final days in office. The riot prompted criticism from even some of the ex-president's staunchest allies, and Senator Lindsey Graham called it a stain on Trump's legacy.
Some Republicans see it as more than a stain, and Representative Liz Cheney doesn't see a future for Republicans that includes Trump.
On February 7, she told Fox News Sunday, "Somebody who has provoked an attack on the United States Capitol to prevent the counting of electoral votes, which resulted in five people dying, who refused to stand up immediately when he was asked to stop the violence...that is a person who does not have a role as the leader of our party going forward."
House Republicans attempted to remove Cheney from her leadership position but failed, and they may try to remove her again. Representative Chip Roy, who supported Cheney during the first vote, said she "forfeited" her right to be a chair of the House Republican Conference by recently reiterating that Trump doesn't have a place in the Republican Party.
"You cannot stand up and make a statement that is so completely out of step with the Republican Conference and where the American people who support President Trump are. I think it is unfortunate that she made those remarks. I think it was shortsighted, but I also think it was purposeful and I think that's the problem," Roy said.
After leaving the White House ahead of President Joe Biden's inauguration, Trump told his supporters "we'll be back in some form" because his movement was just beginning. At CPAC on Sunday, his first public address since leaving office, Trump said that America was in a "historic struggle" for the country's future and that he was still fighting "right by your side."
He denied he was starting a third party, which about 30 percent of Republicans said they would join, as it would split the vote and significantly hurt the GOP's chances of winning elections. He suggested he would be open to running for president again, however.
The former president told Newsmax in an interview that aired Sunday that he hadn't decided whether to run but said it was unlikely a Republican would beat him if he did.
McEnany told Fox News that it's up to the former president to decide on his candidacy in 2024 but added, "I think he can do it again," referring to a potential run.