Kayleigh McEnany, former White House press secretary for Donald Trump, is reportedly in talks to work for Fox News.
The group Citizens for Responsibility and Ethics in Washington has obtained a financial disclosure report that shows McEnany and Fox News entered into an employment agreement on January 1.
McEnany is said to have listed "employment agreement with Fox News, starting work in January" on her termination report on leaving her post at the White House.
Asked whether Fox planned to hire the former White House staffer, a spokesperson told Newsweek: "Kayleigh McEnany is not currently an employee or contributor at Fox News."
McEnany worked at Fox News early in her career, as a production assistant for Mike Huckabee's show. She also made regular appearances on talk shows such as Red Eye.
She later became the spokesperson for the Republican National Committee and often appeared as a guest commentator on the conservative network.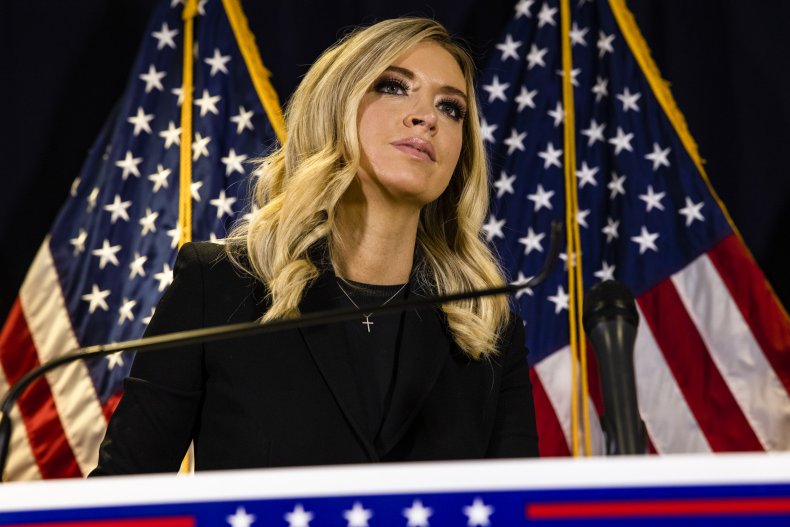 After Trump's failed bid for re-election, she made frequent appearances on Sean Hannity's show to discuss the unsubstantiated claims of voter fraud and the campaign's legal challenges.
If McEnany does join Fox, she will be following in the footsteps of one of her three predecessors as Trump's press secretary. Sarah Huckabee Saunders became a contributor on the channel after she left the White House in July 2019.
Huckabee Sanders has since launched a bid to become governor of Arkansas.
Another former Trump staffer, Hope Hicks, joined Fox Corp in 2018 after resigning from the White House. She returned to work as a senior advisor for Trump last year.
McEnany worked as a CNN contributor during the 2016 presidential election, when she had decidedly less favorable views of Trump. She publicly called his 2015 comments about Mexican immigrants "racist."
Last month, she was reminded of her stint as a left-leaning political commentator by CNN's Don Lemon.
When McEnany refused to acknowledge Joe Biden's election victory during a press briefing, Lemon had some harsh words for his former colleague.
"Do you know she also worked for—girl, bye!" Lemon said. "There is no other—girl, bye! Buh bye."
He went on: "I think we got this. You used to sit here on the set with us. I think we got it. When you sat here with us, you thought we had it. You were happy to be here. Now, we don't know what we're doing?"
"Girl. Bye."
Meanwhile, conservative pundit Tucker Carlson has complained this week that "stupid" people are trying to get Fox News taken off the air.
This article has been updated with a quote provided to Newsweek by a Fox News spokesperson.