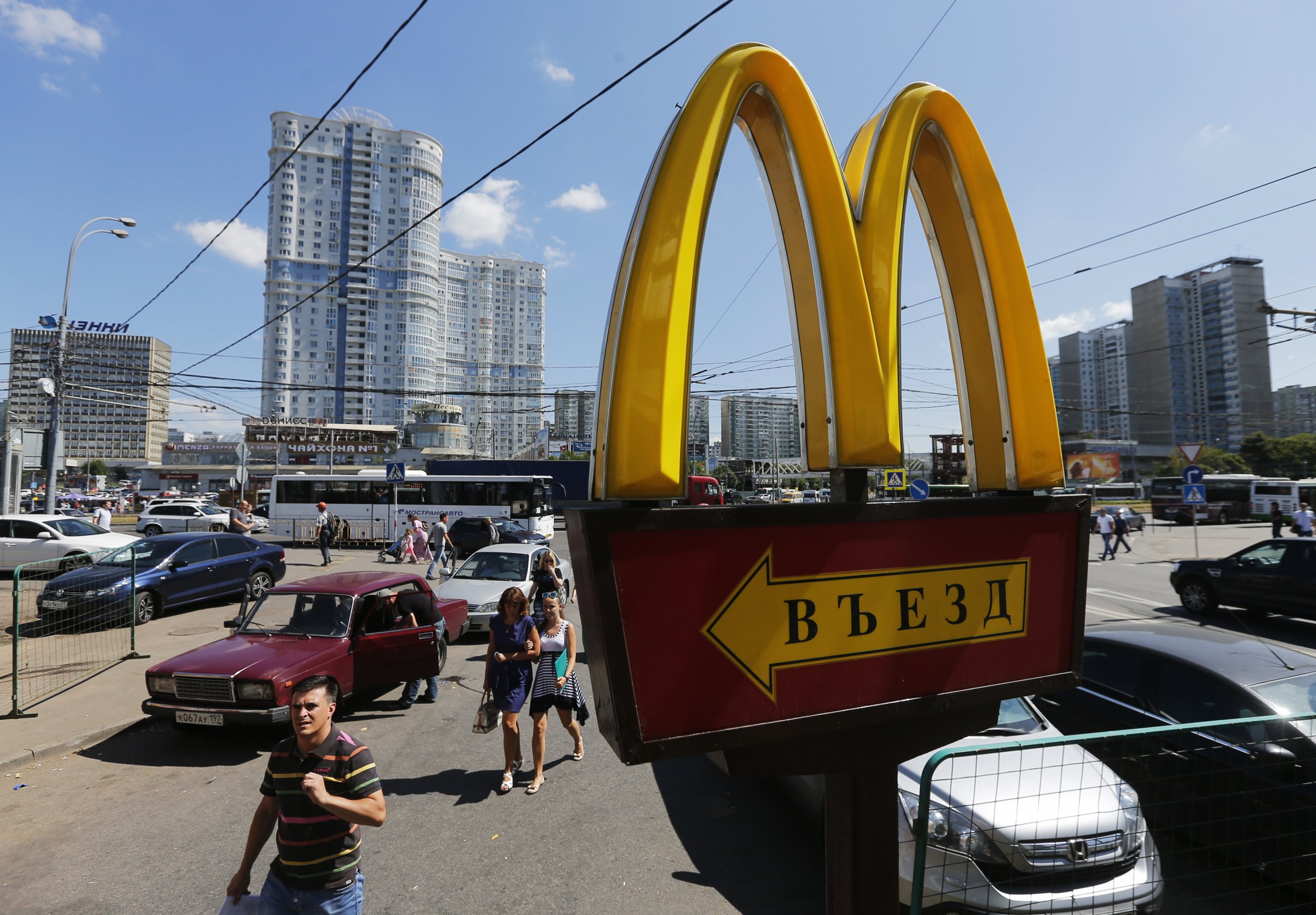 Kazakhstan's President Nursultan Nazarbayev has paid a visit to his country's first ever McDonald's in a bid to lure foreign investors to the country, his spokesman said.
Nazarbayev, who has been in power since before his country's independence from the Soviet Union, has never won an election that has been deemed free and fair by international monitors. The 75-year-old leader was granted the lifelong title "leader of the nation" in 2010 but has been accused of being an autocrat and out of touch with the Kazakh society by the country's marginalized opposition.
Although McDonald's is not the first major U.S.-food giant to open a branch in the former Soviet republic, it is one of several Western companies to be welcomed with fanfares in Kazakhstan over the last few months, as the country hopes to combat an economic downturn with foreign investment.
In October Nazarbayev told his countrymen to prepare for "a real crisis" as the oil-rich country was seriously hit by low oil prices and by the financial woes of its key trading partner, Russia. Budget revenue at the end of 2015 had fallen by 40 percent.
U.S.-coffee chain Starbucks and French supermarket giant Carrefour have both opened branches in the country since December. Video from Nazarbayev's awkward trip to a newly opened branch of Carrefour in the Kazakh city of Almaty drew a lot of attention online last month.
While the president hoped his visit would drum up excitement for the new supermarket, some viewers online pointed out that he appears repeatedly shocked at the price of food products, including the price of bread, before one local customer tells him that "it is normal".
Nazarbayev's trip to his country's first McDonald's restaurant in Astana went slightly better. Staff showed him around the premises of the building and left his spokesman respond to questions.
When asked if Nazarbayev's visit could be taken as an endorsement of fast-food culture, the president's spokesman said this was not necessarily the case.
"Dining that is above all a matter of personal choice. It must be pointed out that opening a McDonald's has become a much anticipated event for Kazakhs," Abaev said.
He added that the company would eventually employ 20,000 Kazakh citizens and that the performance of McDonald's in Kazakhstan was important to the state because government officials believe other global brands will be looking at sales when pondering entering the Kazakh market themselves.
According to Russia's state news agency Itar-Tass the man who owns the McDonald's franchise in Kazakhstan, Kairat Boranbayev, is related to Nazarbayev, as his daughter is married to the President's grandson.
The official opening of Astana's first McDonald's restaurant is due to take place on Tuesday.