How 'League of Legends' K/DA Singers Brought Virtual Band to Life
Bathed in the amber glow of the setting sun, tens of thousands of fans eagerly waited for the most hyped esports event of the year to begin at Munhak Stadium in Incheon, South Korea. These League of Legends players gathered en masse to watch 10 of the best pro gamers in the world compete for a chance at victory and the Summoner's Cup trophy. Fans on the upper decks cupped their hands around their eyes to block the strong sunlight, squinting to see the stage as a dozen giant drums banged out a countdown for the opening ceremony. Nobody (besides those in the dress rehearsal) knew what was coming and didn't expect what came next.
Real world singers Jaira Burns, Miyeon and Soyeon of (G)I-DLE, alongside Madison Beer, burst onto the stage singing "POP/STAR", a brand new song from Runeterra's first K-Pop band, K/DA. They were joined by their virtual counterparts; four League of Legends champions brought to life with the help of Riot Game's AR technology. If you looked up at the three jumbotron screens above the crowd, Ahri, Akali, Evelyn and Kai'Sa seemed like they were actually in the stadium, their virtual silhouettes mirrored in the stage panels beneath their dancing feet.
"TMI, definitely threw up this morning because I was really nervous when I woke up," Burns told Newsweek in the dressing room an hour before the performance. The four singers had been collaborating with Riot Games behind-the-scenes for months, working on the top-secret track created to get fans hyped for K/DA. Burns, a musician with bright-blue hair and spunk to match, first heard about the project when Riot Games was still in the early planning stages. "They had me come in, write some stuff, do some melodies, lay some stuff down for ideas of what the song was going to be. I left to do a couple of shows and they had sent me the finished song," she said.
The other English speaking member of the crew, 19-year-old Beer, went viral on YouTube half-a-decade ago and has steadily built up a strong audience of over 2.5 million Twitter followers. "I was brought on later in the process, when the song was pretty much done," she said. Her little brother is a huge gamer who streams on Twitch and nearly lost his mind when she told him about this opportunity. "He freaked out about it so it intrigued me a lot to get to know this world that he was really into."
Miyeon and Soyeon are part of the highly successful G-IDLE K-Pop group, which premiered earlier this year, already gathering over 100 million views on their music videos on YouTube. "At first I was worried about collaborating on this new journey because I've never experienced this sort of collaboration with external partners," Soyeon said through the help of a translator. Working this closely with Riot Games and western artists isn't something the pair had ever done before and the event at Manhuk Stadium was the biggest they've ever been apart of.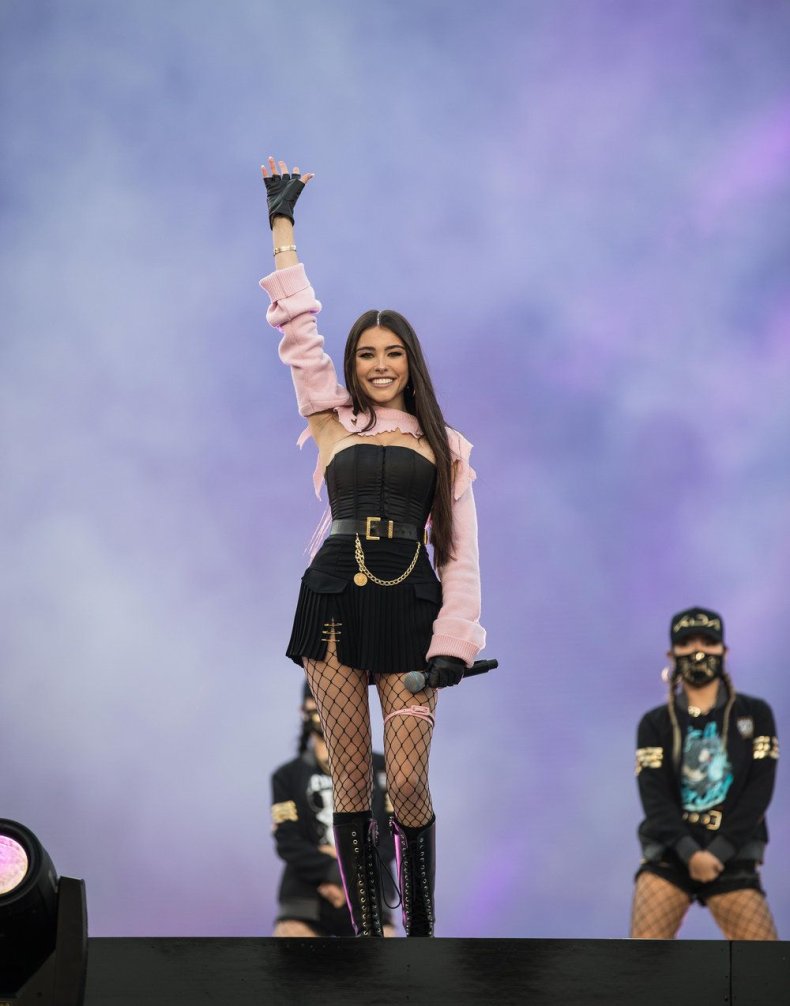 "It's been an honor to be a part of this opening ceremony," Miyeon told Newsweek. "I know how big League is and how a bunch of players love this game and play all around the world, which made me kinda nervous."
Each singer represents one of the four champions of K/DA, each feeling personally connected to their characters. Beer is the shadow assassin Evelynn, who's mischievous vibe she tried to capture with her vocal performance. Burns is the void-marksmen Kai'Sa who she says is "swagged out, grounded and badass." Soyeon feels she has the same "looks, personality and hair to embody the champion" of Akali.
When Miyeon first saw Ahri, she immediately was drawn to her because she is "charming and beautiful." Learning about the mystical fox's personality actual made her want to play League of Legends, especially Ahri's Charm ability, that throws out a heart and forces champion to fall in love with the mage.
The quartet met for the first time when Burns and Beer flew to Korea for three days of rehearsal. The language barrier made it hard for the girls to communicate, but they feel that they managed to move past those limitations to become friends. "It's really crazy that even though we don't speak the same exact language, we've all got along so well and been able to make this work," Burns said. "If anything it's been annoying for us because we all just want to talk," Beer followed up. "We've gotten super close because we speak English, but it makes us super sad because we want to get super close to them."
This was K/DA's first performance, but it's unclear if the group will play again. The musicians would love another opportunity to perform again, but it' up to Riot Games to get the K-Pop group back together.