Is Keaton Jones GoFundMe Campaign Real? Page Raises $55,000, but No One Knows What the Money Is for
Update | A viral video of a young boy brokenly asking his mother why he is bullied, amplified by celebrity voices, naturally left people wanting to help. So they turned to a GoFundMe campaign to donate a few bucks to the bullied boy, Keaton Jones from Knoxville, Tennessee. Now that campaign has raised more than $50,000 from nearly 2,000 donors.
It reads like a story with a happy ending—until you realize there are several glaring issues.
The GoFundMe page, "Stand up for Keaton," was created by Joseph Lam of Buena, New Jersey—someone who now admits to having no affiliation with Keaton Jones or his family. On the page's description, Lam wrote he created it after seeing the video of Keaton on Facebook. "This video really touched my heart. I decided to do this GoFund Me to help with this child's future," Lam wrote.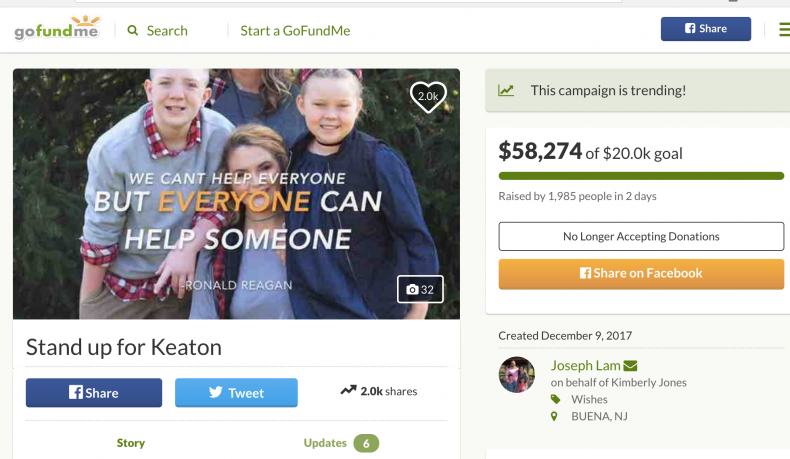 The donations flooded in, and according to updates on the page, Lam got in touch with Kim Jones, Keaton's mom, via email and gave her at least $28,000 of the donations. In a statement to Newsweek, GoFundMe says no money donated to the campaign has been transferred to Keaton's mom or any representative of the Jones family.
If funds are transferred, though, Lam promised donors that "EVERY DOLLAR goes to the Jones Family!! It will be up to them to do the right thing with maybe a College Fund or even private schooling for Keaton to pull him away out of that environment."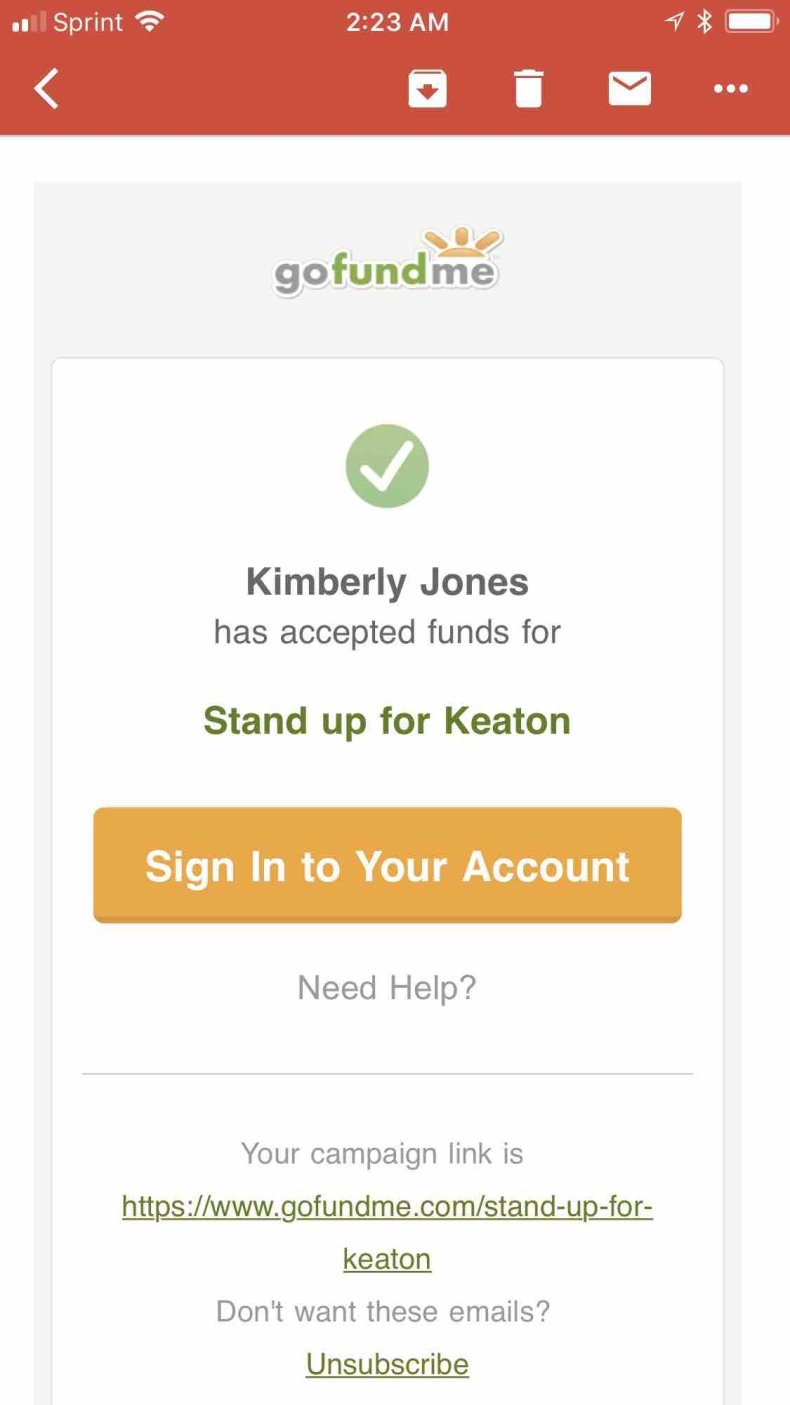 But the seemingly heartwarming tale hit a speedbump on Monday after rumors flared that Keaton's mother was racist. MMA fighter Joe Schilling posted a video saying he reached out to Kim Jones, offering to bring Keaton out Los Angeles for a show. But according to Schilling, Jones "just wants money" and asked the fighter to share a GoFundMe page instead. (It's unclear if this is the same GoFundMe page created by Lam.)
"I feel pretty stupid right now people," Schilling said. "I was pretty moved by Keaton Jones's video." When Schilling wrote back to Jones, accusing her of using her sons' pain as a means of financial gain, she supposedly responded: "What happened to us whites sticking together?"
A few hours later, Lam posted an update stating he had decided to pause the campaign, with a total of $58,274 raised. "As many of you know I paused the donations as well as the comments," Lam wrote. "As I sit back and read these comments and watched the video again I feel I have to make this update. THIS IS NOT ABOUT THE MOM!!"
Lam admitted that he does not know the Jones family personally, and he stressed that this is not just about Keaton but the "many unspoken cases about kids being bullied."
In the meantime, it's not clear where the remaining donated money will go. Lam said he is talking to GoFundMe about how to proceed. "I'm hoping that we can turn the money into something good whether it be for private school or college fund."
Lam did not respond to Newsweek request for comment.
Update: Story updated to include information from a statement provided by GoFundMe concerning the Stan Up for Keaton campaign.