Russian State TV Host Schooled by Pundit Over 'Direct Involvement' Claims
A guest on Russian state television directly contradicted the position of Moscow that the West's delivery of tanks to Kyiv signifies the "direct involvement" by Ukraine's allies in the war started by Vladimir Putin.
Germany and the U.S. last week announced plans to send Leopard 2 and Abrams main battle tanks to Kyiv to fight against Russian aggression in a move denounced by Moscow. Soon after, Kremlin spokesman Dmitry Peskov referred to the military support provided by the West as a sign of "direct involvement" in the war, which is "growing."
On his radio and television shows, Kremlin propagandist Vladimir Solovyov has repeatedly derided the West's military assistance for Ukraine as proof that the conflict is a proxy war between NATO and Moscow. He has also called for nuclear strikes against the countries that have helped Ukraine.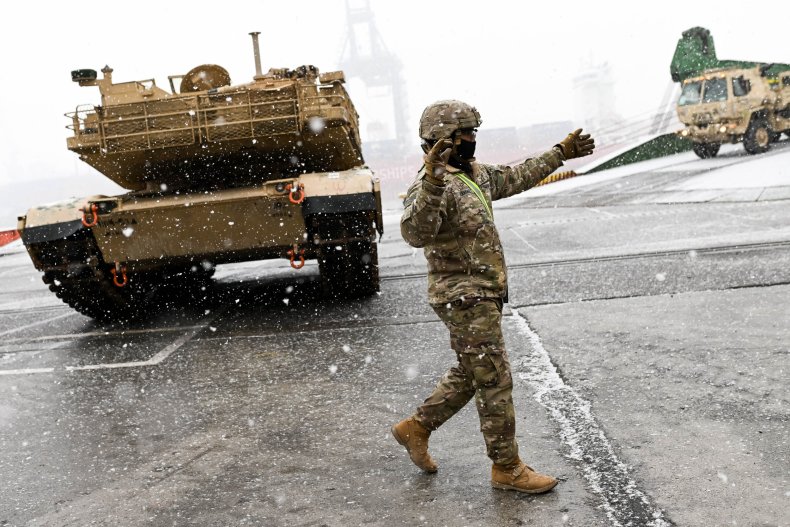 However, on last Wednesday's edition of Solovyov's show, Yaakov Kedmi, a Russian-born Israeli politician and diplomat, told Solovyov that he didn't believe supplying weapons to Ukraine amounted to direct Western participation in the conflict.
"How many weapons did the Soviet Union deliver to Egypt and Syria?" asked Kedmi in an apparent reference to the supply of arms by Moscow to the Middle East during the Cold War and the Arab-Israeli war of 1973.
Kedmi, who is also known as Yasha Kazakov, said that even though the Russian army had "planned the operation" it was always considered a war involving Egypt, in the clip tweeted by the Twitter account of @Israelthreads.
Solovyov said: "That is your position," prompting Kedmi to counter: "That was the position of everyone—the Soviet Union, the United States and Israel."
"No one saw the Soviet Union in the war," Kedmi said, concluding that "the supply of weapons is not participation in war."
Moscow was the principal arms supplier to the Middle East during the Cold War, according to the Washington Institute for Near East Policy. It said Egypt was Moscow's most important ally in the region for a time before being supplanted by the United States.
Meanwhile, in the 1980s, Moscow supplied Syria with "truly massive quantities of its most advanced arms," the think tank added.
Kedmi has clashed with Solovyov before on his nightly show, which is broadcast on the Russia 1 channel. In November, he described Solovyov's threats to destroy Kyiv and wipe Kharkiv "off the face of the Earth" as "obscene."
"It's criminal to bomb peaceful cities," he said, adding that such words "should not be uttered, especially in Russia."