Three people were arrested in Fort Collins, Colorado, on Saturday after a physical fight broke out between Back the Blue and Black Lives Matter protesters during a rally.
The altercation was recorded by an attendee who later shared video footage of the incident, as well as events that preceded and followed it, to social media.
"Everybody keep their hands off the weapons," one person can be heard saying less than 30 minutes into the video, while a group of protesters wrestled amid a chaotic brawl taking place in the foreground. "Keep punching each other in the face. Just don't shoot anybody."
Some of the individuals involved in the fight attended the Fort Collins rally, held outside the city's police headquarters, to demonstrate support for law enforcement agencies. Others previously arrived at the Back the Blue event as counter-protesters wearing face masks and dressed in all-black clothing.
Incidents characterized by verbal and physical aggression have occurred during pro-police rallies across the country, which surfaced this summer in the wake of widespread Black Lives Matter protests against police violence and racism.
Exactly what prompted the fight at Saturday's rally is not clear. However, rising tension between the groups can be seen in the video, which showed Back the Blue protesters forcibly leading a smaller cluster of counter-protesters down the length of a street block.
The video cuts to the ensuing fight after that. It shows at least three male protesters huddled over two individuals in a nearby patch of grass. One protester shoves the post of an American flag into an individual on the ground, who is seen wearing all-black as the camera records him struggling to stand up.
Soon after, another protester begins hitting a different man with what appears to be some kind of baton.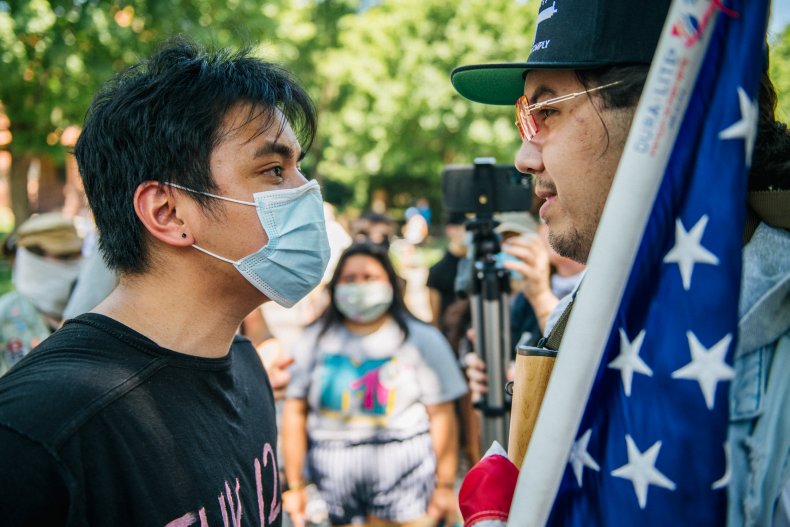 Fort Collins Police Services confirmed three subsequent arrests of individuals involved in the fight. The arrested were taken into custody and later charged with disorderly conduct.
Additionally, police charged one person with possession of an illegal weapon and other with resisting arrest.
A fourth person received a citation for criminal tampering, according to Fort Collins police.
The police department released a written statement regarding its response to the incident on Sunday, accompanied by a video address with comments from Fort Collins Police Chief Jeff Swoboda.
"It's important to note that there were aggressors on both sides," Swoboda said, noting that the arrests and citation applied to protesters and counter-protestors who were present at the rally.
"As we're continuing to move forward, we're having some very difficult conversations," he continued. "This community is making us a better police department."
Newsweek reached out to Fort Collins Police Services for further comment, but did not receive a response in time for publication.