To Keep Putin Out, the Baltics Need More NATO Boots on the Ground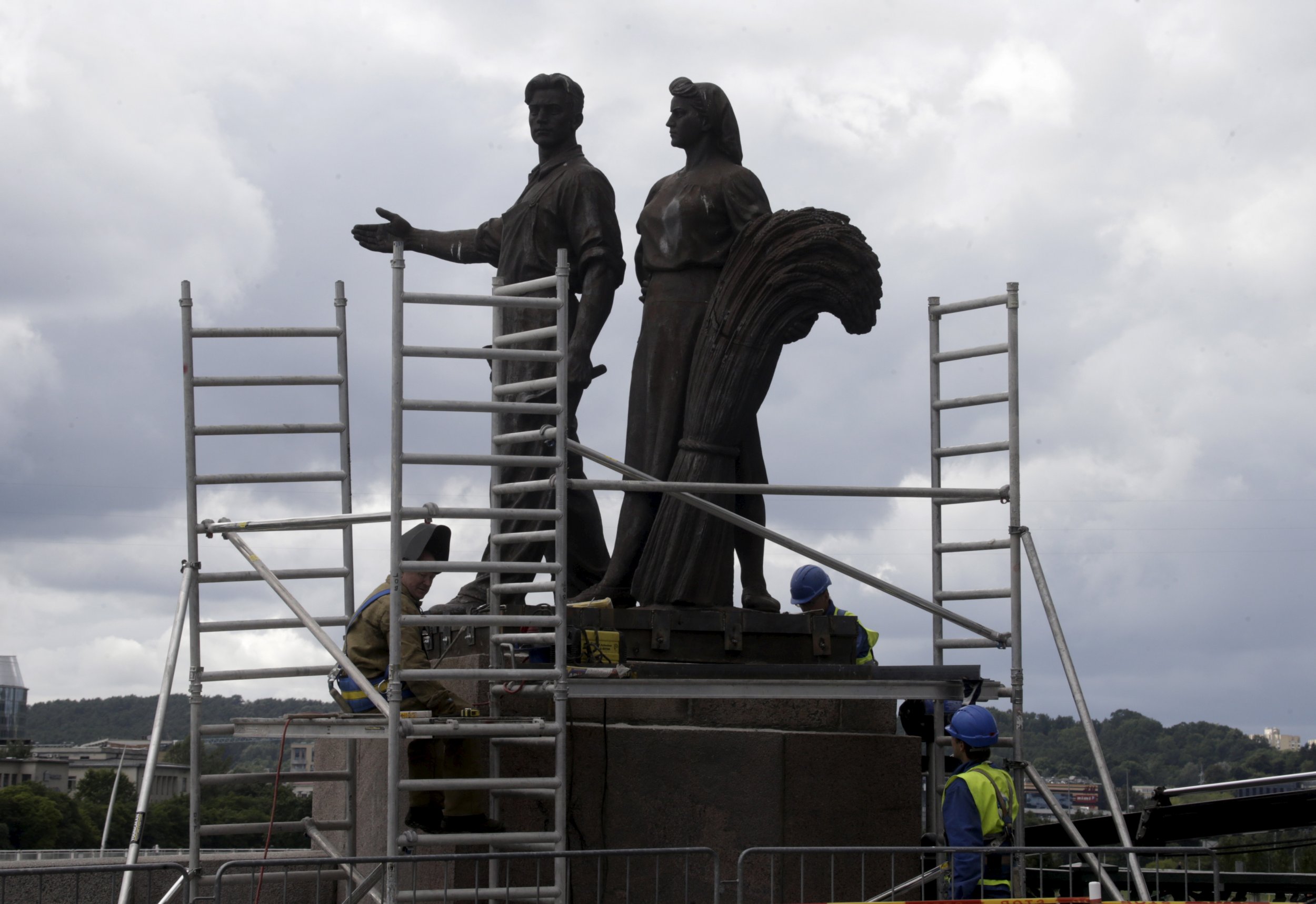 Baltic anxieties about Russia have been played down by Western official opinion for some time. This aloofness began to change during 2014 amid alarm over Russia's territorial ambitions toward the former Soviet republics.
This year, NATO's presence in the Baltic region has been upgraded, though stopping short of the demand from the three Baltic capitals for a permanent NATO deployment, an issue that is divisive among member states and especially opposed by Germany.
The alliance increased its air-policing fighters fourfold to 16 in May 2014, and the Baltic States are entirely reliant on this support for their air protection. NATO soldiers are now deployed in the Baltic republics on a rotating basis; and a new rapid reaction force was agreed for emergency action in eastern Europe.
There is, nevertheless, significant room for improving Baltic security, especially in underpinning Article 5 of the NATO Treaty to collective defense if a member state is attacked.
Despite these measures, doubts have persisted about the alliance's ability to respond in time. These were reinforced by the U.K.'s defense committee report in July 2014 that the alliance "is currently not well-prepared for a Russian threat against a NATO member state."
A pessimistic view is present in the Baltic capitals that Russia, rather than being cautioned by their NATO membership, is tempted to test the alliance's capacity to defend them and hence to destroy NATO's credibility and effectiveness.
The three states have been profoundly unsettled by Russia's military resurgence under Putin, by the Ukraine crisis and above all by the annexation of Crimea in March 2014. Soon after that, President Dalia Grybauskaite told the Lithuanian Parliament: "As we see what is happening in Ukraine, we realize once again just how fragile freedom is." In a debate producing cross-party agreement to spend more on the military, she added: "Until help arrives, we must be able to defend ourselves."
Lithuania has decided to reintroduce military conscription, following Estonia's lead, while Latvia, still without conscription, is concentrating its limited public expenditure on strengthening the country's eastern border and modernizing its military equipment.
The perception of the threat faced by the Baltic States is twofold: military aggression or the external threat; and what is now termed "hybrid warfare" embracing subversion, hostile propaganda, military intimidation, economic pressures and cyberattacks, which is the internal threat. Attention within NATO has so far concentrated much more on the former but both should be considered together—as the crisis in eastern Ukraine has emphasized.
Russia has an enormous conventional as well as nuclear military superiority. Its Western Military District alone consists of: 65,000 ground forces, compared with 10,450 for the three Baltic States; 850 artillery, compared with 158; 750 tanks, compared with three; and 320 combat aircraft compared with none, apart from NATO aircraft policing Baltic skies.
One should add that Russia has over the past five years given priority to modernizing its military capacity, including military deployment in the St. Petersburg region within six hours, and accordingly increasing military expenditure by 26 percent in 2013 alone. At the same time, NATO's defense spending has been falling. There is a stark contrast between the combined Baltic defense budget of 1.2 billion euros ($1.3 billion) for 2014 and Russia's 60 billion euros ($65.2 billion). Latvia's economic crisis has meant severe restrictions so that its small forces lack the up-to-date equipment needed to defend the country for any length of time.
During 2014, there was a substantial increase in the activity of Russian military units near Latvia's borders with more than 250 incidents—a fivefold increase over 2013—involving Russian military aircraft and warships, the former operating with their automatic transponders turned off and refusing to respond to civilian air traffic controllers. This pattern has persisted throughout this year.
At the same time, Russia has conducted military training exercises in recent years east of the Baltic States simulating an invasion. These exercises included a sea-and-air blockade of the Baltic region with the aim of forestalling a NATO response; the alliance has now begun preparations in the area for the new rapid reaction force. Thus, there is military escalation in the Baltic region much influenced by the ongoing Ukraine crisis.
The Baltic States are a vulnerable target for hybrid warfare given their geographical proximity to Russia, network legacies from the days of Soviet rule and the existence of strong Russian minorities in two of the countries.
Latvia has received special Russian attention because of its strategic location, as well as for having the largest Russian minority of the three states, and for its restrictive citizenship policy following the collapse of the USSR. Latvian security police reported in May 2014 that Russia's Compatriots Policy had become more abrasive over the past year, Russian financial and business penetration of the Latvian market has increased in recent years, and intelligence activity was growing apace there already before the Ukraine crisis.
Stories have surfaced in the Latvian media about moves in the eastern province of Latgale for its "independence," but so far there has been little popular support, according to the security police.
There has for some years been strategic funding for Russian NGOs and Russophile parties and politicians in these countries, while Moscow House in Riga has acted increasingly as a mechanism for supporting cultural programs with a political purpose. Moreover, a relatively strong Russophile party, the Harmony Centre, led by the popular young mayor of Riga, Nils Ušakovs, provides influential leverage inside the country. The question of that party's role in national government, thus potentially acting as an inter-ethnic bridge, remains controversial. In other words, Russian "soft power" has much developed in Latvia in recent times and could form the basis for full-scale hybrid warfare. There are signs of this already happening.
Latvia's post-Soviet democracy has outlasted its interwar predecessor by more than two years; but it is nevertheless vulnerable in a crisis like the present. This new security scenario is destabilizing by heightening the ethnic divide in Latvia, where surveys over time have shown that confidence in the country's political institutions is lower among ethnic Russians there than among Latvians.
At the same time, there is a greater solidarity behind the system, at least among the ethnic Latvian public, and a much greater sensitivity to national security matters.
Since the country is essentially dependent on outside military support, NATO needs to go much further in establishing a convincing and permanent military presence in the Baltic region and become much less timid in confronting the Russian threat to the Baltic States if only because its own future effectiveness is challenged. So far, NATO and EU policy has been too marked by appeasement assumptions, ironically perhaps in the case of a German chancellor.
Altogether, therefore, the Baltic States' membership of NATO and the EU is not the absolute guarantee that many thought it would be a decade ago when they joined these organizations.
Geoffrey Pridham is emeritus professor and senior research fellow in politics at Bristol University. He lives for part of the year in Latvia. This article first appeared in "The World Today" on the Chatham House, the Royal Institute of International Affairs, site.