The death of a 22-year-old black man who died in the custody of four white detectives in Louisiana last week has been ruled a homicide, officials said.
Preliminary findings showed that Keeven Robinson died after suffering "significant" trauma to his neck consistent with compressional asphyxia, Jefferson Parish Coroner Dr. Gerry Cvitanovich said in a press conference on Monday.
"At this point, the manner of death is homicide," Cvitanovich said, adding that he had met with Robinson's mother to share the preliminary results with her before informing the public.
The coroner explained that while the forensic definition of homicide is "death caused by the actions of another," it does not indicate criminality. Whether detectives will be charged in connection with Robinson's death has yet to be determined.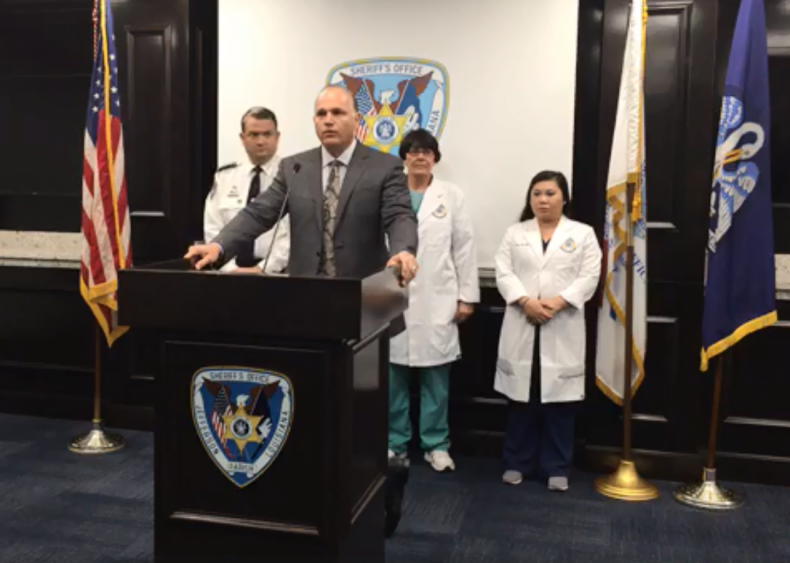 Robinson was apprehended by detectives of the Jefferson Parish Sheriff's Office in an undercover investigation over suspicions he was dealing narcotics, officials said, according to NBC News.
The 22-year-old attempted to flee after spotting detectives at a gas station but wrecked his vehicle during the escape. He tried to get away on foot, hopping over fences, until the detectives finally cornered him in a backyard.
During a struggle with police, Robinson stopped breathing. He was taken to Oschner Medical Center, but doctors were unable to revive him, NBC reported.
"We know at that moment [detectives] used force during that arrest in order to make the arrest, an effective arrest after a pursuit and after a foot chase," Jefferson Parish Sheriff Joseph Lopinto said at the Monday press conference.
Asked whether detectives admitted to using a chokehold, Lopinto could not say, but said that while officers are "not trained" to use chokeholds "on a normal basis," they are "not forbidden from doing that."
"From a policy standpoint, we don't train someone to hit somebody over the head, but if you're fighting someone and a brick's there, you're going to use the brick," he said.
Lopinto had previously suggested Robinson's asthma may have played a role in his death.
On Monday, he admitted that there was no evidence Robinson died of asthma, saying he had made the suggestion before an autopsy had been performed and simply knew at the time that Robinson had asthma and that the air quality had not been good the day of the deadly arrest.
Lopinto said state police and the FBI would be joining the investigation into Robinson's death.
He said all four detectives involved in the incident last Thursday have been read their rights and questioned and have been put on administrative leave as the investigation unfolds.
"We understand that [detectives] have a job to do and sometimes that job is difficult, by all means, but under these circumstances, we believe it's appropriate for them to be on administrative duty," Lopinto said.
"Our examination and our investigation at this point are not complete. We still have a lot of work to do," he added.