Kehlani Confirms Baby Adeya's Birth: 'She Smells Like Frosted Flakes'
"Honey" singer Kehlani took to Twitter Monday to confirm the birth of her daughter. She tweeted the child smells like "frosted flakes."
"this weekend our angel arrived earthside perfectly healthy & full of wonder. unmedicated homebirth was indescribable. taking time to be family and heal. thank you everyone who sent us love and support on her journey earthside!" Kehlani wrote. "she smells like frosted flakes"
On Instagram, she added some extra information, like her baby girl's name: Adeya. She didn't post a picture of a child; just a baby blanket.
"in love beyond comparison," Kehlani penned. "refraining from posting to be family and rest, we just wanted to say thank you to everyone who sent well wishes, love, and support in all forms while waiting & working to bring Adeya earthside."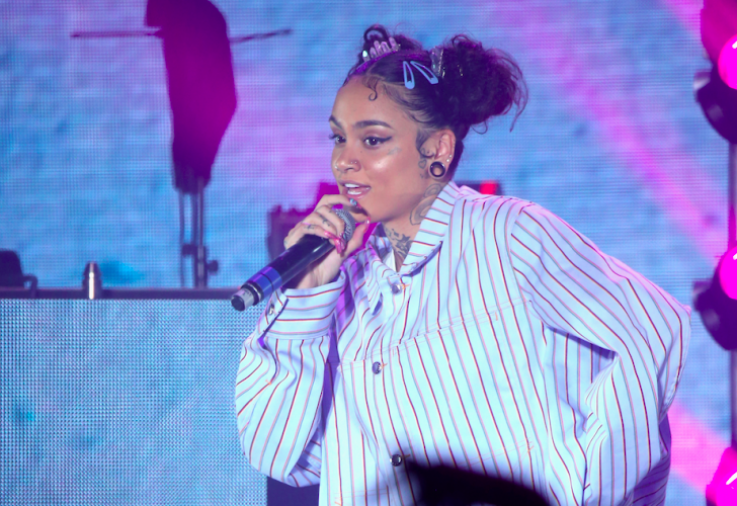 Within minutes, her post was like more than 200,000 times by her 7.5 million followers.
In October, 23-year-old Kehlani announced she was having a baby with her "best friend."
"i have a daughter. me. i. me! kehlani! i have a mini on the way. my partner is my best friend and quite frankly the only man on earth i trust. we are SO READY FOR U MIJA!!!!!!!!!" she wrote at the time. "the decision to share this with the world was a tough one, but i really want to experience the freedom and joy any normal pregnant person feels. i don't want to hide. i want to walk around belly out everywhere. ME AND MY SHORTY OUT HERE!"
After hiding the pregnancy for four months, she was relieved to share the news. "whew that was hard as hell. but i feel kinda FREEEEEEEEE," she said. "oh baby there is so much more love than hate! and even then the hate is more so confusion from people who just truly don't want to understand. i've let the internet take away some of my best years and that won't ever happen again. we are so good over here!!!"
She had always wanted to be a mother: "If you know me, you know i've dreamt about motherhood since i was very young. when asked what my goals are, it's always the idea of a big healthy happy family & whatever comes along is a plus."
While Kehlani has shared updates about her pregnancy, she has not been vocal about the child's father, her guitarist Javie Young-White.
Kehlani Confirms Baby Adeya's Birth: 'She Smells Like Frosted Flakes' | Culture