Keith Ellison Accuser Says DNC Deputy Chair Scared Her: 'Bitch, Get the F*** Out of My House'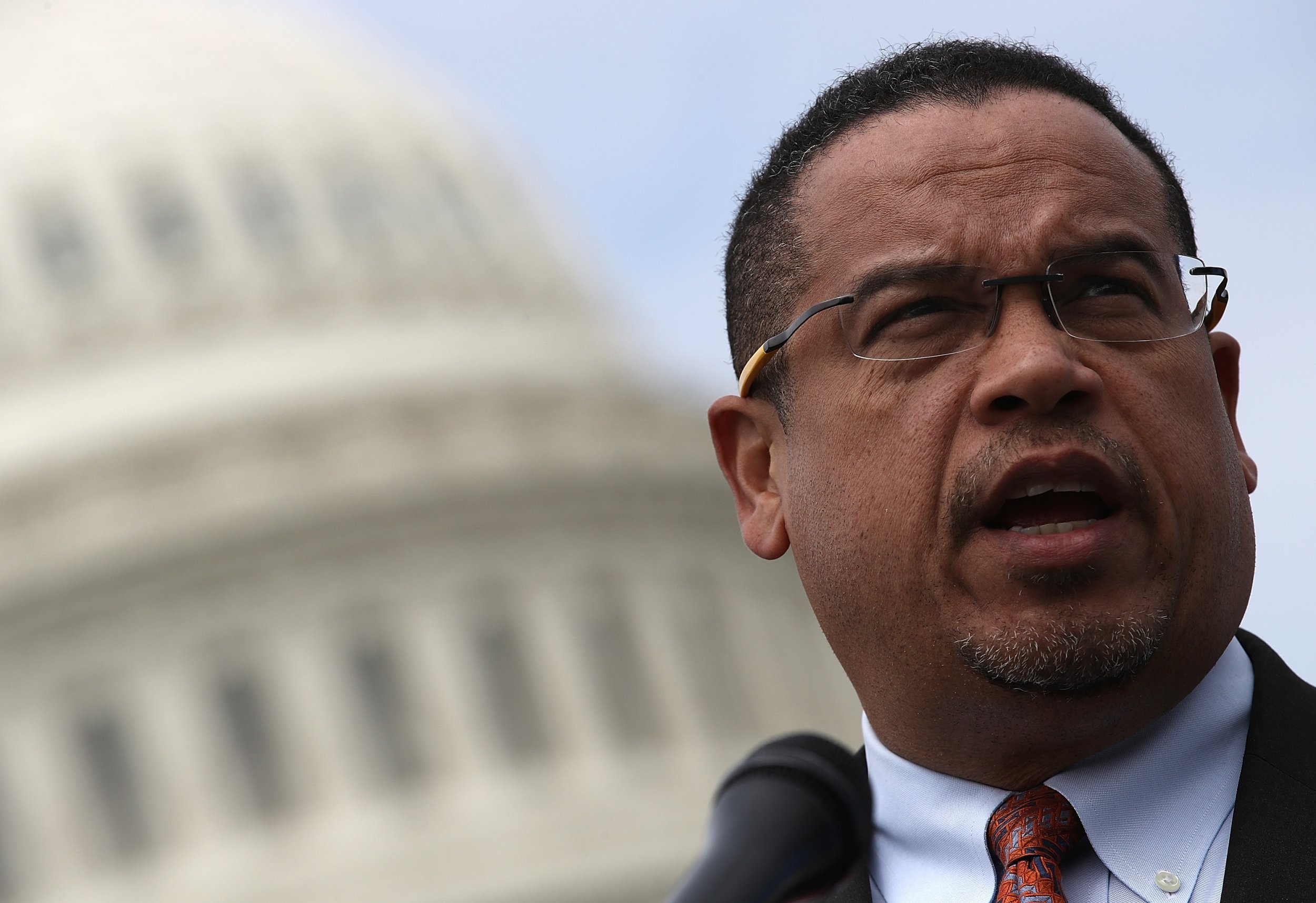 The woman accusing deputy Representative Keith Ellison of domestic abuse described on camera for the first time the incident he denies ever happened.
But Ellison's former girlfriend Karen Monahan, 44, claims to have video evidence—that she won't release because it is traumatic and she wants to be believed without showing it to the public.
Ellison, 55, is deputy chairman of the Democratic National Committee, a Congressman for the 5th District of Minnesota, and the Democratic candidate for Minnesota attorney general after winning the primary Tuesday.
Monahan claimed in a CBS interview that in September 2016 at Ellison's home, she was laying on a bed listening to a podcast when Ellison demanded that she take the trash out. She nodded.
"And he looked at me, goes, 'Hey! you fucking hear me?' And then he looked at me. He goes, 'Bitch, get the fuck out of my house.' And he started trying to drag me off the bed. That's when I put my camera on to video him," she told CBS.
After the alleged incident, she called a friend and said she felt "lowest of the low." It was the only violent incident in their relationship, and she did not report it to the police. The DNC is reviewing her allegations.
Her son Austin Monahan, 25, recently posted a message to Facebook saying he saw the video after finding it on a computer.
The Keith Ellison for Attorney General campaign did not immediately respond to a request for comment.
But Ellison denied the abuse allegations in an interview with WCCO. He also claimed there is no video: "There couldn't be, there couldn't be such a thing as that. Because I never did that."
A day before Monahan's CBS interview, the National Organization for Women called on Ellison to withdraw from the race for Minnesota attorney general.
"If the allegations are true, Keith Ellison has no right to serve as the state's chief legal officer. And he had no right to run under false pretenses, as a man standing wrongly accused," said a statement by NOW President Toni Van Pelt.
"Voters had only his word on that claim, and the investigation is ongoing. In the meantime, Keith Ellison must withdraw from the race and not put Minnesotans through another cycle of political scandal. They've been through enough.
"It's very simple. We believe survivors. Politics doesn't matter. We believe survivors.
"Keith Ellison says he wants to protect women from domestic violence and sexual assault. That starts by believing survivors. Enough is enough. The time is NOW to stop this culture of oppression and silencing women."