Keith Lee Talks Seizing Opportunities & Elevating Titles Ahead of NXT North American Championship Match
It may have taken longer than fans expected, but NXT superstar Keith Lee is finally getting his first championship opportunity.
On Wednesday night, Lee will take on rival Dominic Dijakovic and NXT North American Champion Roderick Strong in a triple threat match. Despite the match not being originally planned, Lee looks forward to the spotlight.
"Let me be quite clear, I don't plan to squander [this opportunity], and I'm going to make the most out of it as I possibly can," Lee told Newsweek ahead of his title bout. "It's an opportunity that I've been looking for and what I've been talking about. So I've been looking forward to that opportunity, not just for me but to the people. So there's a purpose to their love and respect and outpouring and chants. All the passion they put behind me. it's one way I want to give back."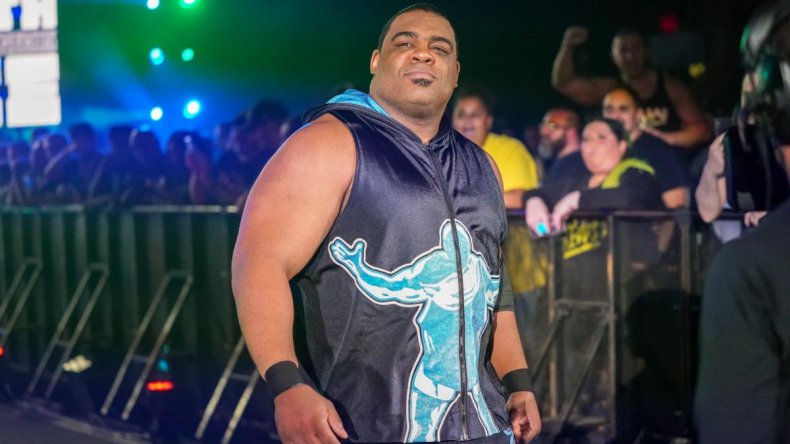 Those opportunities have not come easy for Keith Lee who arrived in NXT in 2018 in the crowd of Takeover: Chicago II. The 340-pound Texas native was a highly touted signing, and many predicted big things from the "Limitless" one, but there seemed to be one back break after another.
His feud with Lars Sullivan was derailed when "The Freak" was called up to the main roster, while a feud with Dominic Dijakovic was halted on two separate occasions thanks to injuries to both competitors.
But once both Lee and Dijakovic were healthy, everything changed.
"Dijakovic has proven himself with the matches that we've had so far, so I don't need to say much about him besides that he is who he is," Lee said. "Everyone has seen how dangerous he is and the lengths he will go to to get what he's looking for, to make what he wants a possibility, and it's understandable. He's someone I can respect."
The two big men would enter in a series of matches that had them trading wins (with a double count out thrown in), which set up their latest match that ended when Roderick Strong interfered. And in a promotion where two men having a series of matches - without a title, no less - is rare, the two brought the best out of each other.
"If I was squashing somebody and moving on with my life, I would absolutely do it. But someone like him, it's the nature of our abilities in the ring and the intensity that is created within matches like those that they hold so much on the line," Lee explained. "Everyone right now is talking about NXT on USA, and everyone is trying to do their best to take a spot and earn something that they may not have had. And this situation has afforded people the opportunity to show off a little more, unload a little more maybe, prove that they need to be in the spot that they don't have right now, and I can understand that. Dijakovic has been [in NXT] longer than me, and in that sense there's a bit of frustration that he hasn't been able to showcase all these amazing things he can do already. But one of us has to stand atop the other, and that's where these fights come down to."
NXT's move to USA has not just put more eyes on the product, but has also created more competition backstage. There's more jockeying for position and fighting for screen time, which is something Lee feels allows the talent to get better regardless of their experience with the brand. Lee feels a healthy rivalry between competitors gives everyone a constantly stoked passion to prove themselves.
When asked about his own journey within NXT and how it has prepared him for these rivalries and in-promotion competition, Lee pondered before giving credit to the training staff.
"There's a lot of Keith Lee that traveled a lot of the world and maybe could have been more careful. Being under these coaches, let's start there, that's where my journey began when I got here," Lee explained. "I took so much knowledge from them that it transformed styles, it transformed not the way I saw things, but the way I saw wrestling as a whole. Now, instead of being this overly ridiculous athletic guy, there's more substance to who I am. Changes like that I'm proud of because I'm not just the big guy who can do flips. It's cool and I'm proud of that, but I'm proud of the growth I made."
Lee says that the growth is mainly from how he uses his 6'3" 340-pound frame in the ring to tell stories. Before, he used to lean on his athleticism for "no rhyme or reason," but he now understands that doing so can put him in a compromising situation or endanger his health.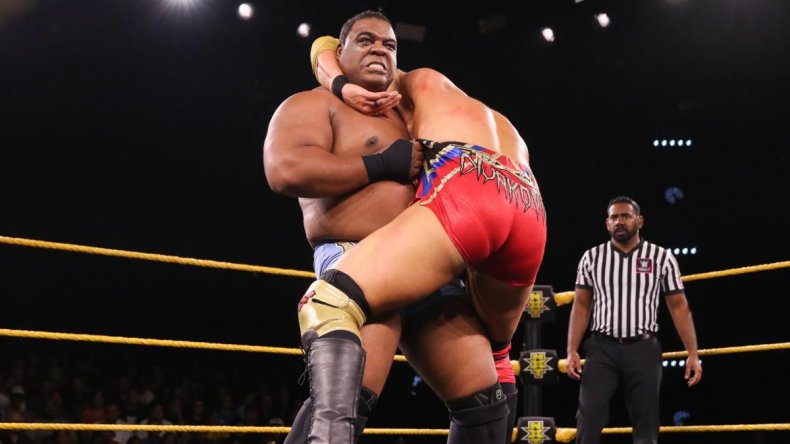 This new mentality and approach has allowed Lee to succeed on a new level, which will come in handy in the championship match. Not only will Lee have to deal with his rival Dijakovic, but also Roderick Strong and the tactics employed by the Undisputed Era.
"Let's talk about the fact that Roderick Strong has been quite crafty in not just his attack on us, but in his title defenses," Lee said. "In every scenario he has found himself in a questionable or compromising position, and he gets out of it with something he's done or the Undisputed Era gets involved. It's a scenario like that you have to [prepare for.] You're talking about four guys who quite clearly have no problem unleashing their numbers upon whoever regardless of how they may look or how they make the audience feel, which takes away the integrity of a match in that way. But he's also in the ring with two guys who are are the epitome of abnormal in the world of science, the world of physics and in the world period with the capabilities that we have."
Keith Lee's capabilities could push him to win his first title in WWE, and the thought of holding a championship and reshaping what the NXT North American championship means is something the brand faithful should look forward to.
"When it comes to championships and myself, and this has always been the case, I love winning championships. The thing I love more than that is the effect I have on a championship," Lee explains. "We can say reshaping what it means to be a North American champion, yes. But there's more to it than that. It's the pride in myself that I know that I'm capable of taking that championship and elevating it to places it's never been. And that's something I take pride in. Having that opportunity is something I want to create for that championship. To give the people a reason to be happy about the champion."
While having the opportunity has been a long time coming for Lee, he knows he'll have to work his way back up if he loses. But he's looking forward to people seeing this championship match because they will see Keith Lee compete at a different level.
"Keith Lee in a match is one thing, Keith Lee in a competitive match is another thing, but Keith Lee in a championship match is another thing entirely, and I look forward to displaying that."
NXT airs live every Wednesday night at 8 p.m. EDT on USA.