Keith Olbermann Faces Backlash for Telling Tim Scott He's a 'Victim of Stockholm Syndrome'
Commentator Keith Olbermann is facing backlash over his reaction to GOP Senator Tim Scott's rebuttal of President Joe Biden's address to Congress.
Scott, the Senate's sole Black Republican, was tapped by GOP leaders of the Senate and House to deliver his party's reaction to the Wednesday night address.
"I've also experienced a different kind of intolerance. I get called Uncle Tom and the n-word by progressives, by liberals.... Believe me, I know firsthand, our healing is not finished," Scott said in his address.
"Hear me clearly: America is not a racist country," he continued. "It's wrong to try to use our painful past to try to dishonestly shut down debates in the present."
Scott's speech garnered criticisms from progressives, who claimed the senator's statements were contradictory. Following the address, "Uncle Tim" trended on Twitter. The term was a play on "Uncle Tom," a slur used against Black people who are seen as betraying their race by going along with its oppression.
Olbermann was among those to call out Scott for his remarks, tweeting, "Sen. Scott insisting America is not racist but our healing from racism isn't finished and he's been called racist names."
He went on, "Incidentally, Senator, anybody calls you the N-word is a friend of Trump's. We progressives refer to you as a victim of Stockholm Syndrome."
But Olbermann faced his own backlash on Twitter as conservatives accused him of speaking for Black Americans.
"Is there anything white progressives enjoy more than telling black people how to think?" David Marcus, New York correspondent for The Federalist, tweeted at Olbermann.
"The Voice of Black America: Keith Olbermann," said Jim Treacher of conservative outlet PJ Media. "White liberals telling black people what to do is #nevernotfunny."
Former New York congresswoman Nan Hayworth, a Republican, also replied to Olbermann, writing, "Senator Scott no doubt thanks you for the whitesplaining, Mr. Olbermann. Your experience as a racist is indeed enlightening."
Spectator USA contributor Stephen Miller simply retweeted Olbermann's tweet with a caption: "Yikes."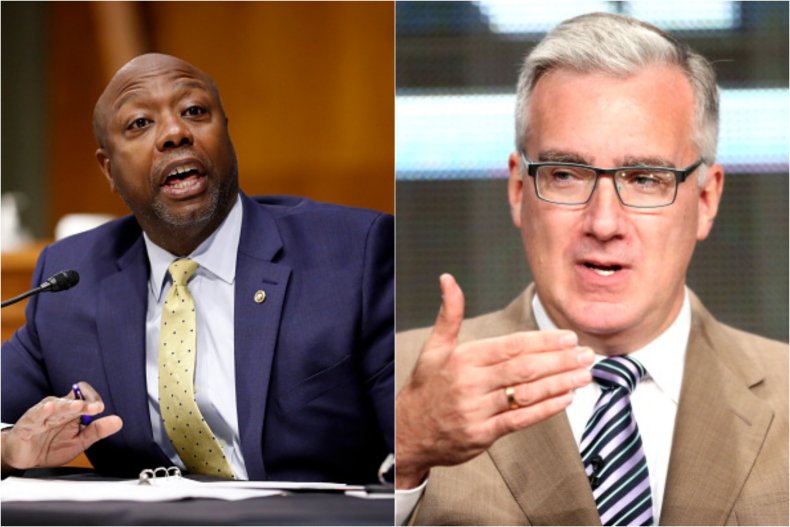 Vice President Kamala Harris addressed the GOP rebuttal on Thursday, seemingly agreeing with Scott. She told ABC News, "First of all, no, I don't think America is a racist country, but we also do have to speak truth about the history of racism in our country and its existence today."
She went on, "I applaud the president for always having the ability and the courage, frankly, to speak the truth about it. He spoke what we know from the intelligence community. One of the greatest threats to our national security is domestic terrorism manifested by white supremacists, so these are issues we must confront."
Newsweek reached out to Scott's office for comment but did not hear back before publication.