Keith Olbermann Linking Oxford Shooting to Dave Portnoy Sparks Outrage
Keith Olbermann has been accused of politicizing Tuesday's Oxford High School shooting in Michigan, which left three students dead, by appearing to connect it to Barstool Sports and Donald Trump.
In a tweet overnight Wednesday, the sports and political commentator highlighted the alleged shooter's mother reported support for former President Trump.
Quoting a tweet by Barstool Sports that paid tribute to 16-year-old victim Tate Myre, Olbermann wrote: "This kid died to stop a school shooter whose mother echoed the Trumpist Fascism of" before tagging Barstool Sports and its president, Dave Portnoy.
Portnoy famously interviewed Donald Trump for his sports blog in 2020.
In 2015, he expressed his support for Trump's presidential campaign in a blog post, writing at the time: "I don't care if he's racist. I don't care if he's sexist. I hope he stays in the race and I hope he wins."
The 15-year-old suspect, Ethan Crumbley, is in custody and has been charged as an adult following the shooting.
As more information about Crumblely is emerging, various outlets are reporting his mother's support for Trump.
After the 2016 presidential election, Jennifer Crumbley wrote an open letter to Donald Trump as a blog post, ABC reports.
"My son struggles daily, and my teachers tell me they hate teaching it but they have to," Jennifer Crumbley reportedly wrote about Ethan who was aged 10 at the time.
She also praised the First Amendment and celebrated her right to own a gun.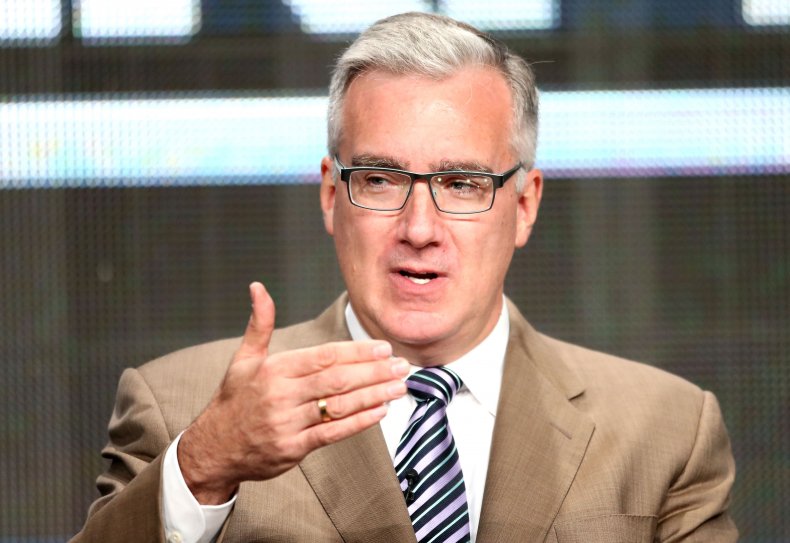 "As a female and a Realtor, thank you for allowing my right to bear arms. Allowing me to be protected if I show a home to someone with bad intentions," a post read. "Thank you for respecting that Amendment."
Responding to Olbermann's tweet, Portnoy wrote: "Dude wtf is wrong with you?"
The tweet found support among some users, receiving more than 4,000 likes within 10 hours of being posted.
But many others also took issue with it.
One post in response read: "If there's an unnuanced and overtly political take to be had on any story, chances are you'll see this guy."
Another read: "When you have so much hate for 'political rivals' that you use the tragic deaths of children to slander them."
Another warned that thousands would "find it disgusting to politicize the death of a kid trying to save his classmates."
"Why are we bringing politics into this tragedy? Just stop," another post read.
Following Ethan Crumbley's arrest, prosecutors have indicated possible additional charges against his parents.
Prosecutor Karen McDonald said, per ABC: "Owning a gun means securing it properly and locking it and keeping the ammunition separate."
Oakland County Sheriff Michael Bouchard said Crumbley's father purchased the 9 mm semi-automatic handgun four days before the shooting.