Keith Raniere's Lawyers Say NXIVM Leader's Texts About Sex Slavery Taken 'Out of Context'
Lawyers for Keith Raniere—the leader of the group NXIVM—said text messages he sent about sex slavery have been "taken out of context," according to a report Tuesday from The New York Post.
The texts to an unnamed woman reportedly read, in part, "I think it would be good for you to own a f—toy slave for me, that you could groom, and use as a tool, to pleasure me…"
Raniere and actress Allison Mack have both been charged with sex trafficking and forced labor conspiracy amid allegations that the so-called self-help group was more akin to a cult. A filing from Raniere's lawyers said the texts were taken "out of context."
"These communications are not evidence of sex trafficking or any other crime," lawyer Marc Agnifilo wrote in the filing, which asked the court to release Raniere on bail, according to the Post. "The government cherry-picked communications between Raniere and someone very close to him."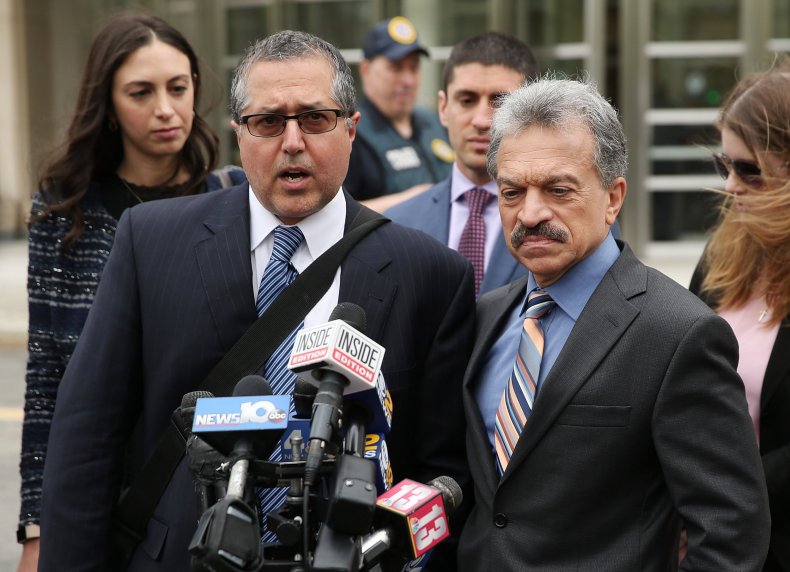 The story of NXIVM has captivated people across the country. The allegations against Raniere and Mack are grisly, and include forced branding of women, forced sexual relations and brainwashing that led to women being treated like "sex slaves."
An episode of the A&E show Cults and Extreme Belief, hosted by journalist Elizabeth Vargas, examined the rise of the group that brought people in with the promise that it was an empowering seminar. Over time, as people stayed with the group longer, things reportedly changed—former member Sarah Edmondson described on the show slowly falling further into the group over more than a decade and eventually being subjected to blackmail and the excruciating branding.
"She used the analogy of the frog in the water," Vargas told Newsweek in an interview. "You can't throw a frog into a boiling pot of water. But if you put a frog in a pot of water that's cold and slowly turn up the heat, the frog won't jump out, because it won't notice the difference. And that's what's happening. Sarah was in NXIVM for 12 years. And it took 12 years of indoctrination. [They are] slowly cut off from the outside world. They see less and less of their family and friends who aren't part of NXIVM, and pretty soon you're in something of an echo chamber. Every time there's some critical thinking that occurs, there's a whole Greek chorus of people standing around to say, 'Don't be silly. This is just fine.'"