Keke Palmer Laughs at Viral Throwback Interview of Tyra Banks and Beyoncé
Tyra Banks and Beyoncé made headlines this week when an old, bizarre interview went viral—and now Keke Palmer is getting involved.
The Nope star—who is no stranger to a viral moment—joined in on the jokes after a chaotic interview from a 2008 episode of The Tyra Banks Show became a talking point on social media.
"This is why Beyoncé doesn't do interviews anymore," reads the caption of the viral tweet that has clocked up more than 1.4 million views on Twitter this week.
The tweet features a clip of Banks interviewing the Renaissance singer during her Sasha Fierce era for a "different" kind of interview.
The America's Next Top Model host then proceeded to list a series of puns on Beyoncé's name in quick succession.
"Buy-yoncé, when was the last time you bought something in a store?" Banks began.
"Seanc-é, if you could communicate with anybody who's passed away, who would it be?" she continued.
And the puns just keep going in what makes for extremely cringeworthy viewing, while Beyoncé seemingly nervously nods and smiles along.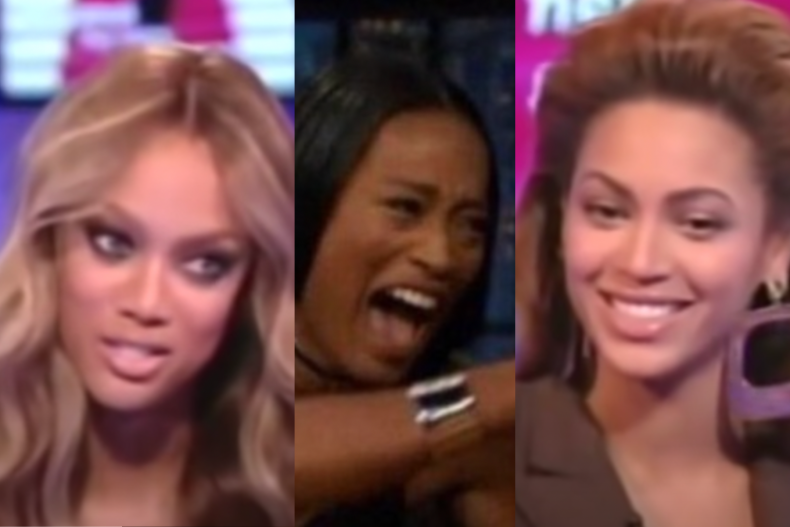 "Gray-oncé, when you get older, are you going to dye your hair?"; "Clay-oncé, have you ever voted on American Idol?" (a reference to "Idol" contestant Clay Aiken); "Slosha Fierce, when was the last time you was a little tipsy?"; "Squasha Fierce, what sport do you like to play?"; "Washa Fierce, do you sing in the shower?"
Now that the interview is doing the rounds on Twitter again, Palmer chimed in to bask in the endless jokes and even more puns made by in the comments.
"They tearing it up in the comments," Palmer tweeted, quoting the viral clip.
Some choice comments include: "TREEyoncé- What's your favorite type of tree?, SkiYoncé- Snowboard or Skiing?, BiYoncé- have you ever hooked up with a woman?"
One person joked that the singer was: "So Tiredoncé," while another quipped: "BEE-yonce. If you were to be stung by a swarm of insects, what would they bee?"
Someone else tweeted: "Tyra Banks' crimes against humanity know no bounds."
Another joked: "Lmaooo this went FAR TOO LONG!!! Bey was TIREDT!!!"
The bizarre interview goes viral every few years and in 2020 Banks addressed the segment and apologized to the singer on (her now deleted) Twitter account.
"I was Cray-Cray. Sorry (not sorry)," she tweeted, per Pink News.
The iconic singer's seventh studio album, which features 16 tracks, was released on Friday, weeks after lead single "Break My Soul" helped whet fans' appetites.