Keke Palmer Praised for Pleading With National Guardsmen to March Alongside Protesters
Actress and singer Keke Palmer has been praised after she was seen passionately urging members of the National Guard to march alongside protesters in a video shared on social media.
The 26-year-old was seen in a clip shared on Twitter by NBC News reporter Gadi Schwartz on Tuesday referencing President Donald Trump's recent remarks regarding the protests sparked by the death of George Floyd, a black man, in police custody.
The clip starts with Palmer talking about Trump's use of "when the looting starts, the shooting starts"—a phrase that dates back to the racial unrest of the 1960s—in a tweet that was flagged by Twitter as violating its rules against "glorifying violence."
"You have a president that's talking about the second amendment as a use for people to come out here and use firearms against the people that are protesting. This is the message that we're seeing," Palmer said.
Trump delivered a statement in the White House Rose Garden on Monday, urging state governors to activate the National Guard in sufficient numbers to "dominate the streets" and threatened to deploy the U.S. military to "solve the problem for them" if they didn't quell violent protests.
Before his speech, police on foot and horseback aggressively drove peaceful protesters away from nearby Lafayette Park to clear a path for Trump to walk to St John's Episcopal church for a photo op.
Addressing the Guardsmen, Palmer added: "You have to pay attention to what's going on. We have a president that's trying to incite a race war.
"You have people here who need your help. This is when y'all stand together with the community, with society, to stop the governmental oppression. Period. We need you."
One Guardsman responded that he agreed, but the men demurred when Palmer urged them to march alongside her and other protesters.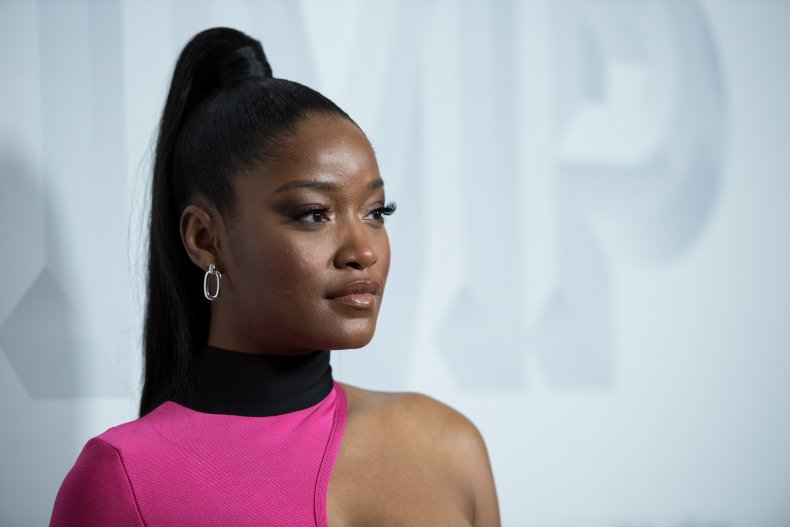 "March with us. March beside us. Let the revolution be televised, march beside us and show us that you're here for us. Make history with us," she said. "We are good people, march with us."
One of the guardsman tells Palmer that he would be willing to march from one intersection to the next, but says he can't go further because he has to protect businesses in the vicinity.
Another protester asks if the Guardsmen would be willing to kneel in show of solidarity. But Palmer appeared frustrated, repeatedly expressing that the gesture was not enough.
"OK. I'm at a loss. I'm at a loss cause that's not enough. That ain't enough for me," she said. As the Guardsmen take a knee and other protesters cheer and thank the Guardsmen, Palmer repeats: "March with us."
The video has been viewed more than 14 million times since it was posted on Twitter and led to many praising Palmer's activism.
Actor Camrus Johnson wrote on Twitter: "That's freaking @KekePalmer y'all. In the streets. Talking directly to them. Using her voice. Be a leader like Keke Palmer. Use your voice. We all have one."
Singer Max Schneider described Palmer as an inspiration, saying she "speaks truth" and "demands more from those who are meant to protect us."
Actress Busy Philipps added: "I would vote for @KekePalmer for literally anything-she is the real deal and so special."
A representative for Palmer told Variety that she "wanted these words to speak for themselves."
Protests against police killings of black people have rocked the U.S. for more than a week.
They started in Minneapolis, where Floyd was killed on May 25 after a white police officer kneeled on his neck for more than eight minutes as he gasped that he couldn't breathe, but have now spread to more than 100 cities across the U.S. and abroad.
The officer, Derek Chauvin, has been charged with third-degree murder and manslaughter, but protesters are calling for the other three officers involved in Floyd's death to also be charged. All four officers have been fired.
Police have clashed with protesters in many cities, using tear gas, rubber bullets and flash bangs to disperse crowds.
Strict curfews were put in place in cities, including Los Angeles and New York City, and at least 23 states activated the National Guard after looting and vandalism occurred in some cities.