Keke Palmer Claps Back at Zendaya Comparisons - What 'Nope' Star Has Said
Keke Palmer is clapping back after being compared to Zendaya on social media.
On Saturday, July 23, a tweet mentioning their "similarities and differences" was doing the rounds online.
User Melinda Eg wrote: "I'd like someone to do a deep-drive on the similarities and differences between Keke Palmer and Zendaya's careers. This may be one of the clearest examples of how colorism plays out in Hollywood. They were both child-stars, but their mainstream popularity is very different."
At the time of publication, the post had garnered 9,385 retweets, 2,438 quote tweets and 81,000 likes.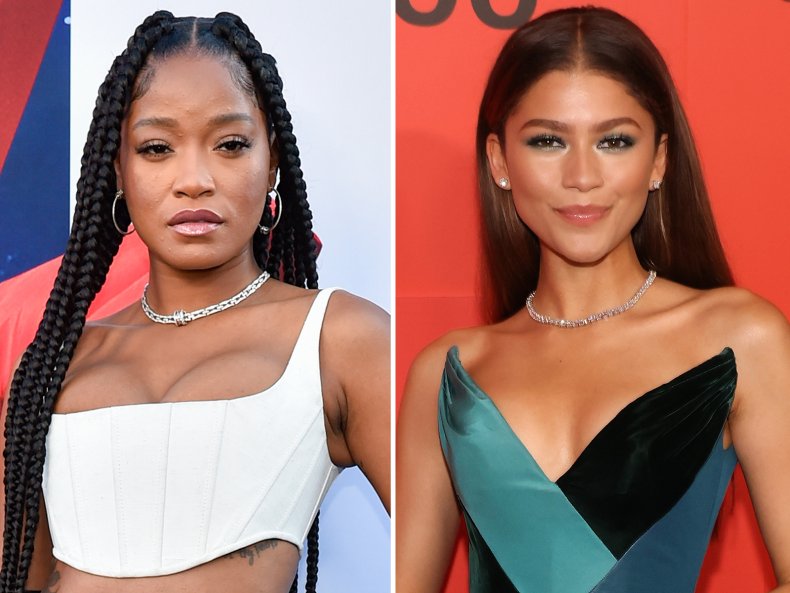 In a slew of separate tweets, she pointed out that while Palmer "has done sooo much throughout her career," people are saying Nope is her "breakout role." She added: "#Euphoria is what is considered Zendaya's breakout role, but that makes sense."
The Alice actress seemingly responded to the viral message the following day. "A great example of colorism is to believe I can be compared to anyone. I'm the youngest talk show host ever. The first Black woman to star in her own show on Nickelodeon, & the youngest & first Black Cinderella on Broadway," the 28-year-old said. "I'm an incomparable talent. Baby, THIS, is Keke Palmer."
She continued: "I've been a leading lady since I was 11 years old. I have over 100+ credits, and currently starring in an original screenplay that's the number one film at the box office #NOPE. I've had a blessed career thus far, I couldn't ask for more but God continues to surprise me."
According to IMDb, Palmer has 103 credits to her name. She played the title role on Nickelodeon's True Jackson, VP from 2008-2011. Other credits include 90210, Key and Peele, Masters of Sex, Hustlers, Lightyear and more. She also co-hosted Good Morning America's third hour alongside Michael Strahan and Sara Haines.
Nope, a sci-fi thriller in which Palmer stars opposite Daniel Kaluuya, raked in an estimated $44 million in its opening weekend.
As for Zendaya, whose full name is Zendaya Maree Stoermer Coleman, the 25-year-old has 50 credits to her name, per IMDb. She got her start as Rocky Blue on the Disney Channel's Good Luck Charlie in 2011 and went on to star in Shake It Up, K.C. Undercover, Spider-Man, Space Jam: A New Legacy, Euphoria and others.
Despite having more credits and a longer Hollywood career, Celebrity Net Worth estimates Palmer's net worth to be $7.5 million and Zendaya's to be $20 million.
In a recent interview with Andscape, the Illinois native reflected on how she chooses roles.
"I think the biggest key to my consistency is that I try to have no ego," she told the outlet. "A lot of people say I've done such and such so I can't do that job. [Meanwhile] I'm like, 'Are the people cool? Is the material good? Are they going to have lunch? Let's go!'"
She added that she can't control "whether it's going to be a big blockbuster or not." Instead, Palmer's philosophy is simple: "I always keep it to what I'm passionate about."
Newsweek reached out to Palmer and Coleman for comment.