Who is Kelela? Singer Explains Why 'Very Personal' Debut Album 'Take Me Apart' Took So Long to Finish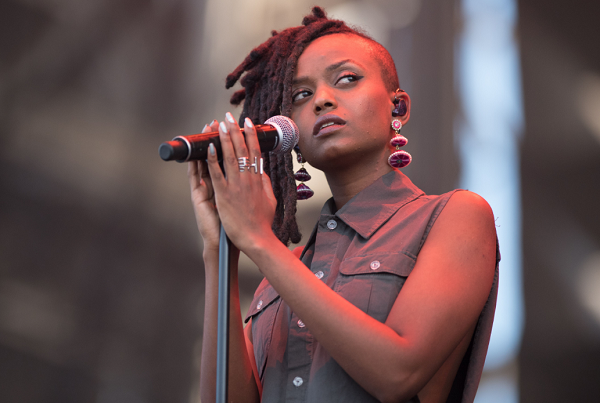 If you've never listened to Kelela's music, then you probably don't know how long people have been waiting on her. You've probably never heard the complaints that she's taken too long to release her first studio album. And you probably don't know that although fickle, the grievances are warranted, given the success of her first two mixtapes, 2013's seductive Cut for Me and 2015's hypnotizing Hallucinogen.
She's heard the gripes. But sharing vulnerabilities with the world isn't easy. Doing so takes a certain level of thoughtfulness and respect. Kelela knows that too, which is why she took her time before finally releasing her first studio album, Take Me Apart, on Warp Records on Friday.
"I sort of had to have all of the experiences that I am speaking on throughout the album. And it's part of the reason why it's taken so long. It's all very personal and sort of drawn from my actual experience," she told Newsweek during a phone call Thursday.
"I sort of embarked on making some sort of project when I was working on the mixtapes," she said. "It essentially meant that I was compartmentalizing on some level so that there could be a narrative, a story."
The narrative the Washington, D.C. native tells on Take Me Apart is one of confusion, loss and clarity.
Take Me Apart starts by unraveling the pain felt in the midst of a dissolving relationship with songs like "Frontline," "Waitin" and "Jupiter." As the tracks flow into one another, Kelela explores the power of defining what you want when love comes knocking again, a newfound sense of control that's reflected on first single "LMK." By the album's end, she manages to universalize her new confidence on "Atladena," reminding listeners of the certainty that comes with letting go and moving forward.
It's an overwhelming yet rewarding experience Kelela couldn't have expressed without going through it herself. "I'm really good on despair, I've explored that thoroughly," she said. "It's about finding out... how I can experience pain without going there." It's discovering that type of "empowerment in really disempowering situations" that Kelela says she hopes listeners—new and old—will take from the album.
"You can state a preference; it could be met, it could not be met. But your choice in that moment is not to change that person [who you're with]. It's to choose either to continue to deal with where they are and what they're giving you... or to move on," she said.
Luckily for her lovers, Kelela is kind. The same precision and care she gave to completing her debut album, she also has afforded those who inspired it.
"These are real people, and real people's lives that intersect with mine. And [I] want to make sure that [what I am singing about isn't] gonna make anybody feel some type of way. But I know anybody who signs up to be a partner of mine is sort of signing up to be written, unfortunately. I'm used to the feeling of, 'Yep. All of my business is out there,'" she said.
Perhaps it's the musician's ability to expose her business—when she chooses to—that resonates with her fans so much. Or it could be the honest and selfless way she unmasks heartwrenching situations that most people have suffered that's resulted in her cultlike and often impatient following.
But that's just who the singer is at heart. And if you ask her, that's what she'll tell you: "Kelela is an artist that is being tender and vulnerable in a world, in a context, that isn't thinking about her."