Former Arizona state representative and current U.S. Senate candidate Dr. Kelli Ward took another swipe at late Senator John McCain on social media Monday, comparing cancer to political correctness.
Ward, who was defeated by the incumbent senator in the 2016 Republican primary, took to Twitter Monday morning to blast critics she considered too politically correct or opposed to any part of President Donald Trump's agenda. Ward was criticized last week for claiming McCain's announcement about ending his cancer treatment was a publicity stunt orchestrated solely to shed "negative" light on her U.S. Senate campaign. McCain died from the aggressive glioblastoma complications the next day.
"Political correctness is like a cancer!" Ward tweeted Monday morning.
Ward first won her Arizona state senate seat in 2012 before resigning in 2015 to pursue her current U.S. Senate race to fill outgoing GOP Sen. Jeff Flake. The Republican primary will be held tomorrow, with Ward facing off against former Maricopa County Sheriff Joe Arpaio and Air Force veteran Martha McSally, who was elected to the U.S. House in 2014.
On Saturday, a member of Ward's staff created a Facebook post claiming McCain's medical announcement the day before he died was intended "to take media attention off her campaign." Ward responded to the post, writing, "I think they wanted to have a particular narrative that they hope is negative to me."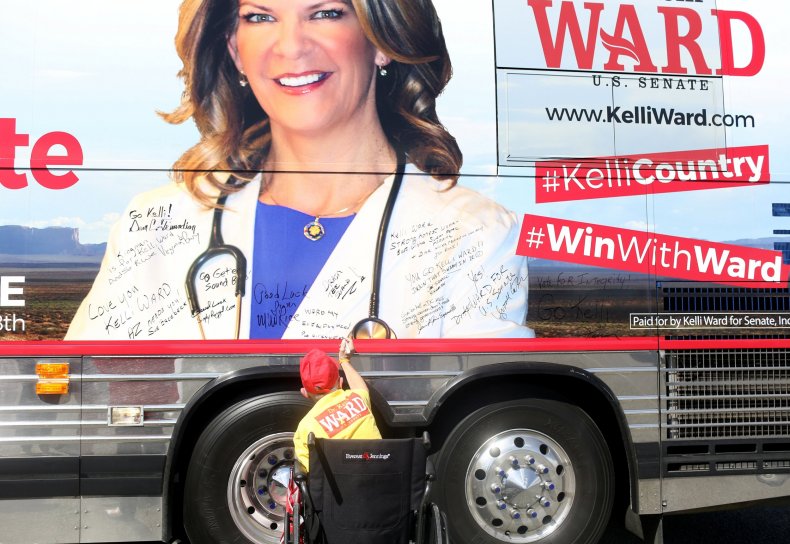 Controversial right-wing political figures such as Mike Cernovich and Tomi Lahren have thrown their support behind the "MAGA" candidate, even appearing at Arizona's Gunsite Academy to campaign last week.