The Kellogg company has posted a job advert seeking temporary workers to replace those currently on strike at the company's cereal production plants across the country.
More than 1,400 Kellogg employees walked out on October 5 at plants at Battle Creek, Michigan; Omaha, Nebraska; Lancaster, Pennsylvania; and Memphis, Tennessee, threatening production and supply of some Kellogg's most popular cereals.
The company is now seeking production associates willing to "cross the picket line" and keep the production line running during the ongoing strike.
"While these are temporary positions at this time, they could lead to permanent opportunities in the future," the job advert on Kellogg's website states.
The move to bring in non-union workers was predicted at the start of the strike by Daniel Osborn, president of the local Bakery, Confectionery, Tobacco Workers and Grain Millers International Union in Omaha. BCTGM has been contacted for comment.
The union has said the industrial action is over a contract dispute about health care, retirement benefits, and holiday and vacation pay.
It also said the company threatened to move American jobs to Mexico if they do not accept the terms of new contracts (offered on October 1) following the expiration of earlier contracts at midnight October 4-5.
The Kellogg Company has called the union claims "grossly misleading," and said it has "not proposed moving any serial volume of jobs outside of the U.S."
On Tuesday, the company released a video message featuring spokesperson Kris Bahner, warning it was "deeply concerned" about what the strike would mean for its employees.
"Being away from work puts our people and their families in a difficult position and can create financial hardships. Our number one priority is to get back to the negotiations table and reach a contract, so our employees can get back to their jobs and their lives. We're especially concerned that the union struck without allowing members to vote on the company's October 1 offer."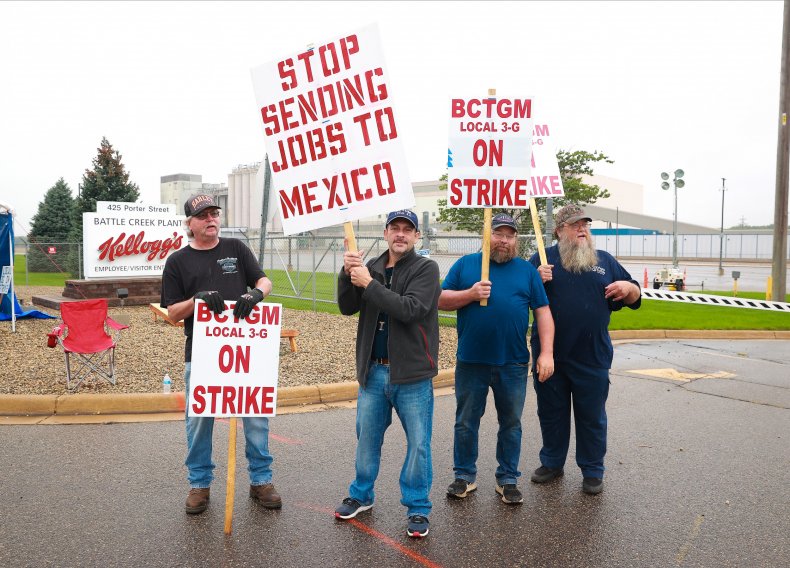 Bahner denied that the company is asking workers to give up their health care, retirement benefits or vacations pay, and that the compensation and benefits they are currently on are some of the best in the industry.
Bahner also described the claims from the unions that Kellogg threatened to move jobs to Mexico if they don't agree to their proposals as "completely false."
"We've not proposed moving any serial volume of jobs outside of the U.S. as part of these negotiations. Kellogg is ready, willing and able to continue negotiations at any time.
"In the meantime, we have a responsibility to our business customers and consumers to run our plants despite the strike," she added.