Kellogg's has reached a tentative agreement with over a thousand workers, ending a strike that nearly lasted two months.
"We are pleased to announce that Kellogg Company and the union have reached a tentative agreement for a new five-year labor contract covering 1,400 employees at our U.S. cereal plants in Battle Creek, Mich., Lancaster, Penn., Memphis, Tenn. and Omaha, Neb.," said Kellogg's spokesperson Kris Bahner.
The deal made between Kellogg's and the Bakery, Confectionery, Tobacco Workers and Grain Millers' International Union is expected to last for five years. It will entitle all workers to a 3 percent wage increase, as well as maintenance of workers' current health benefits. Coverage of living arrangement costs will begin in the second through the fifth years of the current contract. It is expected to be applicable to workers in all Kellogg's plants.
However, the deal will still have to be voted upon by union members, who have been on strike since October 5. The vote is expected to take place on December 5. In a statement, the union's president, Anthony Shelton, maintained that the striking workers will determine the best course of action moving forward.
"I want to thank and commend all of the members of the bargaining committee for their many, many hours of extremely hard work to reach this tentative agreement," the statement from Shelton said. "As always in our Union, the members will have the final say on the contract."
Workers in many companies throughout the U.S. have gone on strike demanding better contracts. In a recent settlement, Deere negotiated with its worker union to provide 10 percent raises and better benefits for its more than 10,000 employees.
For more reporting from The Associated Press, see below.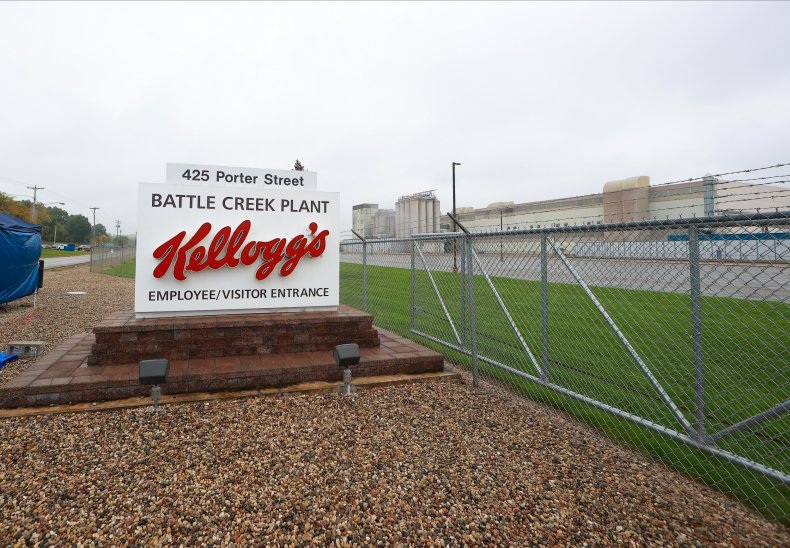 The tentative agreement also addresses the two-tiered system of wages that had been a sticking point for the union. The system gives newer workers less pay and fewer benefits and it includes up to 30 percent of the workforce at the plants. The Battle Creek, Michigan, company said the agreement will allow all workers with at least four years of experience to move up to the higher legacy pay level immediately and additional workers would move up in the later years of the contract.
Last month, Kellogg's went to court in Omaha to secure an order that set guidelines for how workers behave on the picket line because the company said striking workers were blocking entrances to its cereal plant and intimidating replacement workers. Union officials denied any improper behavior.
The union held out for higher wages after employees had been working long hours over the past 18 months to keep up with demand during the coronavirus pandemic. And workers believed that the ongoing widespread worker shortages across the country gave them an advantage in the negotiations.