Kellogg's Will Permanently Replace Some Striking Workers as Negotiations Break Down Again
Kellogg's will begin hiring new employees to permanently replace some of its 1,400 striking cereal plant workers as the Battle Creek, Michigan-based company and union officials still haven't been able to reach a deal, the Associated Press reported. Kellogg's workers have been hitting the picket lines since October 5 to demand changes to the two-tiered wage system that results in newer employees seeing less pay and benefits than their older counterparts.
Kellogg's said Monday that it was again not able to find common ground with the Bakery, Confectionery, Tobacco Workers and Grain Millers International Union. Now the striking workers must keep picketing through Thanksgiving because the next round of negotiations isn't scheduled to begin until the week of December 6, the AP reported.
In the meantime, Kellogg's said that it has to rely on temporary workers and new permanent, salaried hires in order to keep up with production.
"We recognize the hardship that this prolonged strike represents for our employees," the company said in a statement. "After 15 negotiations sessions in 2021—and no proposals put to membership for a vote—we are left with no choice but to best serve the short- and long-term interests of our customers and consumers by moving to the next phase of our contingency plans."
The company said that for the contended two-tiered wage system, it suggested a new plan that would allow workers to move to the upper level of pay and benefits after four years of experience, but the union has not accepted the offer. As much as 30 percent of workers at Kellogg's plants currently receive the lower wages, according to the AP.
For more reporting from the Associated Press, see below: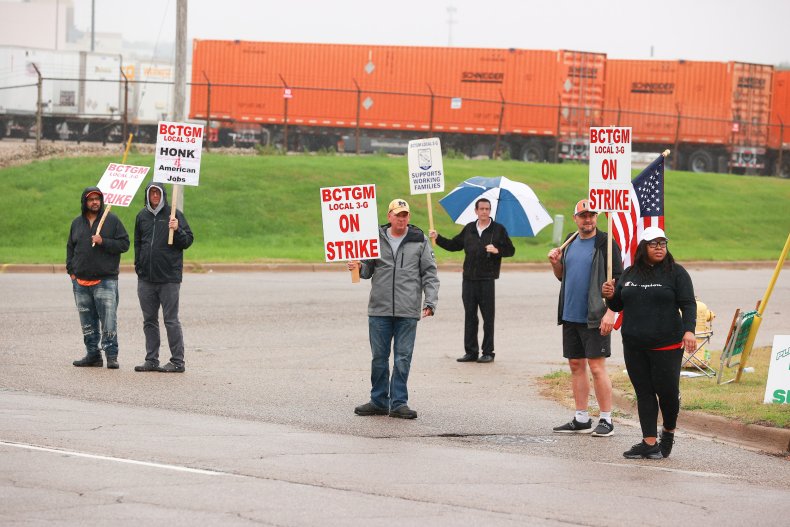 The Kellogg's strike includes four plants in Battle Creek; Omaha, Nebraska; Lancaster, Pennsylvania; and Memphis, Tennessee, that make all of Kellogg's brands of cereal, including Frosted Flakes and Apple Jacks.
The strike has become increasingly bitter with the company going to court earlier this month to get an order that sets guidelines for how workers in Omaha behave on the picket line. The company complained that striking workers were blocking entrances to its cereal plant and intimidating replacement workers, but union officials denied any wrongdoing.
The union believes it has leverage in the contract talks because of the ongoing widespread worker shortages in the economy. Union members have also said they believe they deserve more after working long hours during the coronavirus pandemic over the last 18 months.
In another recent strike, more than 10,000 John Deere workers returned to work earlier this month after securing 10 percent raises and improved benefits in a new six-year deal.