Kelly Bates Says TV News Is 'Unequivocally Unfair' To Women After NBC 10 Exit
Meteorologist Kelly Bates has branded the TV news industry "unequivocally unfair" to women, following her departure from Rhode Island station WJAR-10.
Bates' future in the news world became a talking point on social media last week, when she announced that she was departing her job after 17 years with the Providence-based NBC affiliate.
Later revealing that she had been "unable to continue" in her role under the conditions being offered in a new contract, Bates stated on Twitter that "as a 49 year old round woman, it's safe to say my television career is done."
And in an interview with Newsweek, the Emmy nominee has expressed her hope that the spotlight shone on her own situation will spark a broader conversation about the lingering discriminatory practises against women in television.
"TV news is unequivocally unfair to the women who work on-air," Bates said. "We're held to standards that men aren't. Period. I believe this is the case in all kinds of industries of course, but TV news is the one I've worked in so I can speak to it. Maybe it's our culture, or a relic from an outdated era.
"If my story is resonating at the moment, I would be remiss if I didn't use the opportunity to keep the dialog going. With the reality of this business, very few on-air women can see a career through to retirement age. It's a different playing field for us. I'd love to see that change for the next generation."
Since sharing that she was leaving NBC 10, Bates has received an outpouring of support across social media. A group of fans launched a petition demanding for Bates' reinstatement at the station, where her role had been reduced to part-time for the last 10 years.
In addition to the part-time hours, Fletcher Fischer—the business manager for IBEW Local 1228, the union that represents workers at NBC 10—last week told The Boston Globe that Bates was offered a deal that was "insulting."
Fischer stated that Bates previously boosted her reduced income by working other people's hours when they took time off. According to Fischer, those opportunities recently petered out, reportedly leaving Bate in a position of financial strain.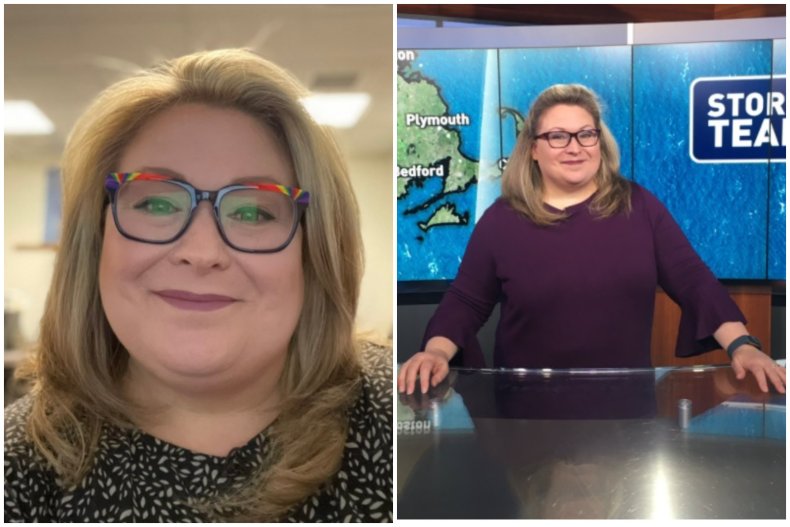 While Bates is not at liberty to discuss the specifics of her contract, per confidentiality clauses, she told Newsweek: "I don't know why my work hours were brought to a minimum. I was under the impression with my previous contract negotiation two years ago I could still count on a certain amount of hours, but that turned out not to be the case."
"I wasn't happy with what my employment scenario developed into," she added. "Sometimes you just have to move on. Such is life."
WJAR general manager Vic Vetters had previously told Go Local that Bates was no longer in the station's employment because she'd turned down a new contract.
"The WJAR team is saddened that meteorologist Kelly Bates is leaving the station after nearly 17 great years together," Vetters said in a statement. "Kelly ultimately decided it was time to move on and elected not to renew her contract with us.
"We thank Kelly for her dedication to WJAR and her commitment to keeping our viewers informed with critical weather updates throughout the years. We wish her nothing but the best in her future endeavors."
With the constant flow of supportive tweets and messages amid the storm, Bates told Newsweek that she is "overwhelmed, humbled... mostly dumbfounded."
"I knew I had a modest fan base in Southern New England, but certainly nothing like this," she admitted. "With the nature of my job I'm used to a little spotlight, but the focus I've received lately is extraordinary. I'm looking forward to getting back in the workforce and a return to some normalcy."
For now, Bates remains unsure of what her return to the workforce will look like, now that she's having to mull changing career paths altogether.
"I have not received any job offers yet and I will undoubtedly need to start over with my career," she said. "In this line of work, there are limited job opportunities available in any given city. Providence is a great city, we have a lot of weather talent here whom I imagine plan to stick around.
"At my age, I believe finding another on-air job might be difficult. I'm optimistic, but also open to the idea of an entirely new opportunity outside of television news."
"Whatever I do next, I'd like to continue with work that enables me to stay involved with my community," she continued. "One of the most gratifying aspects of my work has been that it allowed me to provide a needed service to the public in a very direct and specific way.
"I hope I can find something that's similar, but TV weather is pretty unique that way. I'm sure the universe has a plan for me, but what it is hasn't come to fruition yet."
In announcing that she had left NBC 10, Bates unwittingly became a TikTok sensation, when she shared a tearful video discussing her exit from the station. The video can also be seen here.
While the clip hit almost 1 million views at press time, mother-of-two Bates has no interest in reinventing herself as a TikTok star or influencer.
"When I posted the video on TikTok, I was using it as an outlet to say goodbye and thank you to friends and fans who've supported me over the years," she told Newsweek. "I never imagined it would be seen by so many people!
"For the most part, I've used TikTok and other forms of social media to have fun. I'll still publish more videos of my cats, but I have no plans to actively try and expand my social media presence."
Bates' beloved cats—Mango, Tim and Bonnie—have filled much of Bates' time as she adjusts to a new life away from being beamed into the homes of New England residents. But the adjustment also has her relishing the unknown to come.
"Having settled my two children at college, I've been tidying up the house and spending way too much time with my cats," she told Newsweek. "I've also been taking time to consider how I will make the most of this new chapter in my life. Every aspect is different now and it's very exciting!"
Newsweek has contacted a representative for WJAR-10 for comment.