Alex Jones's Ex-wife Wants Michael Avenatti to Represent Her in Custody Battle With 'InfoWars' Host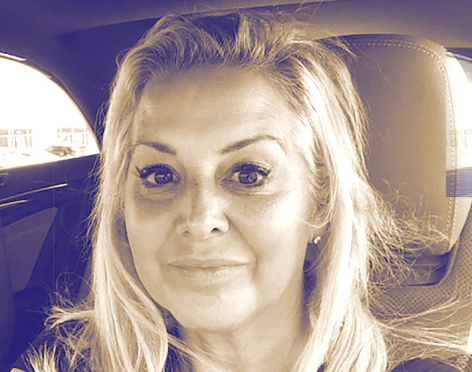 Alex Jones's ex-wife, Kelly Jones, said the recent Los Angeles International Airport run-in between her former husband and Bernie Sanders was just a fraction of the "irresponsible and endangering" behavior her "hypocritical" ex-spouse inflicts on her and their three children.
The former wife of the InfoWars host and conspiracy theorist told Newsweek she was seeking the help of high-powered attorneys, including Michael Avenatti and Gloria Allred, in an attempt to finally gain sole managing conservatorship of the Joneses' two young daughters and teenage son. Kelly Jones and her lone attorney said her continuing legal battle has been "daunting," with Travis County, Texas, appellate court documents showing the rambunctious radio host represented by eight lawyers, including Wallace B. Jefferson, a former chief justice of the Texas Supreme Court.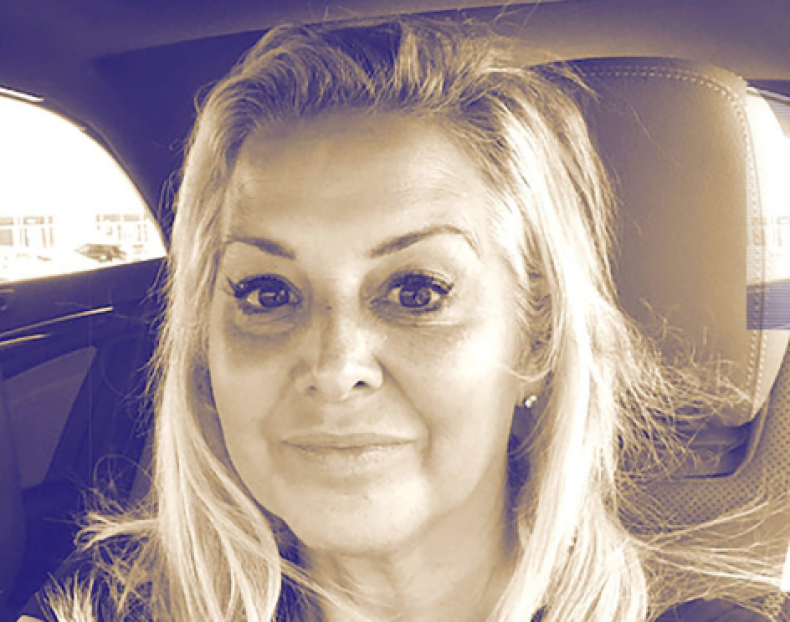 Kelly Jones repeatedly referred to her ex-husband as a "vengeful narcissist" who last year was forced to prove to a Travis County court he wasn't just a right-wing "performance artist" during the ongoing custody battle. Kelly Jones said that while many people asked whether her ex-husband was just acting, Alex Jones believed the things he said on his InfoWars broadcasts. "There is no 'We're gonna turn off the camera and live our lives.' It's him—you can see that from his participation in broadcasting the LAX event," Kelly Jones told Newsweek on Thursday.
Kelly Jones said the incident would almost be laughable if it were not so sad. "This is the kids' vacation with their dad: out chasing around this politician and broadcasting it to make everything about him on their vacation."
Avenatti's office, which famously represents former adult film star Stormy Daniels, aka Stephanie Clifford, told Newsweek on Thursday it could not comment on potential clients reaching out to its Newport Beach, California–based law firm. Avenatti has previously represented Paris Hilton.
Kelly Jones, who filed for divorce against Alex Jones in 2013, told Newsweek she'd been involved in arduous custody and tort litigation with her former husband for her right to see their children: G.G., a 10-year-old girl; C.A., a second daughter who is now 14; and their 16-year-old son, Rex Jones. The teenager appeared on air in a March InfoWars broadcast, where he told Parkland, Florida, school shooting survivor David Hogg to "stop attacking the First Amendment."
Kelly Jones said her teenage son was "coercively controlled" by her former husband, and that the teen made several attempts to "entrap" her at the behest of his father. Kelly Jones accused several Texas lawmakers of being corrupt and said presiding Travis County, Texas, Judge Orlinda Naranjo defied a jury's finding and allowed Alex Jones to have "50/50 custody of her daughters" and eight hours each week with their teenage son.
Kelly Jones said she was aghast after viewing the June 4 video in which her former husband chased independent Vermont Senator Bernie Sanders through Los Angeles International Airport (LAX) with her son following close by. She told Newsweek she was deeply troubled by the children's father bringing them into his "cultic entourage" that chased the 76-year-old senator he repeatedly called a socialist "monster."
Kelly Jones and her attorney, Brandi K. Stokes, said she's reached out to Avenatti, among others, in a fierce attempt to bring a "high-powered law firm" against her wealthy ex-husband. Stokes told Newsweek that Alex Jones was "not going to stop" and that Kelly Jones was rightfully owed her upcoming June 24 tort hearing regarding injury defamation, intentional infliction of emotional distress and interference of custody.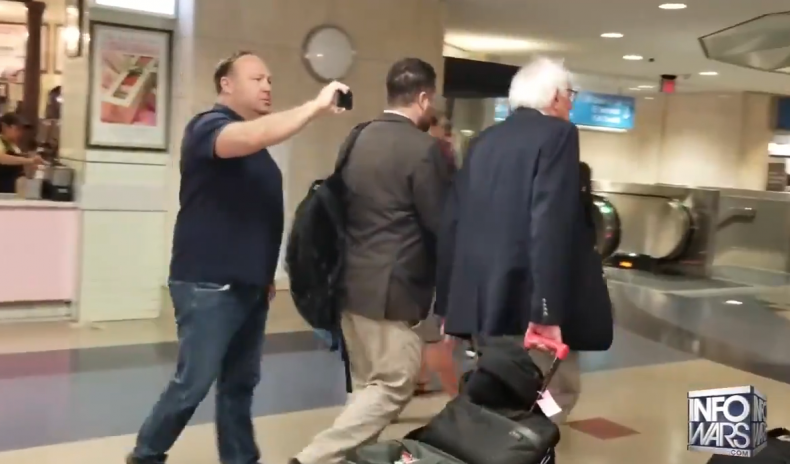 Kelly Jones said that Alex Jones's harassment and repeated accusations of Senator Sanders being a "commie" elitist at LAX was "hypocritical," given that her ex-husband regularly flies first-class and owns a million-dollar home near Austin as well as a luxury lake house.
Austin-based attorney Stokes said she had been working with Kelly Jones to get new counsel and settle the tort case "for what he did to her" in the past. Stokes told Newsweek she had an audio recording of Alex Jones, whom she said was "mentally ill," declaring that he "hates" his ex-wife and "will bring in as many people as he can" to represent him during the continuing legal proceedings.
Messages left on Alex Jones's cellphone were not returned by the InfoWars host as of Friday morning.
Kelly Jones filed a motion to unseal records in Houston's First Court of Appeals, and the former couple is expected to appear in court Monday. Kelly Jones operates the website CustodyWars.com, where she details the "Family Court Gaslight" and experience of "divorcing a narcissist."