Georgia Republican senators Kelly Loeffler and David Perdue on Tuesday said they agree with President Donald Trump that the amount of the one-time stimulus payments included in the new coronavirus relief package should increase from $600 to $2,000 for qualifying Americans.
Their support for the increase comes one week before the Georgia Senate runoff election, which will determine whether Republicans or Democrats control the Senate as President-elect Joe Biden takes office on January 20.
Trump voiced frustration with the amount agreed upon in the relief package that passed both chambers of Congress and landed on his desk last week. After a few days of hesitation, he signed the bill on Sunday but instructed congressional leaders to revisit the discussion about stimulus payment amounts.
Democratic congressional leaders who previously advocated for larger stimulus payments were quick to support Trump's suggested increase, but it is not a popular pitch among many conservatives. Congressional Democrats formalized the proposal when Ways and Means Committee Chairman Richard Neal brought the Caring for Americans with Supplemental Help (CASH) Act to the House of Representatives on December 24. The Democrat-controlled House passed the CASH Act on Monday, but it was unclear Tuesday morning if Senate Majority Leader Mitch McConnell would bring the bill to a vote in the Republican-controlled Senate.
On Tuesday, Loeffler indicated support for the increase when asked about the president's call for bigger payments during an appearance on "Fox & Friends."
"I've stood by the president 100 percent of the time. I'm proud to do that," Loeffler said. "And I've said, absolutely—we need to get relief to Americans now, and I will support that."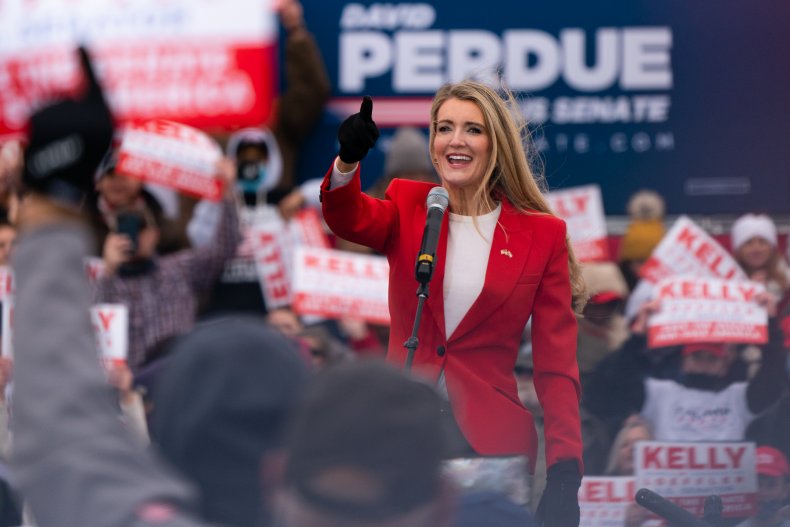 Shortly before 11 a.m. ET, Loeffler made her support for the proposal clear in a tweet. "I agree with @realDonaldTrump — we need to deliver $2,000 direct relief checks to the American people," she wrote.
Perdue also tweeted his support for increasing stimulus payment amounts in response to a tweet Trump posted Tuesday reiterating his call for $2,000 payments. "President @realdonaldtrump is right — I support this push for $2,000 in direct relief for the American people," Perdue's tweet said.
Though Trump said on Sunday he wants $2,000 one-time stimulus payments distributed to qualifying American adults and $600 payments distributed to the children of qualifying families, the CASH Act proposes replacing every reference to $600 payments with $2,000 payments, including for children of qualifying families.
Loeffler and Perdue are both one week out from the Georgia runoff election that will determine whether they keep their seats in the Senate. The January 5 special election will also determine the balance of power in the Senate. If both Raphael Warnock, the Democrat challenging Loeffler, and Jon Ossoff, the Democrat challenging Perdue, defeat the Republican incumbents, both parties will have 50 seats in the Senate. That outcome would give Democrats control over the chamber, with Vice President-elect Kamala Harris able to break any ties. However, if either Loeffler or Perdue win next week, Republicans will retain control over the chamber.
Senate Minority Leader Chuck Schumer said shortly after the CASH Act passed the House that he would encourage his Senate colleagues to consider the bill. Though McConnell praised Trump for signing the relief package in a statement earlier this week, he did not acknowledge the president's call for congressional leaders to reconsider the stimulus payment amount.
As the Senate convened on Tuesday, McConnell told the chamber the Senate "will begin a process" this week to address the call for larger stimulus payments and other issues Trump raised after signing the relief package on Sunday.
Newsweek reached out to McConnell's office for comment but did not receive a response in time for publication.
Updated 12/29 at 12:49 p.m. ET: This article has been updated to include Senate Majority Leader Mitch McConnell's announcement that the Senate will consider President Donald Trump's call to increase larger stimulus payments this week.