Kelly Loeffler, David Purdue Demand List of Georgia Voters as Early Voting for Runoffs Begins
Georgians can venture to the polls today for the first time to cast their ballot in the two runoff elections and Senators David Perdue and Kelly Loeffler are pushing Georgia Secretary of State Brad Raffensperger to release the list of registered voters to preserve the "integrity" of the election.
Georgia saw a record voter turnout in November and with control of the Senate on the line, Democrats and Republicans pushed people to register to vote who didn't cast a ballot in the general election. The last day to register was December 7, and with early in-person beginning on Monday, Loeffler and Perdue said not having a list of who was registered "unacceptable."
"This lack of transparency needs to be rectified immediately, or the integrity of our elections will remain threatened," Perdue and Loeffler said in a joint statement.
Six weeks since the general election, President Donald Trump continues to tout himself as the winner if only lawful ballots were counted and backed a lawsuit from Texas Attorney General Ken Paxton contesting the results. Paxton's lawsuit, filed with the Supreme Court, targeted results in Georgia, Michigan, Wisconsin and Pennsylvania.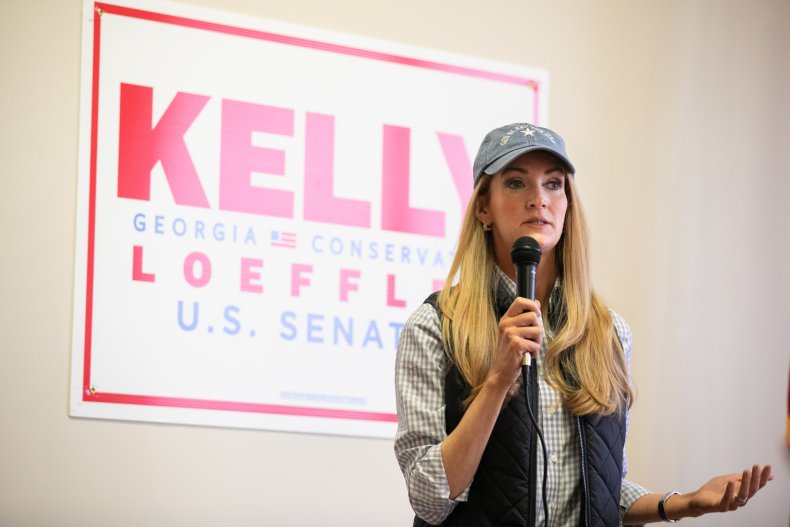 Perdue and Loeffler backed Paxton's lawsuit, saying the president has "every right" to use the legal resources available to him to guarantee "every lawful" vote is cast and "any illegal vote" isn't. They added that there must be "full transparency and uniformity" in how votes are cast.
On Friday, the Supreme Court said it wouldn't consider the lawsuit because Texas didn't have the standing to bring the suit. In an unsigned ruling, the Supreme Court said Texas failed to demonstrate a "judicially cognizable interest" in how another state conducts its elections.
Along with wanting a "full accounting" of who is registered to vote in Georgia, Loeffler and Perdue said the public should know "who may attempt to cast a ballot in the runoff."
Newsweek reached out to the Perdue and Loeffler campaigns, as well as the secretary of state's office for comment but did not receive a response in time for publication.
If Raphael Warnock and Jon Ossoff oust Loeffler and Perdue from their respective seats, there will be a 50–50 split in the Senate. In the event of a tie, Vice President–elect Kamala Harris will cast the deciding vote, effectively giving Democrats control. It could be an advantageous position for President-elect Joe Biden, as his party would have control of the executive branch and both chambers of Congress.
However, if Perdue or Loeffler are able to keep their seat, Republicans will maintain control of the Senate, albeit by a slimmer margin than they currently hold.
In November, Loeffler, who Governor Brian Kemp appointed to her Senate seat, trailed Warnock by seven points. Working against Loeffler was Representative Doug Collins, another Republican on the ballot, who received 20 percent of the vote. It's possible Loeffler could gain support from Collins' voters, but post-election polls show it's going to be a close race.
Another close race is shaping up for Perdue and Ossoff. Perdue received 49.7 percent of the vote in November, just .3 points shy of the 50 percent threshold needed to win in Georgia. Ossoff, who received 47.9 percent, is neck and neck with Perdue in post-election polling, putting them at a statistical tie.
With neither race close enough to call, the outcome of the January 5 runoff elections is likely to come down to voter turnout and both parties are pouring their resources into Georgia.