Kelly Loeffler Declines to Defend Her Ally Georgia Governor Brian Kemp From Trump's Attacks
Republican Senator Kelly Loeffler declined to defend her ally Georgia Governor Brian Kemp from President Donald Trump's attacks on Sunday night during a debate against her Democratic challenger Rev. Raphael Warnock—prior to their runoff election in Georgia on January 5.
Trump has repeatedly attacked Kemp in recent weeks for allegedly not doing enough to help him overturn the results of the 2020 presidential election. On Saturday, the president suggested that Georgia Republican Congressman Doug Collins should run against the governor in 2022 as he continued to scold officials in the Peach State.
"Senator President Trump has attacked your closest political ally Governor Kemp as hapless ... Was the president wrong to say that about the governor and are you concerned his comments can alienate some Republicans ahead of the runoffs?" moderator Russ Spencer asked Loeffler.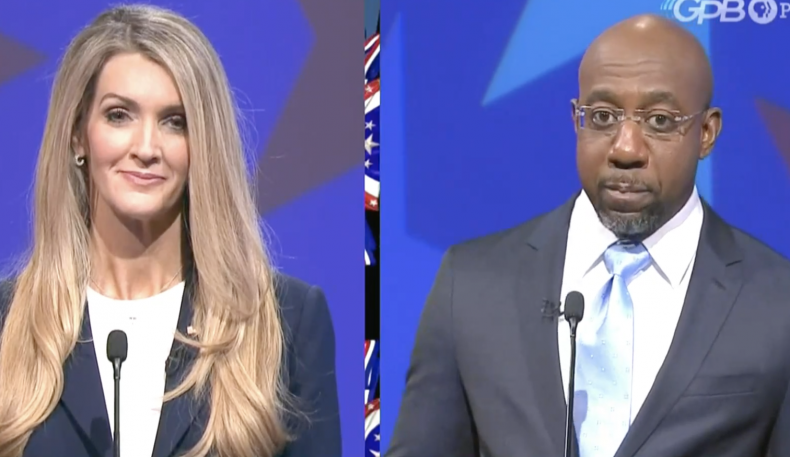 "The president has the right to pursue every legal recourse to make sure that this was a free and fair election in Georgia," she responded, before pivoting to accusing Democrats of pushing for socialism.
The moderator tried again: "Was the president wrong when we called the governors those remarks?"
"I appreciate the president's support of me and I appreciate the governor's support of me," Loeffler said. "They both understand what's at stake in this election. That's why they're encouraging Georgians to get out and vote for David Perdue and myself."
Lisa Rayam, the debate's second moderator, jumped in to press the senator on Trump and Kemp's feud, but Loeffler declined to answer directly for the third time. "Can you tell us where your loyalties lie? Is it with Governor Kemp or Trump?" Rayam asked.
"Lisa, my loyalties are with Georgia. I have lived the American Dream, I want to make sure every Georgian can do that," she said.
On Saturday morning, Trump called Kemp and urged him to push lawmakers in Georgia to overturn President-elect Joe Biden's victory and hold an audit of mail-in ballot signatures, but Kemp declined. In a tweet, Kemp confirmed the phone call and said he already publicly supported a signature audit, while noting that he doesn't have the power to demand it.
The president, unhappy with Kemp's response, accused the governor of being "afraid of Stacey Abrams" at a rally in Georgia that evening.
A recent Morning Consult poll shows that Trump's aggressive attacks on Kemp over the past few weeks have taken a toll. Since the election, Kemp's approval rating dropped from 86 percent to 77 percent among Georgia Republican voters, and from 52 percent to 46 percent among overall voters.
Newsweek reached out to Kemp for comment.