Georgia Republican Senator Kelly Loeffler dodged questions about President Donald Trump's claims of a "rigged" election during Sunday's debate against her Democratic opponent Rev. Raphael Warnock. Meanwhile, Georgia Democratic Senate candidate Jon Ossoff debated an empty stage for half an hour as his opponent, incumbent Republican Senator David Perdue, skipped the debate.
Both Loeffler and Perdue are facing runoff Senate elections scheduled for January 5.
Loeffler was asked if she believed that the presidential election was rigged at the start of the debate with Warnock. The senator, who's had to walk a tightrope of wooing the president's loyal supporters without discouraging faith in the election process, quickly pivoted to attacking Democrats.
"It was very clear that there were issues in this election, there were 250 investigations open, including an investigation into one of my opponent's organizations for voter fraud. We have to make sure that Georgians trust this process for what's at stake in this election," she said.
"The promise that [Senate Minority Leader] Chuck Schumer made was to fundamentally change America and I'm making sure that we don't go down the road of socialism."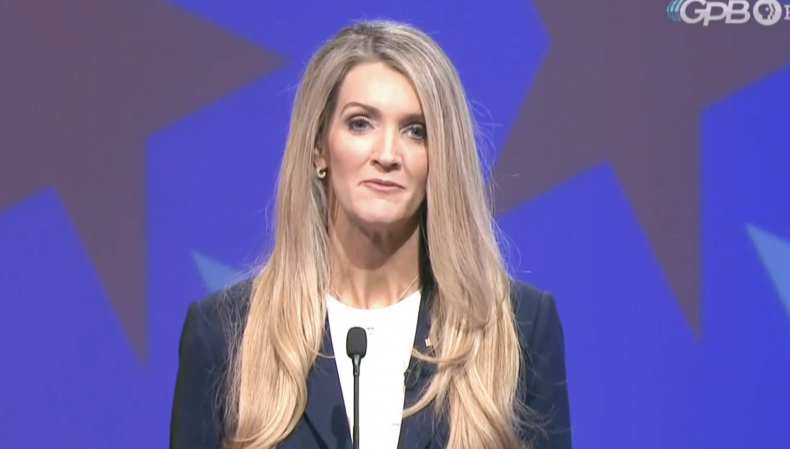 Later, Loeffler dodged again when asked by Warnock whether she believes that Trump lost the election.
"President Trump has every right to use every legal recourse available," she said.
In the other Georgia Senate debate, Ossoff stood on the stage alone Sunday evening, next to an empty podium after Perdue decided to pull out of the event. Ossoff asked the empty podium—which moderator Russ Spencer introduced as Perdue—several questions, and then answered them himself.
"This is a strange situation," he said on stage, before asking the podium about Perdue's refusal to back unemployment benefits in stimulus negotiations.
"I will listen to the public health experts," Ossoff said, addressing the rising coronavirus cases in Georgia. "And if they recommend that more aggressive mitigation measures are necessary to save lives. It would be foolish for politicians to ignore their advice."
The two January 5 Georgia runoff elections will determine control of the Senate and affect President-elect Joe Biden's ability to push through a Democratic agenda during his term.
Democrats currently hold a slim majority in the House, and need just two more seats in the Senate for a 50-50 split. After Biden's January inauguration, Vice President Kamala Harris would cast the tie-breaking vote in the upper chamber if both Democratic challengers are successful.
Both Perdue and Loeffler are facing significant pressure to address Trump's campaign to reverse his election defeat. In recent weeks, the incumbents have been navigating an intraparty fight that threatens to turn off Republican voters from supporting their efforts at re-election.
As Trump and his allies push unverified claims of widespread voter fraud, the two Georgia senators have been campaigning across the state, asking conservatives to come out and vote in the very system that the president claims is "rigged."
Newsweek reached out to Loeffler for further comment.