Kelly Loeffler Net Worth: All the Controversies Surrounding America's Richest Senator
Since being appointed in December, Georgia Senator Kelly Loeffler has remained a controversial figure during her early political career.
Loeffler, who has been named as the richest senator in the nation by a number of outlets, has drawn criticisms from her opponents for her financial records, comments on the Black Lives Matter movement, staunch support for President Donald Trump and conservative views.
She was appointed to the U.S. Senate by Georgia Governor Ben Kemp after then-Senator Johnny Isakson resigned for health reasons. Due to her appointment, Loeffler was required to defend her seat in a special election on November 3.
Unable to win the majority vote during the general election, Loeffler will face Democratic challenger Reverend Raphael Warnock once again in a January 5 runoff. The 63-day campaign will be especially important as Democrats could gain control of the Senate if both of Georgia's Republican incumbents lose their races.
Here are all the controversies that have surrounded Loeffler since she took office less than a year ago.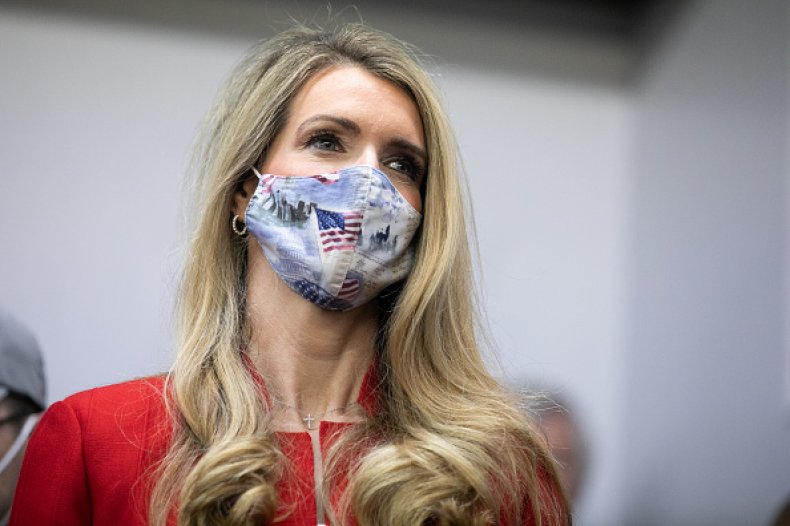 America's Richest Senator
An evaluation from Forbes estimates that Loeffler is "the richest person on Capitol Hill" with a fortune worth at least $800 million.
Loeffler's husband, Jeff Sprecher, is the CEO of Intercontinental Exchange (ICE), the parent company of the New York Stock Exchange. Before she became senator, Loeffler was a senior executive at ICE.
When she left her high-paying job behind, she reportedly took $9 million with her in shares and stock options that she was set to forfeit when leaving the company. This was in addition to her 2019 salary and roughly $3.5 million bonus, according to a copy of her financial disclosure form reviewed by The New York Times.
"The Left, The Swamp, and career politicians will use my success to attack me – in the same way they've attacked our President and his family – because we reject socialism, champion freedom, and unapologetically support the free enterprise system that made this country great," Loeffler said in May. "The ridiculous accusations and desperate lies will be many, but I refuse to apologize for being successful and will do whatever it takes to help Georgia and shake up the status quo in Washington."
Loeffler is a member of the Senate's Agriculture Committee, which has oversight of the regulators who oversee commodities markets—some of which are owned by ICE.
Dan McLagan, a campaign spokesman for Republican Representative Doug Collins, said, "It's a great investment by ICE in the newest member of their federal oversight board who writes the laws that govern their operations." Collins unsuccessfully ran against Loeffler in November's special election.
Loeffler and her husband currently hold a roughly $500 million stake in ICE, according to Forbes.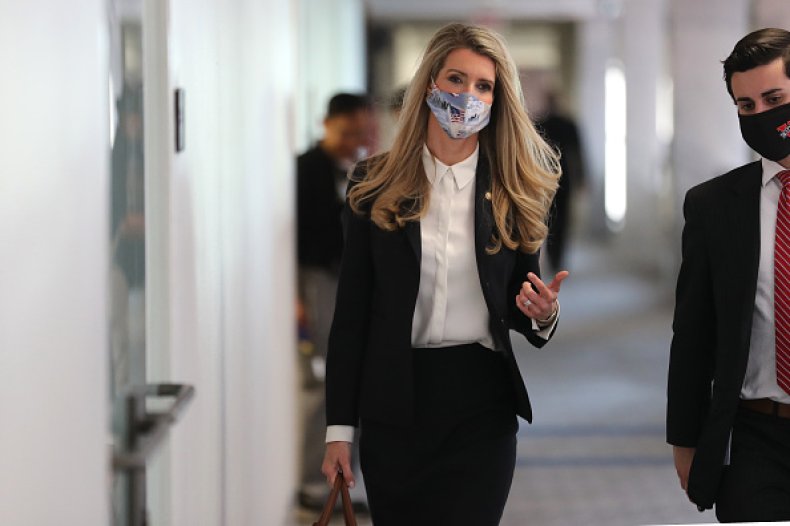 DOJ Investigation Into Stock Dumps
In late March, when the stock market crashed due to the coronavirus pandemic, a number of senators who received early briefings on the emerging COVID-19 threat, dropped their stock positions and prevented themselves from suffering potential, massive losses.
Loeffler was not the only senator investigated by the Department of Justice, but she was the senator who had dumped the most stock. Between late January and March, she ditched more than $20 million shares.
Loeffler argued the trades were made by her financial advisers without her knowledge and vowed to liquidate her individual stock holdings.
On May 26, the Justice Department announced it would shutter its investigation.
In response, Loeffler compared herself to the president, writing "I've been completely and totally exonerated."
Loeffler also stepped down from the Agriculture Subcommittee on Commodities, Risk Management, and Trade, blaming the media and "adversaries" for her decision to resign.
WNBA Clash
Over the summer, Loeffler, who co-owns the Atlanta Dream, clashed with the WNBA after the league announced its 2020 season would be "dedicated to social justice with games honoring the Black Lives Matter movement."
Shortly afterward, Loeffler called on the league's commissioner to drop support of the racial justice group.
"The truth is, we need less—not more politics in sports. In a time when polarizing
politics is as divisive as ever, sports has the power to be a unifying antidote. And
now more than ever, we should be united in our goal to remove politics from
sports," she wrote to WNBA Commissioner Cathy Engelbert in August.
Loeffler wrote that while "there's no debating the fact that there is no place for racism in our country," she "adamantly" opposes the Black Lives Matter movement.
Engelbert rejected the senator's comment, saying the WNBA will "continue to use our platforms to vigorously advocate for social justice." The players union demanded that Loeffler be removed as a co-owner of the Atlanta Dream and many players denounced her for her remarks.
Loeffler called the reaction of the league "a really uninformed, political, reactive statement" and said she was standing up for those who feel attacked for voicing their conservative beliefs.
She remains a co-owner of the Atlanta WNBA team but in its response, the league noted that "Sen. Kelly Loeffler has not served as a governor of the Atlanta Dream since October 2019 and is no longer involved in the day-to-day business of the team."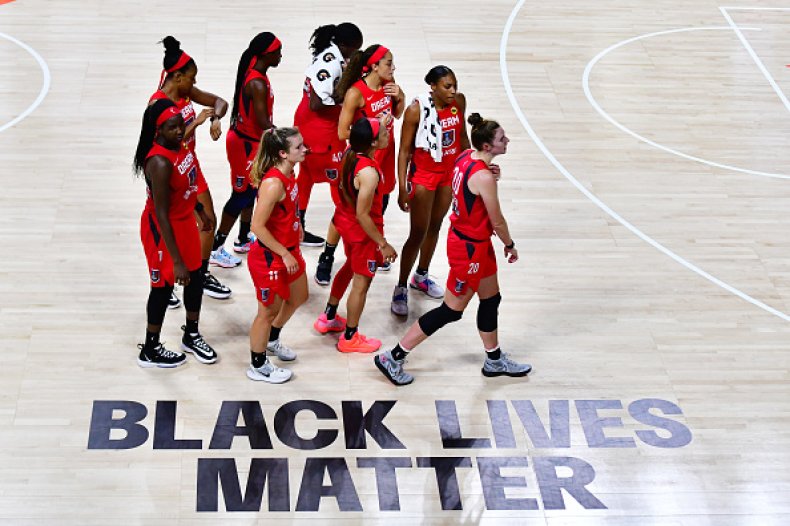 Endorsement from Representative Marjorie Greene
Last month, Loeffler celebrated an endorsement from another controversial Republican: Marjorie Taylor Greene.
Greene, who won her race to the U.S. House of Representatives on November 3, is a supporter of QAnon.
At an event, Greene praised Loeffler for her criticism of the Black Lives Matter movement and her pro-gun stance.
"What impressed me with Kelly is I found out that she believes a lot of the same things that I believe," Greene said. "And I found out that she's actually the most conservative Republican in the race."
Loeffler called Greene a "much-needed voice" in Washington.
"I've gotten a lot of work done in Washington already in that regard — and I'm thrilled to know I've got a strong, conservative champion that's going to be fighting right alongside with me," Loeffler said.
When asked about Greene's support for QAnon, Loefler said she knows "how the media twists people's words."
"What we agree on is that we are fighting socialism," Loeffler said. "We are promoting conservative values. And I'm not going to stand for attacks on her character because she has stood for American values."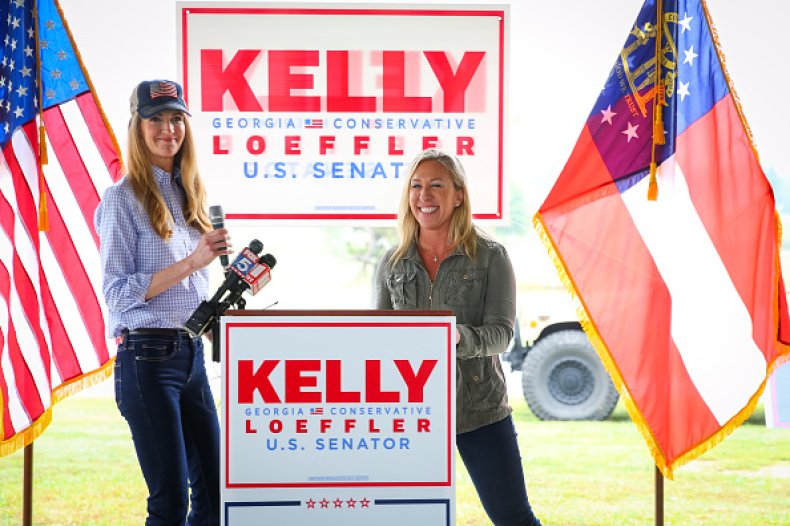 Support for Trump
While she has been a senator, Loeffler has aligned herself very closely with the president. She has gone as far as to say that she does not disagree with anything Trump has said or done.
Loeffler told reporters last month that she had no knowledge of the Access Hollywood tape released during the 2016 campaign cycle in which Trump described sexually assaulting women.
Since the election was called for President-elect Joe Biden, she has bolstered the president's claims of widespread voter fraud.
A week after the November 3 election, Loeffler and fellow Georgia Senator David Perdue called for the resignation of Georgia Secretary of State Brad Raffensperger, the state's chief elections officer and fellow GOP member.
The two senators accused Raffensperger of "mismanagement and lack of transparency," a claim the secretary of state called "laughable."
Despite previously attacking the security of mail-in voting, Loeffler encouraged her supporters to vote early in the runoff elections.
"We want everyone to vote early. Absentee ballots are available, they are going to start to be mailed out on Wednesday. Early voting is December 14, in-person early voting. We encourage folks to get out and vote, vote early. To make sure that their vote counts," she told Fox News' Laura Ingraham on Tuesday.
She is set to debate Warnock on December 6.
Potentially Violating Senate Ethics Rules
Loeffler has been accused of violating Senate ethics rules by soliciting donations in the U.S. Capitol building when she appealed for campaign donations on Fox News.
Speaking from the capital on Thursday, she said that "hundreds of millions of dark, liberal money is pouring into" Georgia for the January 5 runoffs.
"That's why it's so important that everyone across the country get involved," Loeffler said. "They can visit KellyforSenate.com to chip in 5 or 10 bucks, and get involved, volunteer."
However, Senate ethics rules state that "Senate members and staff may not receive or solicit campaign contributions in any federal building," which is punishable by a fine of "not more than $5,000," and a jail term of "not more than three years, or both."
The Democratic Party of Georgia previously told Newsweek it is filing a formal complaint with the Senate Ethics Committee, and a request for investigation from the Department of Justice as a result.